Sammi has a little lamb and its fleece is white as snow
'I want to be the fastest in the world over every distance. I want to be a Paralympic champion one day'
14 May 2020
Imagen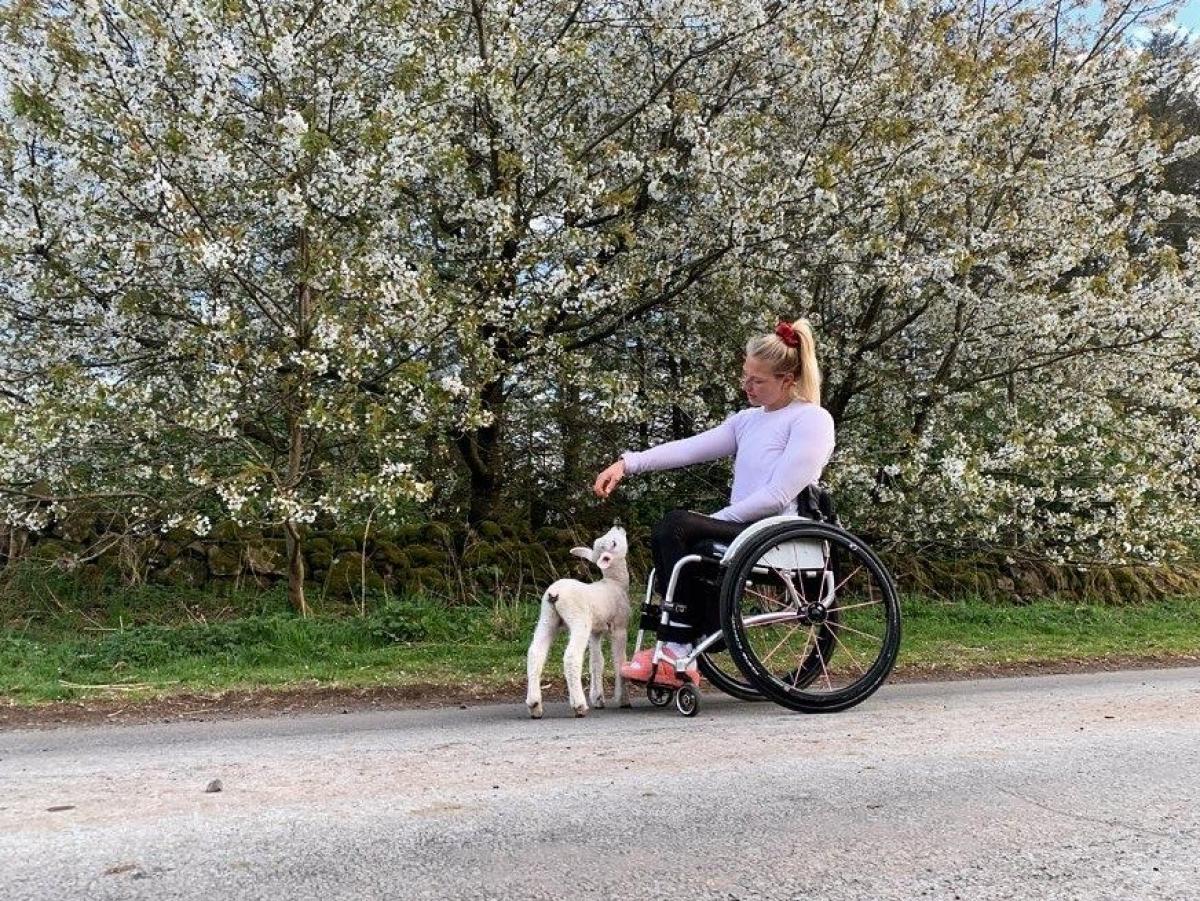 ⒸSamantha Kinghorn
By ND Prashant for World Para Athletics
If 'Mary had a little lamb', then so does British top-notch wheelchair racer Samantha Kinghorn.

The 24-year-old, fondly addressed as Sammi, is spending her time in lockdown in the company of her new pet lamb, whom she fondly calls Ruby.
Kinghorn dreamed to have a pet lamb, and that came true when her father Neil gifted her one, this Easter.
"My dad would never get me one because they are like a baby and you have to feed them through the night. And dad was like 'I'm not getting one'," recalled Kinghorn, during an Ottobock Instagram live chat with Heinrich Popow, German Paralympic sprinter.
Coming from a farming family, Kinghorn confessed she still firmly belongs to her roots and being in the lap of nature gives her upmost satisfaction.
"Springs! I love the lambing season. When I was a kid, I would take time out of school and my friend and I would do night lambing. We would stay awake all night so that my dad could sleep and then do the whole day," said Kinghorn, who lost her leg at the age of 14 in a farming accident in Gordon, Scotland.
Back in December 2010, she was playing in the snow and went to climb part of forklift her father was driving to clear snow. Due to poor visibility, her father could not spot her and emptied the load of snow on her.

"I didn't feel sensation on my leg and immediately knew, I was not going to walk again," she said. "I felt guilty because when you are growing up in the farm you are always taught to stay away from machinery," Kinghorn reminisced.
The Brit has had her share of struggles in her quest to overcome the tragedy before finding solace in sports.
"I was so scared that people would pity me. I wanted people to be proud of what I have achieved. Sports is a massive way to show that. Just because I can't walk, it doesn't mean I can't go faster than you and it is just our way of showing it," asserted Kingston, whose sporting career got the much-needed spark after she came in second in the 2012 London Mini Marathon.
Later, the Scot qualified for the Glasgow 2014 Commonwealth Games and took part in the 1500m T54, placing fifth in the final.
She showed real promise after representing Team GB at the 2014 European Championships, where she won Britain's first gold medal in the 400m T53 and later bagged two more gold over 100m and 800m.
The 2016 Paralympic Games in Rio de Janeiro was a disappointment. She placed fifth and sixth in the 100m and 400m T53 events and was disqualified in the 400m. However, she quickly put that setback behind and a year later, clinched sprint double with golds in the 100 and 200m at the 2017 World Para Athletics Championships. At the 2019 Worlds, she claimed a bronze in the 100m.
Given the form she was in, Tokyo 2020 podium was very much in line. But despite the postponement, Kinghorn's goals remain the same and urges fellow athletes to stay focused through these testing times.
"I want to be the fastest in the world over every distance, I want to be faster than anyone. I want to be the first person to go under the 16 secs barrier. The world record is 16.19 (sec) and we are at 16.21 (sec).
"My aim is to win that medal one day, have that gold medal around my neck and sing that national anthem. I would also ask others to stay focused on what your end goal is. It doesn't matter when the Tokyo is and when the World Championship is, just continue to strive for the end goal."