Siamand Rahman: I will break 300kg mark in 2014
Iranian powerlifter in confident he can make history in 2014 at the IPC Powerlifting World Championships and Asian Para Games.
11 Dec 2013
Imagen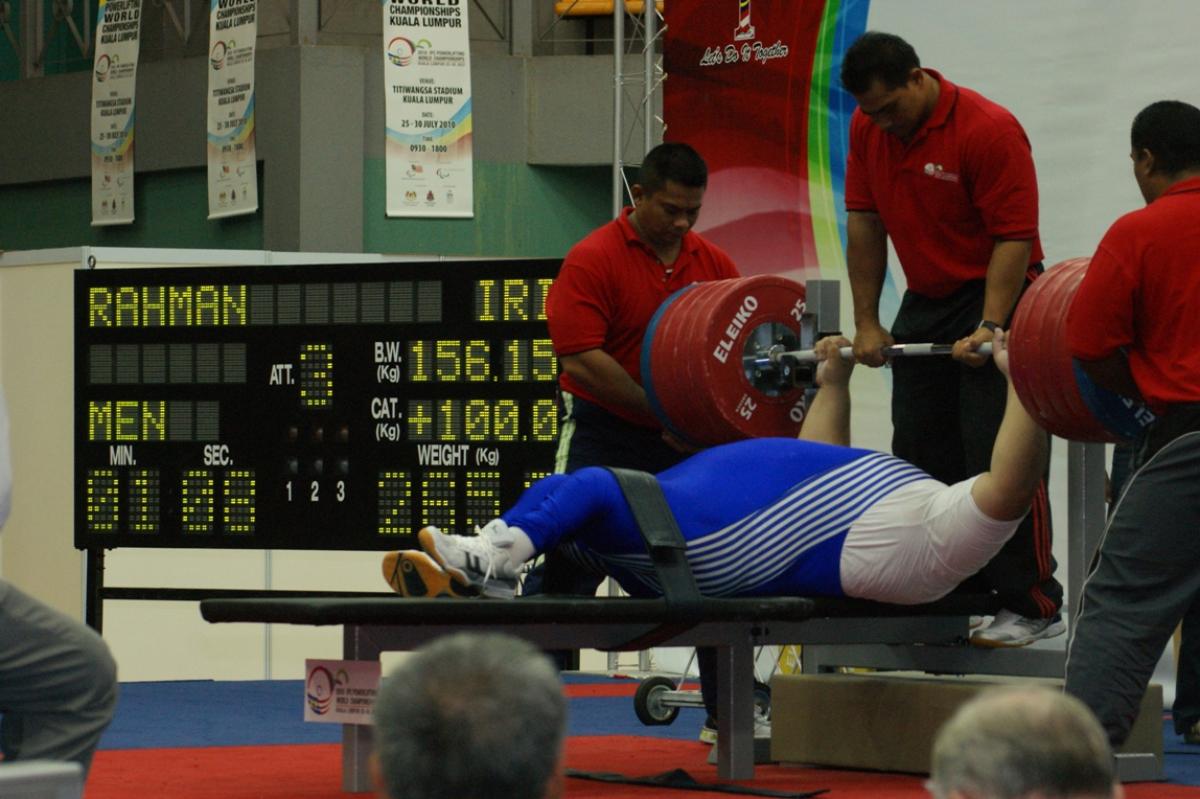 ⒸNPC Malaysia
By Luke Jackson | For the IPC
"Something that I keep on aspiring to is the thought that one day my name will be carved beside the name of my country. As an Iranian national, I intend to do this by setting a record that will live forever in our sport history."
Similar to the way that athletes such as Usain Bolt have deservedly earned their supreme status in athletics, Siamand Rahman is rapidly becoming the face of power lifting.
Wherever the Iranian goes, he seems to win gold medals and whilst he is at it he finds it compulsory to break a world record or two as well.
Last year at the London 2012 Paralympic Games Rahman did not disappoint. In front of a packed out crowd at the ExCel Arena, which included a large contingent of Iranians, he stormed to success with relative ease just like his Jamaican counterpart usually does when he hits the track.
However, despite the 25 year olds unrivalled success in powerlifting, he is still chasing a target that has seemed to evade him so far in his career.
This seemingly unreachable target is the 300kg mark.
Despite claiming to have topped this in training on a regular basis, Rahman is still yet to lift anything higher than that in competitive competition in the up to 107kg weight category.
Nevertheless, whilst he is still able to perform at the highest level, he will not give up on achieving this remarkable feat.
He said: "After London 2012, I tried to keep myself in an ideal condition by going straight back into continuous training. I did this because as I look ahead to the Para Asian Games in Incheon next year, I aim to set a record higher than what I achieved in London.
"If God is willing, I am confident that I will be able to set a new world record. I aim to lift more than 300 kg and I will do my utmost to make it possible."
Looking ahead to next year's Para Asian Games and 2014 IPC Powerlifting World Championships in Dubai, UAE, Rahman insists that behind the scenes everything is falling in to place to help with his preparations.
"I cannot predict wholeheartedly that I am going to win a gold medal, but I pray to God in the hope that I will do my best.
"With that being said though, in the light of my hard and continuous training that I have been doing recently, by benefiting from my dedicated coaches' experiences and by getting great support from the team doctor and psychologist this has helped put me in a position where I can aim and hopefully achieve a new world record." Rahman said.
Reflecting on his impressive efforts at the London Paralympics last year, Rahman believes that he could have smashed the 300kg mark there and then if it had not been for one of his rivals.
The Korean power lifter, Keun Bae Chung, complained after having his final attempt chalked off resulting in a prolonged delay before the Iranian athlete returned to the bench.
He said: "I still believe that I could have hit the record in London. I was fully ready but before my final attempt, Bae Chung was complaining after he failed his last lift and due to his protest that took a long time.
"In the end, I ended up cooling down so I could not lift my desired weight."
Inside Rahman there is a burning desire to succeed and achieve that will not be dampened by anything or anyone.
Like many greats from years gone by, he wants to be immortalised and it would not be surprising if this was to happen with what he can do on a bench press.
He said: "Something that I keep on aspiring to is the thought that one day my name will be carved beside the name of my country. As an Iranian national, I intend to do this by setting a record that will live forever in our sport history."
Not only has Rahman begun to leave his stamp in sport's history books, but now he is starting to inspire a whole new generation of adults and youngsters to get involved with sport.
This is something he never thought would be possible.
He said: "I was born with a disability and I never thought that one day I would become a hero in the world and being able to see my name in the record books.
"More importantly though, I never thought I would be able to inspire people, which is something I am starting to do now.
"I live with my family in Oshnavieh, which is a border town in Western Azerbaijan. After tasting success at world and Asian events, I now see adults and younger inhabitants from my area becoming sports oriented and willing to get involved with it more enthusiastically which makes me feel fantastic knowing that I have helped create this."
The 2014 IPC Powerlifting World Championships take place from 5-11 April in Dubai, UAE, and will gather over 300 athletes from 50 countries.