Silence May Be Golden for USA's Hanson
He may not be able to speak, but Austin Hanson and his father have developed a non-verbal language they hope will send them to the top of the Boccia podium at the London Paralympics.
11 May 2012
Imagen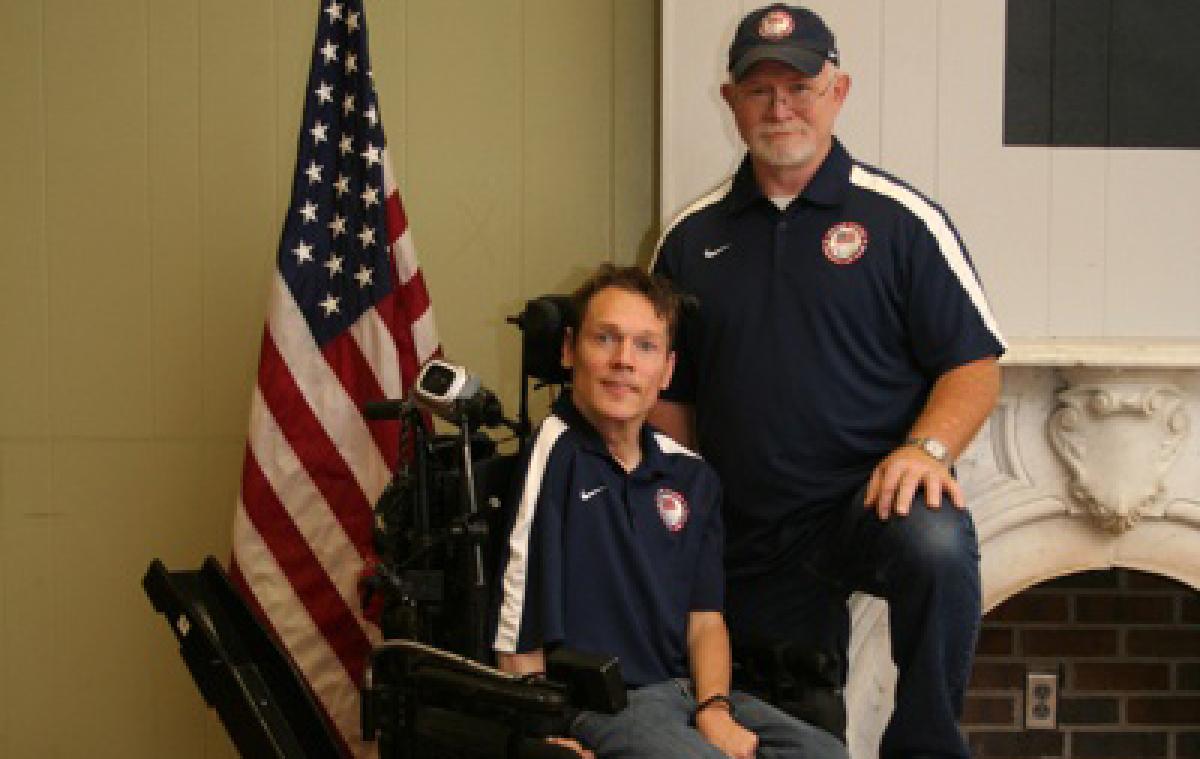 ⒸAustin Hanson
By IPC
"I cannot explain to anyone how high the stress level is."
Austin Hanson taps his head stick on the side of his wooden ramp indicating to his father, Gary, to move it right.
Gary, acting as a sport assistant, swings the ramp right in very small increments stopping when Hanson nods. The BC3 player, who has qualified for the London 2012 Paralympic Games, looks sharply to the right, and his father knows to rotate the ramp that way.
Hanson then looks straight down the ramp at his aim, then continues to indicate to Gary very quickly any slight adjustments that are needed by making small head turns and looking in the direction he wants the ball to go.
Hanson peers to the ground, where five extensions to the ramp are laid out – each one a different length. Gary begins to add the extensions as his son indicates, until he signals to that it is enough.
Gary tilts Hanson's head stick up, allowing him to reach the ball, which he has placed at the top of the ramp. Hanson gives the ball a tap and propels it toward the jack.
All this has happens within 45 seconds and without one spoken word from Gary, who has his back turned toward the court at all times.
The father-son team has developed a complex sign language so that Hanson, who has cerebral palsy and is non-verbal, can communicate.
They have to work quickly and accurately, as players only have six minutes to throw all six balls.
Eyes on gold
Hanson, already qualified for the individual BC3 event at London 2012, is the reigning American champion.
He has been playing Boccia since he was 11 and has won seven out of the last eight US Championships, coming second only in 2007.
Hanson went to his first Paralympic Games in 1996, the year he won his first national championship. He did not make it to the Sydney 2000 Games, but competed again at Athens 2004 and Beijing 2008.
He now has clear ambitions for London.
"My father and I picture ourselves on the podium accepting our gold medals as our national anthem is played," said Hanson, who recently celebrated a commitment ceremony with his partner Kirsteen.
Father-son bond
The 38-year-old and his father train for four or five days a week, two to four hours per session.
"It's a way that Austin and I can do something together," Gary said. "His physical ability doesn't allow him to do the father-son things that you would do, you know, work on a car or build something. But he and I can sit down, we can design our ramp, we can talk about what we want to do and what we want to train on. It gives us a common bond that probably wouldn't have been there, had it not been for Boccia."
The most important part of their training is getting the communication right. If Gary makes a mistake, it could cost Hanson the game. With Austin being non-verbal, his eyes veer left, right, up and down, and there are a lot of motion signals, so it is very important for Gary to learn and understand what he wants.
Sometimes they play against each other – usually Hanson wins – or Gary sets up a scenario for his son to work on.
"We're in a more aggressive mode as far as training goes," Gary said. "We're increasing our times instead of just practicing to maintain."
Top opponents
Hanson and his father have been training together for 21 years, so Gary has become pretty good at understanding what his son wants.
But with some commands meaning two or three having multiple connotations, it can get complicated and frustrating at times for Hanson, who suffered cardiac arrested when he was just two months old and now lives with cerebral palsy.
"I cannot explain to anyone how high the stress level is," admitted Hanson. "Every fraction of movement in my aim is a hit or miss."
One of Hanson's strongest opponents at the ExCeL arena in London will be Greg Polychronidis of Greece. Hanson lost to Polychronidis at the 2004 Paralympic Games, and both have a relatively aggressive style of play.
"Greg's strengths are more accuracy and the control of his balls," Hanson said.
Another strong player is Canada's Paul Gauthier, somebody Hanson considers both a friend and rival. He first played him at the 1996 Games and beat him.
Since then, they've played five times, with Gauthier winning three of the matches, including a 5-2 victory in their quarterfinal match at the 2011 Parapan American Games in Guadalajara, Mexico, just last November.
"Paul's strengths are kissing the jack and blocking," Hanson said.
There is a boatload of other top competitors Hanson will be up against in London, too.
"Portugal and most recently Korea are very powerful opponents. Anything can happen and I don't take anyone for granted," Hanson said.
"To beat them I must be on my game. I cannot be having an off day. I will play a solid game and take advantage of any weakness or mistake they may have."
Related Images