Sochi 2014: How to ski at 100km per hour without sight
For Spain's Jon Santacana and Great Britain's Jade Etherington skiing 100km per hour visually impaired can be nerve-wracking to say the least.
07 Mar 2013
Imagen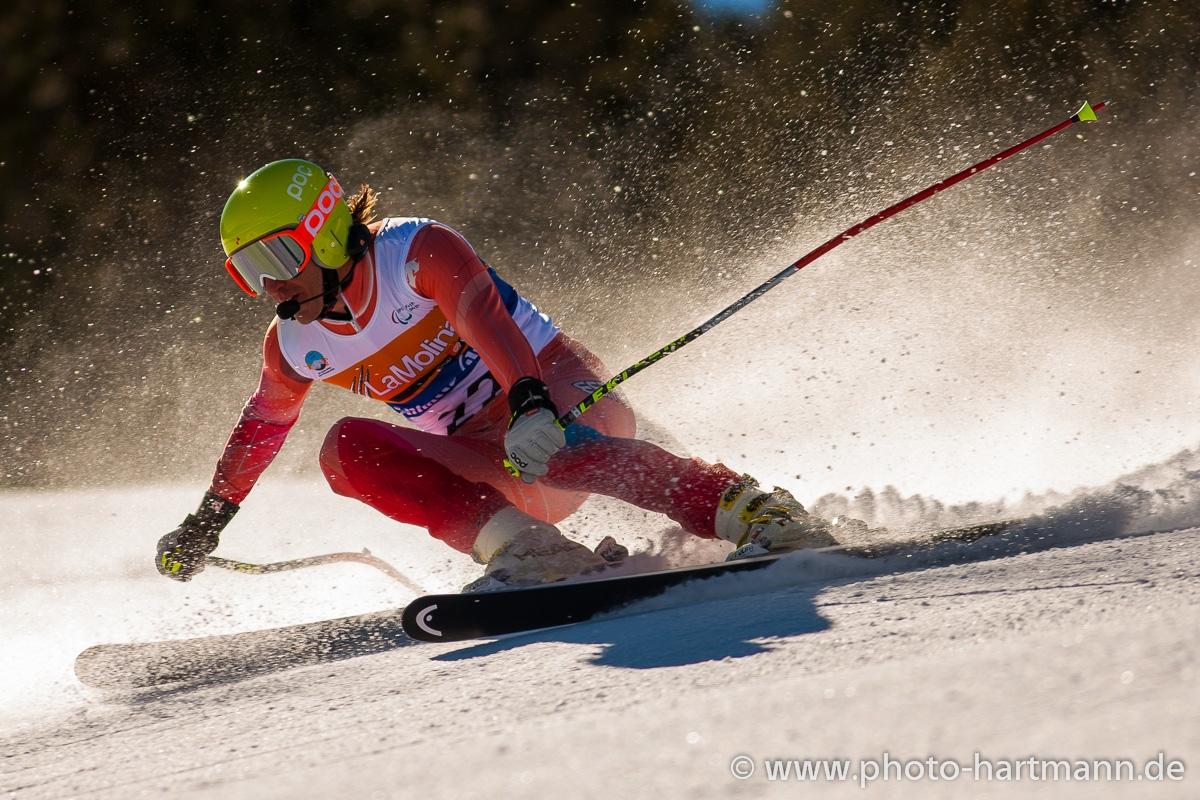 ⒸMarcus Hartmann
By IPC
"It's very dangerous for me. A lot of times, I know I'm going 100km per hour and I don't see (my guide Miguel Galindo Garces), but I know I must go straight and this is scary for me."
For most people, the thought of skiing at 100km per hour is terrifying in itself.
Now, imagine doing that without being able to see.
That's what visually impaired skiers preparing for the Sochi 2014 Paralympic Winter Games experience on a daily basis.
Visually impaired skiers at the Paralympics rely on guides to give them instructions and information over a two-way radio.
Although skiers can sometimes make out shapes and shadows, they must work to follow their guides down the hill, sticking as close as possible to each other.
Spanish visually impaired skier Jon Santacana, who just won three titles at the 2013 IPC Alpine Skiing World Championships in La Molina, Spain, admitted how nerve-wracking it can be for him on the hills.
"In speed events, I always get scared," Santacana said. "It's very dangerous for me. A lot of times, I know I'm going 100km per hour and I don't see (my guide Miguel Galindo Garces), but I know I must go straight and this is scary for me."
Despite this, the pair has proven to excel in speed events, picking up world titles in the downhill, super-G and giant slalom in La Molina.
"We talk a lot," Santacana said. "We do a lot of things wrong to find the best way. We always speak about training and things we can improve or things that haven't worked during a race."
The downhill Paralympic gold-medallist has to – literally blindly – follow everything Galindo Garces says down the radio.
"The most important thing is that he trusts me and – if not it's impossible – to go fast," Galindo Garces said. "He has to do everything I say in the microphone, so it's very important to have a very good confidence and work very hard and try a lot of things. "
Galindo Garces tells Santacana everything on a radio, including when to start and finish turns and when to change directions.
In the beginning it was a lot of pressure for the guide – one mistake on his part could have serious consequences for his teammate – but now they have been skiing together for 11 years.
"I kept thinking if I do something wrong, it's not easy for him," Galindo Garces said. "Now, I don't have pressure – experience is very important."
Some other skiers, such as Great Britain's Jade Etherington, haven't had as much experience with their guides. Etherington didn't even think she'd be able to compete in this year's World Championships until John Clark, who coaches Heather Mills, saved the day and offered to guide her.
"We're kind of using this first race at the World Championships as a trial," Etherington said in La Molina. "We haven't been skiing that long together. It's only been two days.
Despite that, the pair managed to win a bronze medal in the super-G event after only having two practice runs prior to their race.
"Jade's going 'go go go,' and I'm going 'Yeah ok, I better get my racing going ahead,'" Clark said. "She's been pushing me rather than me guiding her to be honest."
In addition to Santacana and Etherington, other visually impaired skiers to keep a watch on in the lead-up to the Sochi 2014 Games include: Russia's Alexandra Frantseva, Great Britain's Kelly Gallagher, Canada's Chris Williamson and Slovakia's Henrieta Farkasova and Jakub Krako.
Related Images