Spain Looks to Serve Up Show in London
Spanish Para-Table Tennis players Jose Manuel Ruiz and Jordi Morales, who are often overlooked by their competitors, would love to surprise crowds in London.
19 Apr 2012
Imagen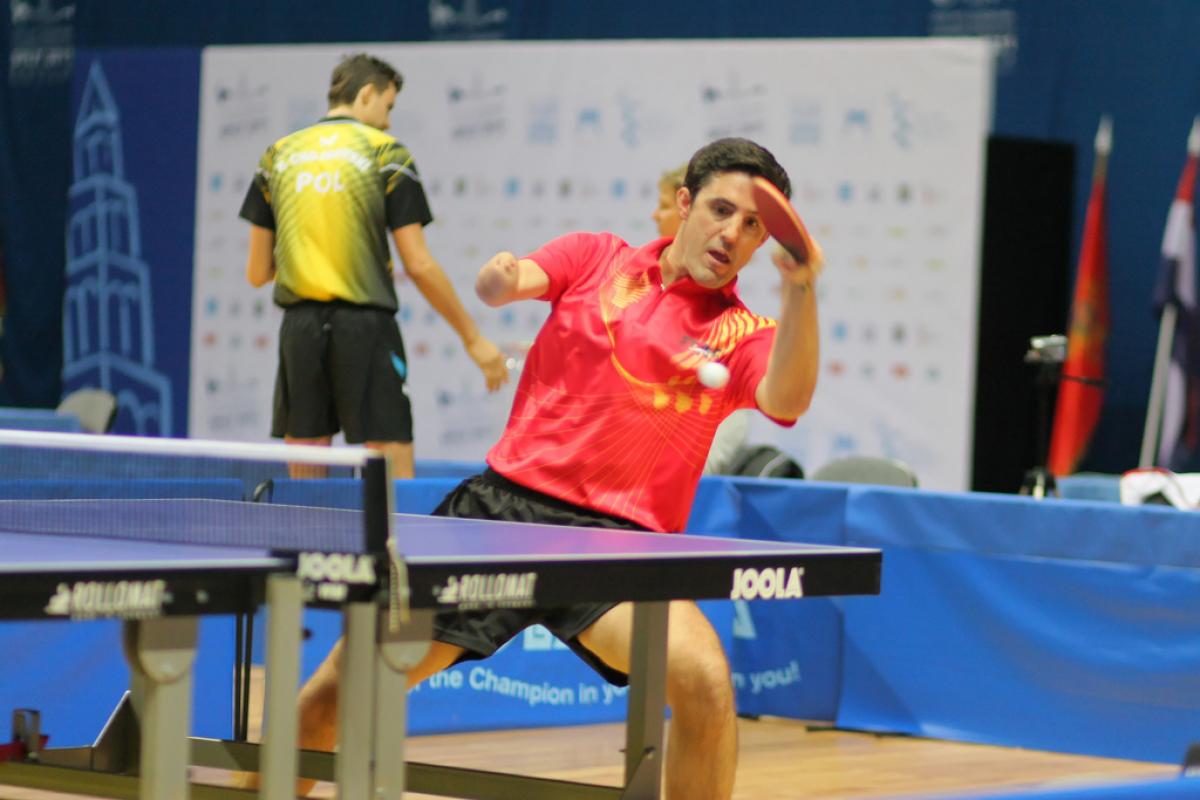 ⒸJose Manuel Ruiz
"Players not only need to have physical skills, but also mental strength."
Spanish athletes want to show the world this summer that Para-Table Tennis is not just dominated by athletes from the three powerhouse countries of France, China and Korea.
Spain has won eight medals over the last three Paralympics, but compare that to France's 44, China's 42 and Korea's 28, and it does not sound like a lot.
But that is what motivates Spanish players Jose Manuel Ruiz and Jordi Morales – they have little pressure riding on their performances.
A win would be unexpected at London's ExCeL Arena in September.
A surprise gold, if you will, would do wonders for their programme.
Ruiz, ranked third in the men's Class 10, won singles silver and team bronze at the Athens 2004 Games and then team silver at the Beijing 2008 Games.
Morales is No. 5 on the charts in Class 7, with his lone Paralympic Games medal a bronze in singles at the Athens 2004 competition when he was just 18 years old.
At 33, Ruiz would be the veteran on Spain's delegation if officially selected later this spring, and the Granada native would challenge the likes of China's Yange Ge and Hao Lian, in addition to Indonesia's David Jacobs. Poland's Patryk Chojnowski, ranked just one spot behind Morales, is new to the field but has previous experience in able-bodied competitions.
"The Asian athletes have a great and strong 'drive game' and they are really quick players," Ruiz said of his main rivals. "Against Asian players I try to have the initiative all the game and try to make them play on their left (weak) side."
Ruiz has competed in finals at European and world championship events, as well as the Paralympic Games, but he insists the peak of his career has yet to arrive.
He believes in London he can finally put together all aspects of his game.
"Players not only need to have physical skills, but also mental strength," Ruiz said.
"Everything happens so fast, no time to get bored. It is a great show for the spectators. "
Morales, meanwhile, is coming off a singles silver at the 2010 World Championships, in addition to a gold in the team event.
He has been playing the game since age 6 and has nothing to fear, as he already beat the No. 1 player in his class – Great Britain's Will Bayley – to take gold at the 2011 Dutch Open.
"I know Will Bayley will have a lot of support, not only because he is in his home country, but also because he is quite famous, an idol for a lot of people," Morales said. "But I like crowds. Even if they are cheering my rival, I enjoy them. I feel more motivated to beat the rival, and I enjoy a crowded and cheerful venue.
"I'm training really hard so I will compete with 100 per cent capacity, and I will do my best. I've beaten Will already, so I just need to concentrate, forget the pressing and play the best I know how to play."
Related Images
Related Documents