Switzerland's Horner Targets Top Finish
Philipe Horner, admittingly a quirky Swiss archer, is rising to the top of his game just in time for London 2012.
26 May 2012
Imagen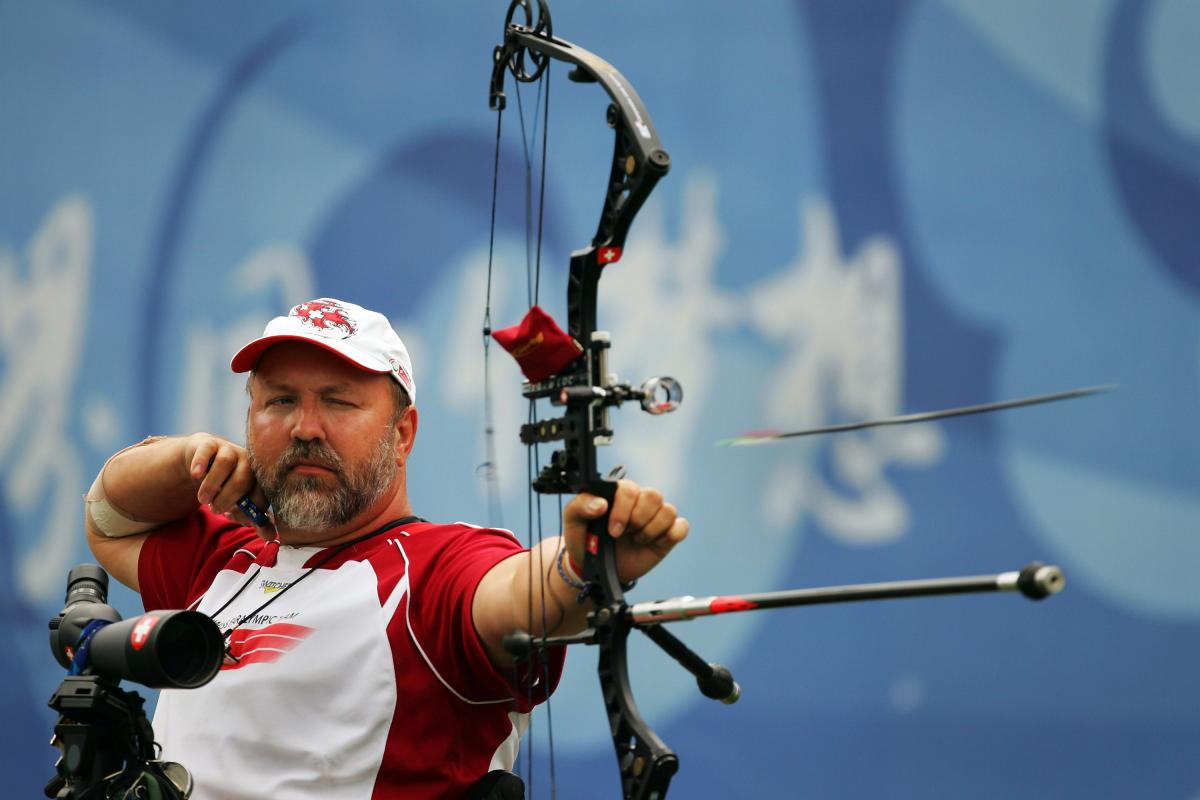 ⒸGetty Images
By IPC
"Just like Yoda, mental strength is very important to me."
At 53 years of age, Switzerland's Philipe Horner took one month out of training in April when he found himself having troubles moving around.
He returned to the Archery range for the London 2012 test event earlier this month, just a little more than 100 days prior to the Paralympic Games.
And he took to the Royal Artillery Barracks as if he had not missed a beat, defeating Great Britain's John Stubbs in the finals of the men's individual compound open to take gold.
"It took me a lot of effort and actually it's a good motivation for me for the Paralympic Games," he said.
For Horner, a bronze medallist at the Beijing 2008 Games, it was just another small hurdle to overcome.
"I am always laughing, because I think that when you have risked your life, when you have had an accident as someone who had already lived a life without a disability before, you are so happy to be present, to have the opportunity to find something which allows you to offset other things," Horner said.
"It's something that allows you to see that people don't look at your disability anymore."
Comic relief
Horner goes about life with a positive, optimistic attitude believing he has been blessed with "exceptional" opportunities that always motivate him to try harder.
His passion for Archery began in 1984, and he saw it start to peak with a bronze at Beijing 2008 and then a gold at the 2011 World Championships in the Czech Republic.
"What I like is that it's an individual sport and you do it on your own," he said. "Moreover, we have very good infrastructure in Geneva. So you don't need any help from anybody.
"In archery you don't fight against a rival but against yourself. It gives you an idea of what you can do."
Wait a minute.
Let Horner explain that same thing again for you on a more personal level that aligns with his style.
"Just like Yoda, mental strength is very important to me," Horner said. "I do it on my own and in my way. I am keeping positive."
Horner, who shoots from a wheelchair, is now ranked as the No. 1 archer in the world in the men's individual compound W1.
He admits to being a bit of a clown, though his humor is what keeps him going and relieves any stress that comes along with competing in an elite-level sport.
"In the beginning, I had a cow as a mascot because the cow for me represents Switzerland," Horner shared.
"But then I thought about Yoda because I am passionate about the Star Wars series and also because I don't have my feet on the ground, and Yoda is always levitating and he has a free spirit. So for me it was a good representation and thus it is now my mascot."
Aiming for gold
Heading into London 2012, Horner believes he will be battling Stubbs for the top position on the podium at the Royal Artillery Barracks.
He said the two are close friends, even if they cannot communicate together in English.
They know each other are the ones to beat, along with Italy's Alberto Simonelli, a silver medallist at Beijing 2008.
Horner and Stubbs – as well as Great Britain's Danielle Brown – are even now competing in able-bodied competitions.
"There are no frontiers anymore because we are level, as John, Danni, me, where we can 'bother' abled-bodied people, and for us it's a pleasure but for them they see that they have to be careful of us, that we are here, present," Horner said.
"I think that this open-mindedness is positive for people with a disability, that now we are together."
If all the pieces come together for Horner in London, he will be standing atop the podium in the Royal Artillery Barracks on 3 September after the finals in the men's individual compound open W1.
Related Images
Related Documents