Tatyana McFadden feared for her career after serious blood clotting disorder
USA's 17-time medallist 'blessed to be healthy and blessed to be racing again'
20 Aug 2021
Imagen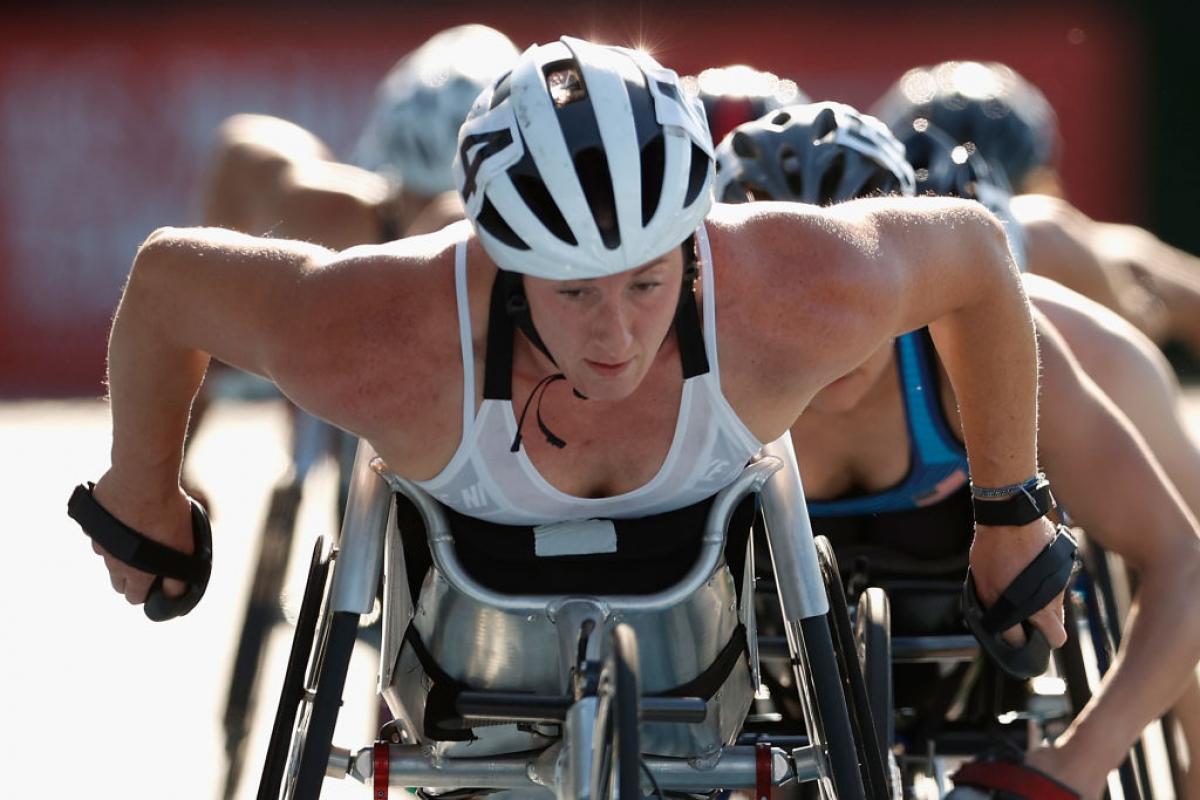 ⒸChristian Petersen/Getty Images
By AMP Media I For The IPC
Lying in a hospital bed as doctors searched for a solution to a serious blood clotting disorder, Tatyana McFadden feared her medal-laden wheelchair racing career was over.
Four years later and the American admits she is a changed woman, who is counting her blessings as she prepares to compete at her sixth Paralympic Games in the T54 classification.
Add the mental burden of COVID-19 lockdown, the uncertainty of whether or not Tokyo 2020 would actually happen, and the logistics of transporting a new racing chair from Japan to America, and it has been tough going for the 17-time Paralympic medallist.
"I'm proud of the person I have become," 32-year-old McFadden admitted as she looked back at the dark days of 2017.
"I have given everything to get back into racing and to be on the starting line. I am just blessed to be healthy and blessed to be racing again so I have definitely changed," she added.
"I was at a training camp in 2017 getting ready to go to the Tokyo marathon and I knew something was wrong. My legs swelled up, my feet were purple. I got cold-like symptoms and I was not feeling well.
"I had several surgeries and the scary part of it was in the first surgery they couldn't break up the clots because they got so hard they were set in stone, and the second scariest thing was that the blood clots kept coming back even with the dosage of medicine I was on.
"I thought 'oh my goodness, is my career over? What am I going to do?'.
"From February all the way through to April I was in and out of hospital and I was absolutely devastated. I was crying all the time and I thought my career was over. It was mentally challenging, mentally fatiguing.
"It took about 18-20 months to recover and even to this day I can feel the leftovers of it, meaning the lymphedema. So I still have my good days and bad days unfortunately."
PANDEMIC AND UNCERTAINTIES
There were bad days of a different kind last year, as the world closed down in the fight against the coronavirus, leaving elite athletes like McFadden in unprecedented limbo.
"Staying motivated through lockdown was hard because I am a person who is very social. I am definitely an extrovert so the lockdown gave me a lot of anxiety. Like lots of athletes we know exactly what our plan is a year in advance so that control was taken away.
"Getting a racing chair has been difficult because international shipping closed for a time. I've been working with the OX [Engineering] people in Japan and they do create a wonderful, wonderful racing chair.
"It was a really tough time for the family as well. I couldn't go to see them. My mum's autoimmune [system] is compromised so that was really hard."
SHARING STORIES THROUGH FILM MAKING 
There was one glorious high spot for McFadden and the Paralympic movement in 2020, however, and that was the release of a documentary, Rising Phoenix, on Netflix. McFadden worked in front of and behind the camera as the spotlight was turned on the amazing stories behind the athletes.
"It is something which needed to be done and I am so happy that we did it," McFadden said. "I definitely see myself doing something like this, probably while I'm still competing because I want to do a few more Games.
"But definitely when I retire. I love film making, I love interviewing people and if I could be part of sharing more stories and talking about disability in making that movement globally, I would love to be part of something like that."
First, however, Tokyo beckons. McFadden heads to Japan with one track meet and one road race under her belt, hardly ideal preparation but her rivals are in a similar position.
"It will be difficult knowing what your strengths and weaknesses are. I'm hoping it's going to be all good and I am just really excited that it is finally happening. I have absolutely given it my all."