US ace Tatyana hungry for more glory at Tokyo
"I want to leave a legacy of my own"
28 Nov 2019
Imagen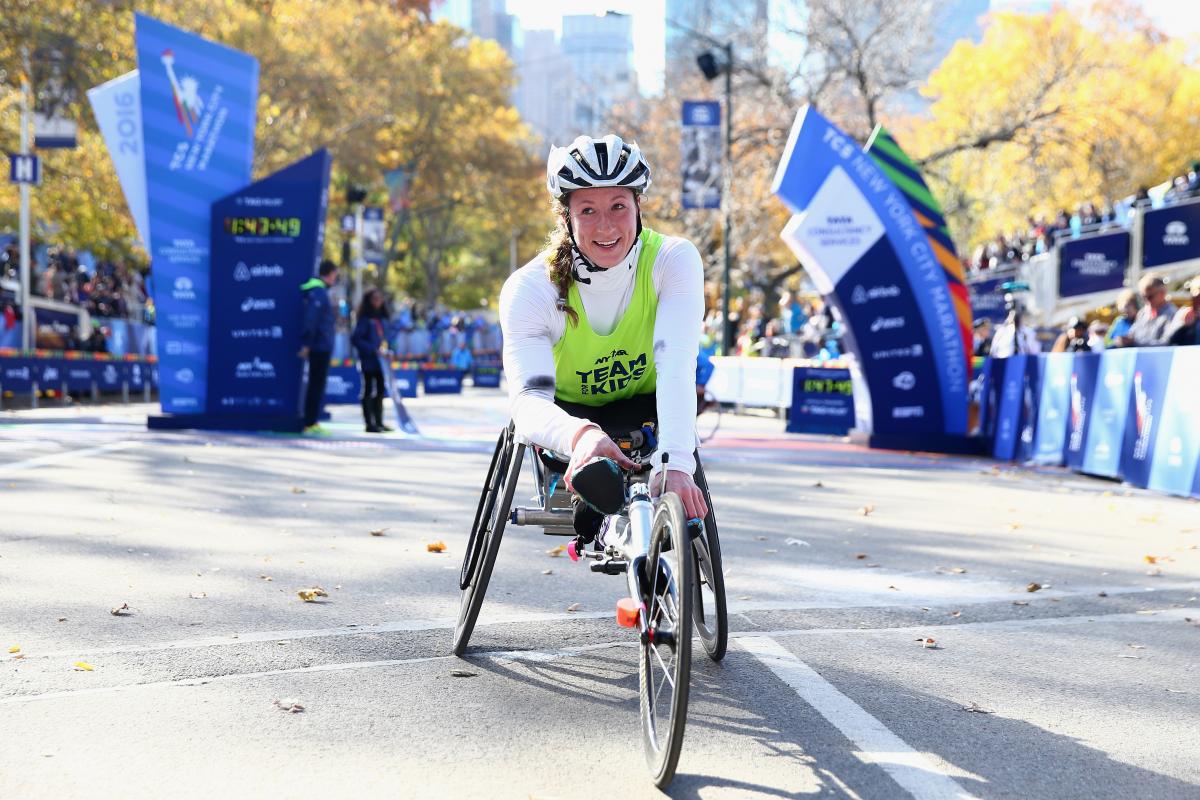 ⒸGetty Images
By Teddy Katz | For World Para Athletics
One of the world's best female wheelchair racers of all time is hoping to cement her legacy and further swell her 17 Paralympic medals tally at Tokyo 2020.
Tatyana McFadden is aiming to compete in seven different events including the mixed relay. That's more than she's ever done in any Games in the past. She knows it is going to take quite a toll on her body.
"Sport has really evolved over the last eight years with technology and training - the human body is evolving as well.  Athletes are much leaner, stronger going into the sport.  It's going to be tough, but I like tough challenges," McFadden says.
FIFTEEN YEARS OF SUCCESS 
McFadden won her first Paralympic medals when she was just 15 in 2004 in Athens. Fifteen years later, she's still going strong.
If she wins five more medals in Tokyo, she'll break the record for most career Paralympic medals ever won by a female athlete in athletics held by one of her heroes, Canadian Chantal Petitclerc.
Breaking new ground is nothing new for McFadden. In 2013, she became the first person in history to win what's known as the Grand Slam, the top four wheelchair marathons in the world in one year. She's done it three more times since then.
"The 23 major marathons I've won, all the 17 Paralympic medals have enabled me to have this platform and to really use it for the greater good to talk about disability," McFadden says.
RECOGNISED OUTSIDE THE PARALYMPICS
McFadden's influence continues to grow outside sport.
McFadden was recently shocked when friends texted her to tell her she was one of the people featured in a new book about Gutsy Women written by USA 2016 presidential candidate Hillary Clinton and her daughter Chelsea. Her story was there beside other sport trailblazers including Billie Jean King.
"People are noticing in small ways.  Well, that's actually pretty huge," says McFadden, who has noticed a big change since her first Paralympics in 2004 where she says there were few people in the stands. Now there can be 80,000 people in the stadium and many watching the television coverage and highlights on social media. She says people now recognise her at airports and stop to talk to her.
"They like it. They like what they see because they are understanding it better now. In wheelchair racing we don't have gears and it's like carrying 18 to 20 extra pounds around your legs because we have to bring the racing chair with us while we're sitting in it.

"People are really fascinated that we can do this all with our upper body. It's a smaller group of muscles compared to your legs. And we can go high speeds – and climb these hills and bridges," revealed McFadden.
Sponsors are noticing in new ways too. In 2012, she teamed up with BP one of the first corporations to invest equally in Paralympic and Olympic athletes. McFadden says that was a real breakthrough.
"They shifted attitudes because I had gotten comments in the past that Paralympians should be paid a little bit less because they're not very visible on TV – It's not there yet – how can we market these athletes," added McFadden.
BP LEAD THE WAY FOR SPONSORS
McFadden says the visibility is slowly changing for Paralympic athletes.  But BP decided they didn't want to wait.
"BP just kind of went no, enough.  This is how we are going to do it." 
More recently, she has been featured in TV commercials by Nike alongside sport legends like Serena Williams.
"They're showing the best of the best," McFadden says, adding "you feel like you've kind of made it."
David Legg is a professor in the department of Health and Physical Education at Mount Royal University in Calgary who specialises in the Paralympics. He says McFadden's record has earned her a place alongside some of the biggest names in sport.
And sponsors recognising her in this way could have a profound impact.
"By positioning Paralympic athletes alongside able-bodied athletes, that will drive social understanding and social acceptance of Paralympic athletes and their performance as being equal to able-bodied athletes," Legg says.
For McFadden, her ultimate goal is to fight for equality and to showcase important issues, for instance, how "there's many people with disabilities that still can't get jobs in the US."
"I want to leave a legacy of my own", she says adding, "I feel if we can change that perspective in sport, we can change it in anything."