Dubai 2019: Jonnie Peacock withdraws from Worlds
Two-time Paralympic and world champion out of season's most important competition due to knee injury
17 Oct 2019
Imagen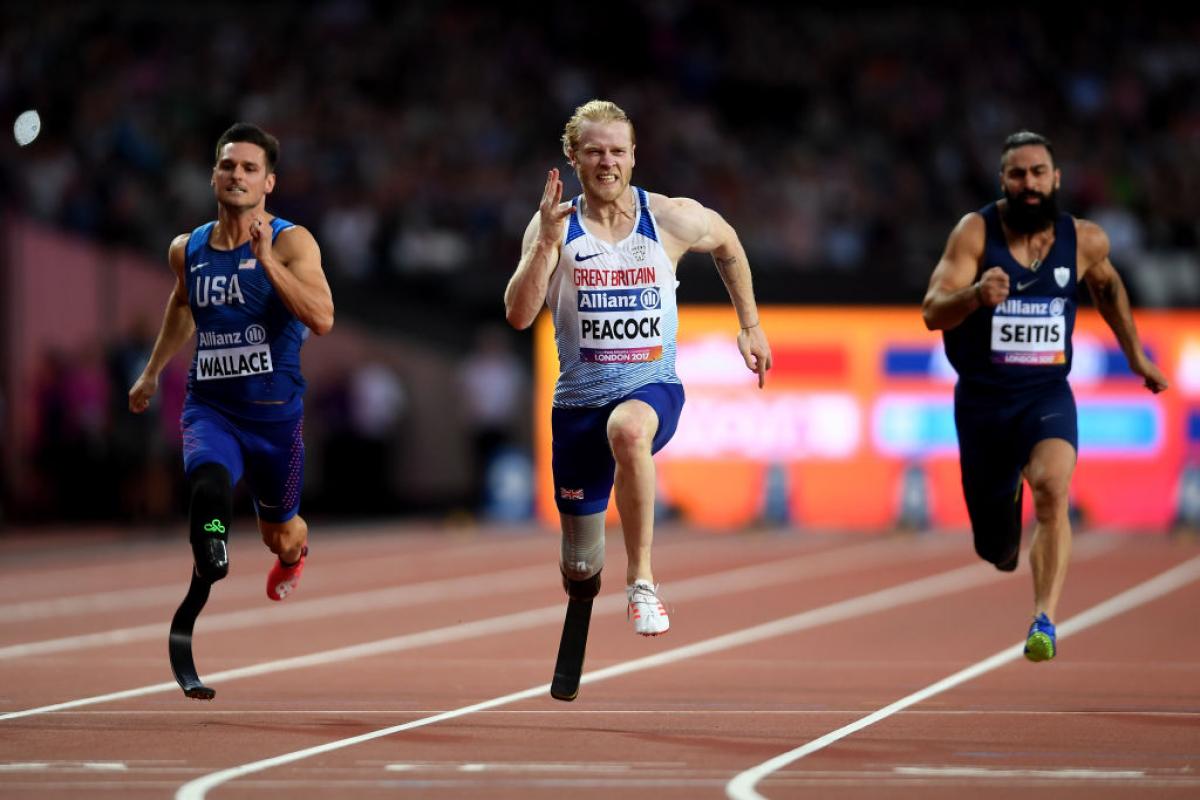 ⒸGetty Images
By British Athletics and World Para Athletics
Two-time Paralympic and world champion Jonnie Peacock will not be in Dubai to defend his title at the 2019 World Para Athletics Championships next month.
British Athletics announced that the sprinter has withdrawn from the British squad due to a knee injury. 
"'I have been forced to make the decision to pull out of the coming World Championships with a knee injury that has taken longer to heal than expected," Peacock said. 
The 26-year-old won his first 100m T44 world title at Lyon 2013 and took his second World Championships gold in front of an ecstatic home crowd at London 2017.
"It's always tough being on the side lines but I hope it will be a great event in Dubai and I will be cheering on the team from the UK. With some planned rest I hope to be back into winter training in no time,'' Peacock added.
A total of 42 athletes will be representing Great Britain at this year's Worlds (full list below).
"We wish Jonnie all the best on his recovery from injury and although I know he is be disappointed to miss these World Para Athletics Championships, his focus can now be solely on the Paralympic Games next year, and we will support him and his team as he bids for a third title out in Tokyo," said Paula Dunn, Para Athletics Head Coach at British Athletics.
The British Athletics team for the World Para Athletics Championships in Dubai to be held from 7-15 November 2019 (name/class/events):
Women:
Kare Adenegan – T34 - 100m & 800m
Hollie Arnold – F46 - Javelin
Martina Barber – T20 - Long Jump
Olivia Breen – T38 - Long Jump & 100m
Jo Butterfield – F51 - Club Throw
Lydia Church – F12 - Shot Put
Libby Clegg – T11 - 200m & Universal 4x100m relay
Hannah Cockroft – T34 - 100m & 800m
Kadeena Cox  – T38 - 200m & 400m
Sabrina Fortune – F20 - Shot Put
Kayleigh Haggo – RR3 - 100m
Sophie Hahn – T38 - 100m, 200m & Universal 4x100m relay
Sophie Kamlish – T64 - 100m
Sammi Kinghorn – T53 - 100m & Universal 4x100m relay
Maria Lyle – T35 - 100m & 200m
Anna Nicholson – F35 - Shot Put
Stef Reid – T64 - Long Jump
Ellie Simpson – RR3 - 100m
Ali Smith – T38 - 100m, 400m & Universal 4x100m relay
Hannah Taunton – T20 - 1500m
Vanessa Wallace – F34 - Shot Put
Men:
Ola Abidogun – T47 - 100m & Universal 4x100m relay
Paul Blake – T36 - 400m & 800m
Jonathan Broom-Edwards – T64 - High Jump
Mickey Bushell – T53 - 100m and Universal 4x100m relay
Richard Chiassaro – T54 - 100m, 400m, 800m & 1500m
Aled Davies – F63 - Shot Put
Gavin Drysdale – RR3 - 100m
Kyron Duke – F41 - Shot Put
Jordan Howe – T35 - 100m
Harri Jenkins – T33 - 100m
Nathan Maguire – T54 - 100m, 400m, 800m & Universal 4x100m relay
Owen Miller – T20 - 1500m
Ben Rowlings – T34 - 100m, 400m & 800m
Luke Sinnott – T63 - Long Jump & T61 200m
Zak Skinner – T13 - Long Jump & Universal 4x100m relay
Andrew Small – T33 - 100m
Rafi Solaiman – RR3 - 100m
Isaac Towers – T34 - 400m & 800m
Richard Whitehead  – T61 - 200m
Thomas Young – T38 - 100m