Dubai 2019: Sara Barrio breaking down barriers
Spanish runner inspires young people with disabilities – especially girls – through her writing and teaching, as well as athletics podiums
19 Oct 2019
Imagen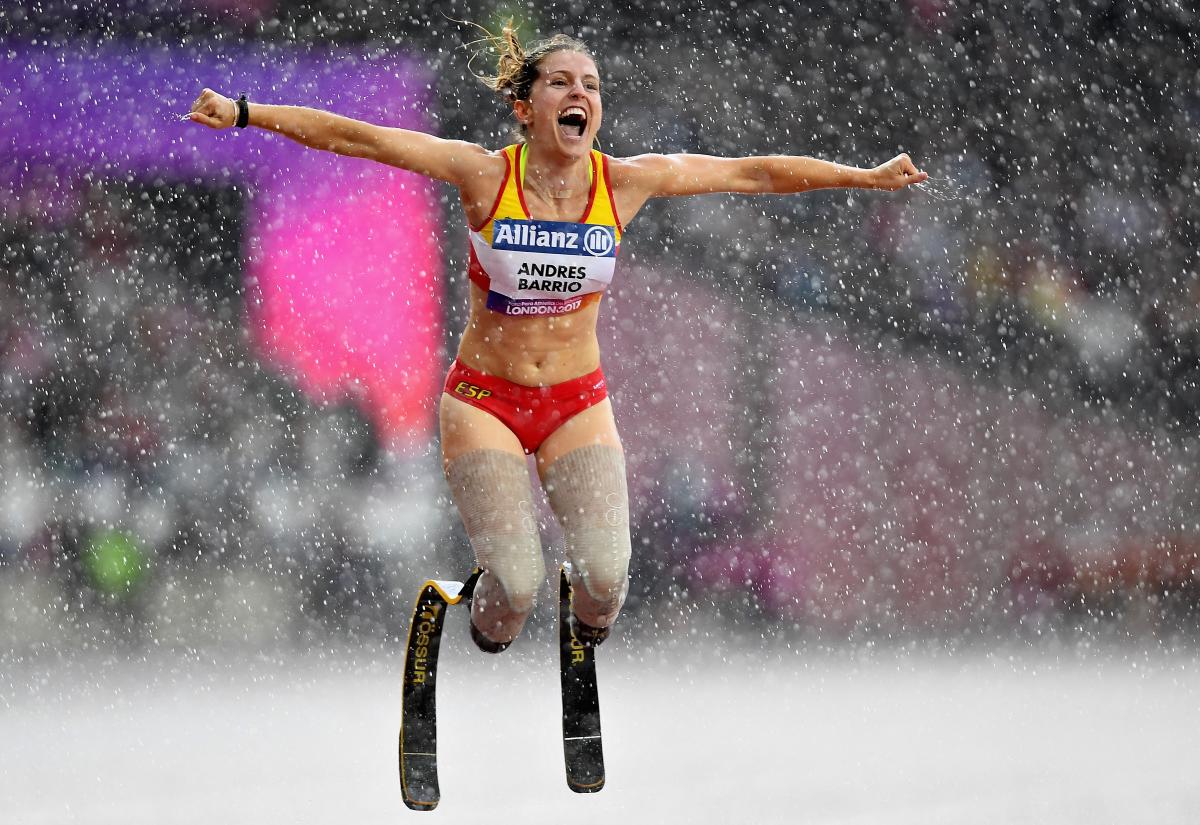 ⒸGetty Images
By Amp Media | For World Para Athletics
Sara Andres Barrio is the remarkable Spaniard who lit up the 2017 World Para Athletics Championships in London with two superb bronze medals. A photograph that perfectly captured the moment of pure happiness in her achievement went viral.
"That is the most beautiful image I have at a sporting level," recalled Barrio. 
"I remember it every day, the feeling of joy, satisfaction and, of course, every time I see it transports me to that moment. Perhaps the happiest of my life." 
Barrio's infectious smile is the mark of a woman who has never let what life has thrown at her get in the way of achieving what she wants. 
In between a relentless training schedule, Barrio has found the time to write a series of children's books, in which the characters deal with the challenges of disabilities, as well as to promote both gender equality and the importance of protection following her own skin cancer scare, a second brush with the disease. 
"In the mornings I train, in the afternoons I go to the physiotherapist or to the prosthetist, or I dedicate my time to holding conferences for companies or young people," she said. 
"I have written five children's stories about five children with different disabilities and their adventures. This way I can show the world that children with disabilities can be just like others, and can even become their icons, as Harry Potter has been."
Staying positive
To face a cancer scare at the very moment her athletics career began to soar was another shocking chapter in Barrio's incredible story – but that has never held her life back. 
"it's very difficult to stay positive when life hits you so hard, but with the help of my friends, family and media, I was able to overcome that setback," she said. 
"In the months that I was recovering, I was constantly visualising the return to running and training, and I wanted it very much because that is what gives me life."
With the Dubai 2019 Worlds looming large, the 200m and 400m bronze medals achieved in London gave the 33-year-old an even greater appetite for success. 
Much like the Worlds, Barrio's first Paralympic Games was a defining experience. Despite not quite achieving the results she wanted or will be aiming for at Dubai 2019 and Tokyo 2020, Rio 2016 and London 2017 were occasions that Barrio will never forget. 
"Those experienced were incredible," she said. "Just to be there was a real privilege and I lived it as a gift, to represent my country in the biggest sporting events in the world. Sharing it all with people from other countries and other cultures awakens the soul. Now I'm really looking forward to Dubai and then hopefully to Tokyo." 
Fighting for gender equality
In between all of this, Barrio has found the time to be a major proponent in the pursuit of gender equality in athletics and beyond. 
Whilst leading female figures remain too few and far between in the world of sports coaching and administration, she is in no doubt as to the positive impact that having more women in all areas of sports would bring. 
"When I teach children, I try to set an example of equality, sharing responsibilities equally between men and women and I try to make myself visible in the social networks to demonstrate the same thing," she said. 
"In sports, more importance should be given to women, and greater visibility, so that little girls have references and want to dedicate themselves to what they have seen since they were little and know that they can achieve it, which is not just a world of men."
The Dubai 2019 World Para Athletics Championships kicks off on 7 November and will be live on the event website, World Para Athletics Facebook and Twitter pages.