Tokyo 2020: Alison Levine looks to make history
Hopes to become first female to beat the men in Boccia BC4
26 Feb 2020
Imagen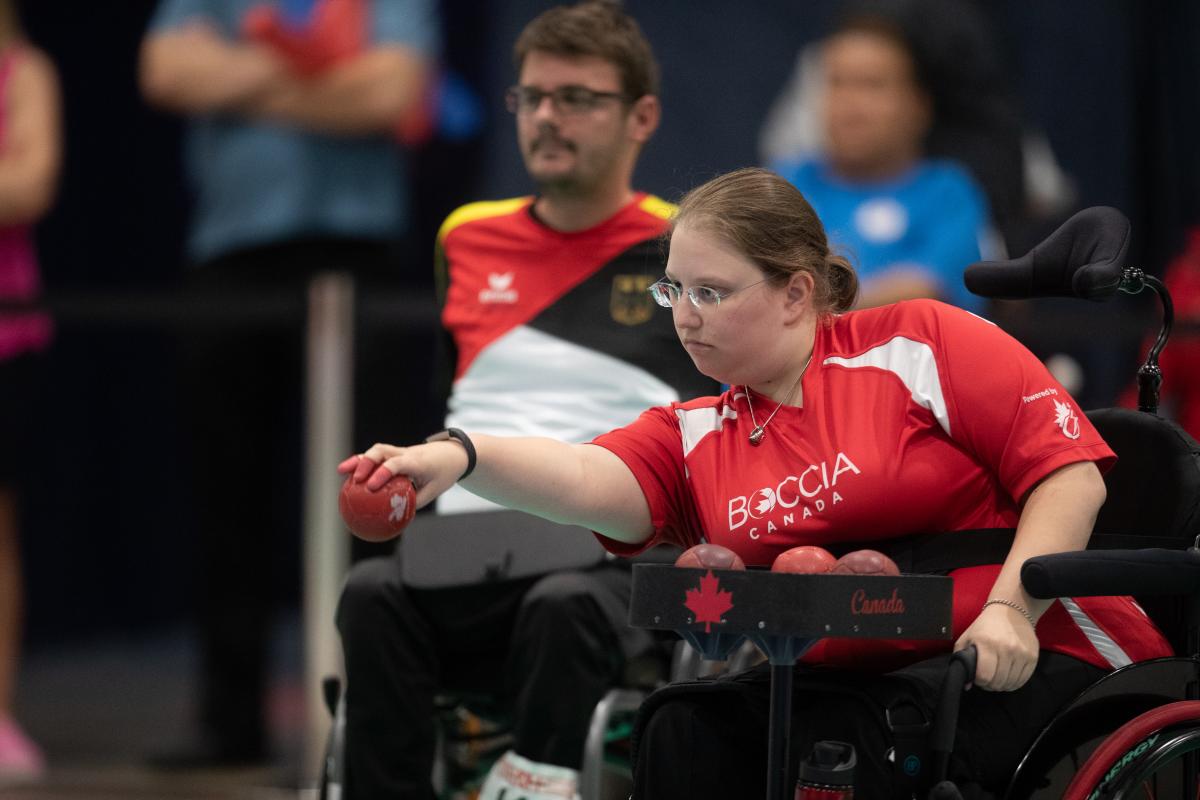 ⒸSportingwales
By Teddy Katz | For the IPC
Alison Levine of Canada, who you can always spot on the court wearing her lucky red shoes that go with the Canadian Maple Leaf, is giving new meaning to the fight for gender equity in sport.
Levine competes in the mixed gender sport of boccia and as of October was ranked No 1 in the world by the Boccia International Sports Federation, the first woman to ever reach that height in the BC4 category.
That's why she feels she's carrying a little extra burden into Tokyo as a woman trying to be a trailblazer.
"It almost gives me a feeling of responsibility to make sure to promote that point so that if there's any girls that are watching, it can be in the back of their mind – well if she can do it, I can do it."
Levine says it's an especially important message for young girls who sometimes don't see sport as an option.
"Growing up as girls we are often intimated to try sports because you know there is these big guys on the court and women often get put down and told they are not good enough."
She adds, "I am able to be proof and tell people look it doesn't matter – especially in a sport like boccia – that is mixed – put me against a guy – put me against a girl – I am going to beat you [laughs]."
In Tokyo, Levine looks forward to going up against Brazil, a team she says who are "loud and like to cheer" just like her Canadian squad.  One of her biggest rivals she says coyly is a team that speaks English and a little hop, skip and jump over a pond from Canada, admitting later she is referring to Great Britain.  She says, "there are maybe a team or two that we are not as friendly with, rivalries that go back from even before I was playing."
Levine is hoping to bring home two medals in the individual and in pairs from the Paralympics. But she just wants to enjoy the lead up to the games and use the extra hype and media attention to fuel her.
"I want to feel happy. I want to enjoy every single moment like I did in Rio," She adds, "when I am relaxed and having fun on court is when I play my best."
She says sometimes people misjudge her. "When you see me goofing around compared to the other boccia athletes that have their headphones on, they are all intense, you might think well she is not taking it seriously. Maybe she doesn't want to actually win the medal.  She just likes travelling the world.  That's not the case."
Levine has taken this approach for the past two years ever since she almost quit the sport. Ironically, it came after she started winning medals.
"As athletes we are perfectionists and we want to be the best.  When you start getting really good, you start analysing all the little bad things in order to be even better. And I guess the pressure just got to me and I was scared."
She says her teammates gave her the time and space to decide whether she wanted to continue.  Levine says that's when she realised she was part of a family that she couldn't leave.
Life changing experience
Sports has played a huge part in Levine's life since she was a teenager and started to suffer from a neurological muscular disorder that has gotten progressively worse.
At 15, she started horseback riding as therapy and later competed in the sport.  She taped her feet into the stirrups and put elastic bands around them and her mom would colour the elastic bands to match her boots.  Levine hid her disability because she says she didn't want the judges to give her pity points.
"It was me that was in control of the horse and it was me that was in control of my body."
When she lost muscle control and couldn't safely ride any more, she tried wheelchair basketball and her favourite event wheelchair rugby, where she was able to take out her aggression on the court.
She says her ability to adapt to all the changes and deal with all the unknowns that come with her illness, are what impress people most about her story. "People admire the fact that humans are capable of such resilience."
Levine now competes in an electric wheelchair. "The incredible thing about boccia is it's the sport designed for the people with the most severe disabilities.  Right now, I am a thrower so I throw the ball with my arm but there is a classification that if you can't move at all, you can play with a ramp and a sports assistant."
It gives her comfort to know sport can be part of her life well beyond Tokyo.
"No matter what abilities I lose and whatever I can and can't do I will be able to hang onto sport as that lifeline."