Tokyo 2020: Danish delight Peter Rosenmeier looks to sharpen game
Reigning Paralympic champion sees positives in Tokyo 2020 postponement
15 Apr 2020
Imagen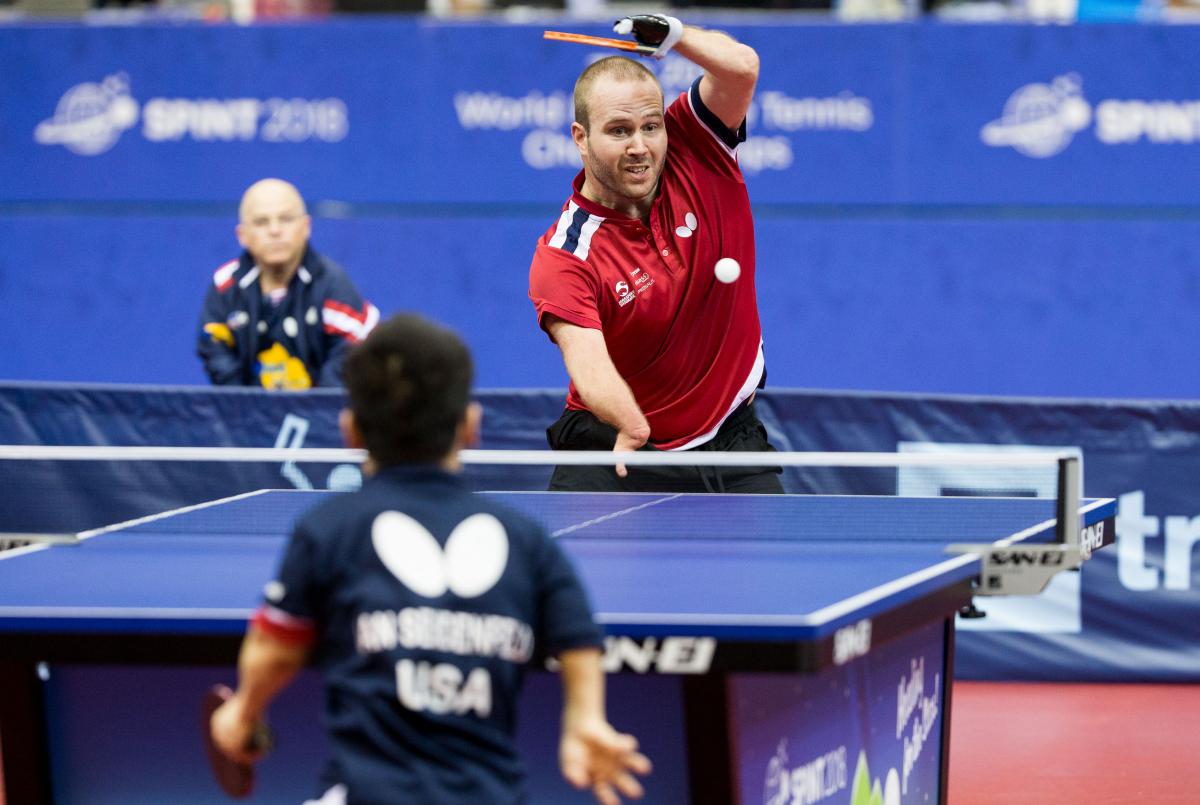 ⒸVid Ponikvar / Sportida
By Beau Greenway | For the IPC
With a table tennis table at home, Denmark's Peter Rosenmeier can still practice his sport during the coronavirus pandemic. Sometimes however, he wishes he had dozens of more tables surrounding him.
The multi-Paralympic, world and European champion misses playing inside a venue packed with tables and several games happening at once. The COVID-19 crisis postponed the Tokyo 2020 Paralympics to next year, wiped out his entire table tennis calendar, and like many others, forced him into isolation.  
 
Rosenmeier, who works in Denmark but lives in Sweden, has been isolating at home in Malmo. His children have been attending school in Sweden, where restrictions are lighter, and his wife continues to work as a midwife at the local hospital.
The two-time Paralympic gold medallist admits feeling lonely. 
"I've installed a table tennis table in my house so I can still touch the ball, serve and do some main practice," said Rosenmeier, who competes in the men's singles class 6. "I have also had online pilates sessions and I'm in contact with my coach every day.
"I try to stay active as much as possible, but I miss the big training venue with 16 tables and a lot of people."
But Rosenmeier also understands the decision to postpone the Games. 
"It was kind of frustrating knowing in the next couple of months you would have to be at your top level when you can't really follow your schedule and the plan you set up," he explained. 
"I know how much logistics and how much money is put into this. To make the decision on fairness and health instead of logistics and economics, I think is extremely strong and I'm very proud of that decision."
He said the situation in Sweden is not as worrying compared to Denmark. The nations have different approaches to containing the virus, with Denmark implementing early and strict measures like shutting down schools, restaurants, offices and even its borders. 
"People are kind of reacting to those messages and it's kind of (interesting) to be in both countries because it's completely different," he said.
But the 36-year-old also thinks about his opponents in Italy and Spain, two nations hit extremely hard by the virus and have enforced stricter lockdown measures.
"It wouldn't have been fair and there wouldn't have been the right winners if we had pulled it (Paralympic Games) through," said Rosenmeier, adding on a lighter note: "The positive thing for me is I'm one of the few in history who will be reigning champion for five years. Not many people can say that."
Rosenmeier will use the postponement as an opportunity to be even sharper when the Games come around in 2021; the new dates have been set for 24 August – 5 September.
"If we put this on a bigger scale, we're just doing this because it's fun," Rosenmeier said. "Everybody must put the fun aside for some time, and hopefully we can get everything back to normal and we can continue with all the fun and what we want to do.
"Normally in a post-Paralympic year, we have a little more of a break and everything is a little slower, but we'll take that year this year."
Being defending champion, Rosenmeier has no shortage of motivation. Since winning at Rio 2016, he also won the 2019 European and 2018 world titles. 
"No matter what it is, it's more difficult when you're defending champion because the guys that came second, third or fourth are somehow more motivated than you are," he said. "You really have to focus on that part to get that last two per cent, and it's difficult.
"Now I get an extra year to be more ready and that's okay, I think I can spend that year better than my opponents."