India's Manasi Joshi sees Tokyo postponement as more time to get better
'In India, disability is still about the able and we still do not have inclusive opportunities or physical places'
14 Apr 2020
Imagen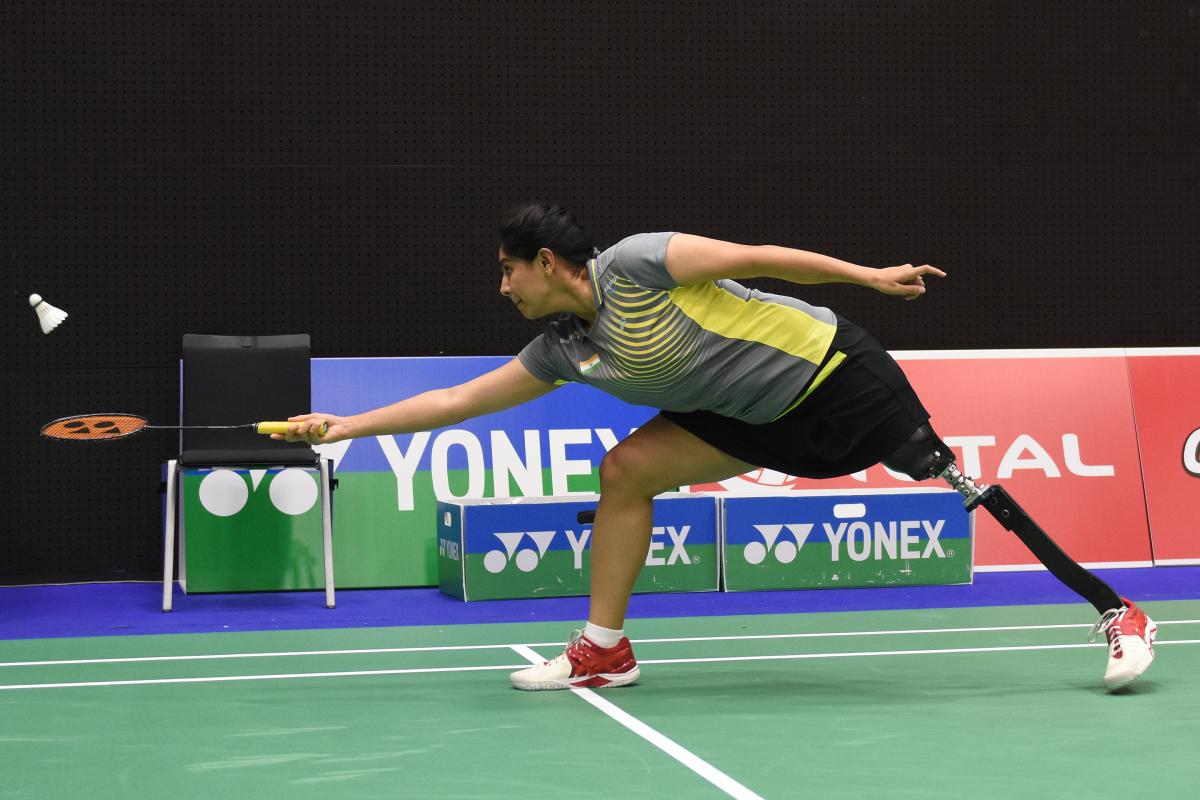 ⒸBWF
By Tokyo 2020
India's high-profile Para badminton player Manasi Joshi is hoping to ride her wave of success all the way to the Paralympic Games when the sport makes its debut next year.
After bagging gold in the singles SL3 at the 2019 World Championships, the Indian athlete has focused all her energy on qualifying for Tokyo 2020, where she hopes to compete in the mixed doubles alongside Rakesh Pandey.
Last year, their dreams were almost derailed when Pandey was injured and Manasi broke her prosthetic leg at a tournament in China. But with the Games being postponed, Manasi now looks forward to getting back on track to win more Paralympic qualifying tournaments.
"I am happy that we have one more year to train and do better," she said. "I hope that new tournaments will be added by Badminton World Federation as qualifying tournaments for Tokyo 2020.
"We have one whole year before Paralympic Games, nobody can say that the same set of players will remain at the top and in the next year many players can better their skills and may also become the best. I think this will be very crucial for everyone."
With India in a lockdown, Manasi is making sure she keeps her focus on training.
"My academy is closed, and I am now at my parents' doing workouts at home. I am in touch with my trainer, dietitian and mind coach who are helping me adapt the training routine - considering the current situation - and to keep my morale high. I cannot replicate my training and gym routine, but I am taking this time off to understand myself better."
 Relearning everything, smashing obstacles

In 2011, 22-year-old Manasi was working as a software engineer in India when a road accident resulted in an above-the-knee amputation along with a compound fracture to her left arm.
"After 45 days of hospitalisation, I lost my battle and my leg. Mentally and emotionally, I was very stable and had accepted my situation. I was positive, optimistic and was looking at each day with hope."
After many months of recovery and with the help of her family and the support of her friends, Manasi was able to learn to walk again and adapt to her new life.
"It took around 2.5 months for all wounds to heal completely after which I started with my rehabilitation i.e. prosthetic fitment. It was extremely overwhelming to be standing on both my legs again and I can never forget the look on my parents' face when they saw me walk again.
"It took me months of hard work, perseverance and patience to walk properly without crutches that had become a part of my identity since the accident.
"This whole journey has been of learning about the inner self and how the human body can adapt to different situations it encounters and how we can push ourselves for the betterment of self and society."
Support of family friends
After her accident, Manasi was looking for something to do as part of her rehabilitation and turned to one of her childhood passions, badminton, to help her regain mobility.
"When I was around 6-7 years old, my father started teaching me badminton. He would just throw shuttles towards me so that I develop hand-eye coordination and proper contact with the shuttle," she recalled.
It was her brother Kunjan, an avid badminton player, who helped her pick up the game again. Playing with an impairment was challenging. Manasi, who was a natural in badminton, had been playing since school, represented her college as a teenager and competed at various corporate tournaments, now had to learn how to play badminton with a prosthetic.
"[Kunjan] is the spark that ignited my initial love for sport and motivated me to pick it up. There were days when I would come home completely tired from my work and travel, he would push me to accompany him to badminton courts and play alongside him. 'No' was never an answer for him."
Apart from her brother, her sister Nupur, who was a sports management professional, became her first manager and helped her get sponsorship deals.
"I feel our family bond has got stronger after my injury. It is only because of my family that I was able to fulfill my duty as a Para athlete and break barriers."
"My friends and colleagues never left my bedside in the hospital. My colleagues have been super supportive right at the workplace and outside. My accident anniversary was celebrated with a cake in the office."
Becoming a world champion

In just three years after that fateful accident, Manasi has worked her way up to become a formidable Para badminton athlete. During her first years, Manasi had to juggle a job that would fund her training and cost of her prosthetics.
All her sacrifices paid off.
In 2015, she competed in the mixed doubles at the World Championships and won a silver medal. By June 2019, she reached world No. 2 in SL3 events.
To seal the deal, Manasi clinched gold at the 2019 World Championships defeating world No 1. Parul Parmar.
"I was super happy because I had worked very hard for it. I had given up on so many luxuries for this. I had moved to a different city, away from home. I was on leave without pay - a sabbatical, training three times a day and six days a week. There were times when after my training, I would go to my prosthetist by traveling 1.5 hours, get some changes made, and return to the academy to finish my next training session.
"So definitely it was a sense of accomplishment for me, as well as my team, when I came home with a gold."
Raising awareness about impairment
As a world champion, Manasi has been using her star status and visibility to talk about the plight of Para athletes and impaired people in her native country.
"I feel as a Para athlete, my voice and ideas can be amplified and my views asking for equality can reach a larger audience.
"In India, disability is still about the able and we still do not have inclusive opportunities or physical places. To be able to realise the goal of inclusiveness, a shift in perspective — that of being equal partners in development and decision-making — is needed first."
On top of her wish-list is to make prosthesis more accessible in India.
"As an amputee, the high cost of prosthetics and additional taxes are one of my major concerns as the prosthetics we buy are sold at prices which are a lifetime's savings for any Indian."
She is also campaigning for more funding for prosthetics as the current prosthetic technology is geared for forward-motion like athletics, whilst badminton requires different movements.
Winning a medal for India
Aside from her personal dream of competing in the Paralympic Games, inclusivity is the reason why Manasi wants to win a medal for India.
"My victory at BWF Para Badminton World Championship in 2019 was widely covered by the Indian media which makes me believe that there is curiosity and interest among the masses for Para badminton. If I compete and win a medal at the Paralympic Games, it is going to help generate more visibility and publicity.
"For me personally, [to qualify] will be like a dream coming true. A dream I have been working towards, taking small steps since 2015.
"If I win a medal, a new conversation around inclusion and road safety will begin and a lot of ideas will change around disability in India."