Tokyo 2020 one-year anniversary: Blind football league launched a year after Games
Players and officials pin high hopes on new league after Japan made their Paralympic debut in Tokyo
05 Sep 2022
Imagen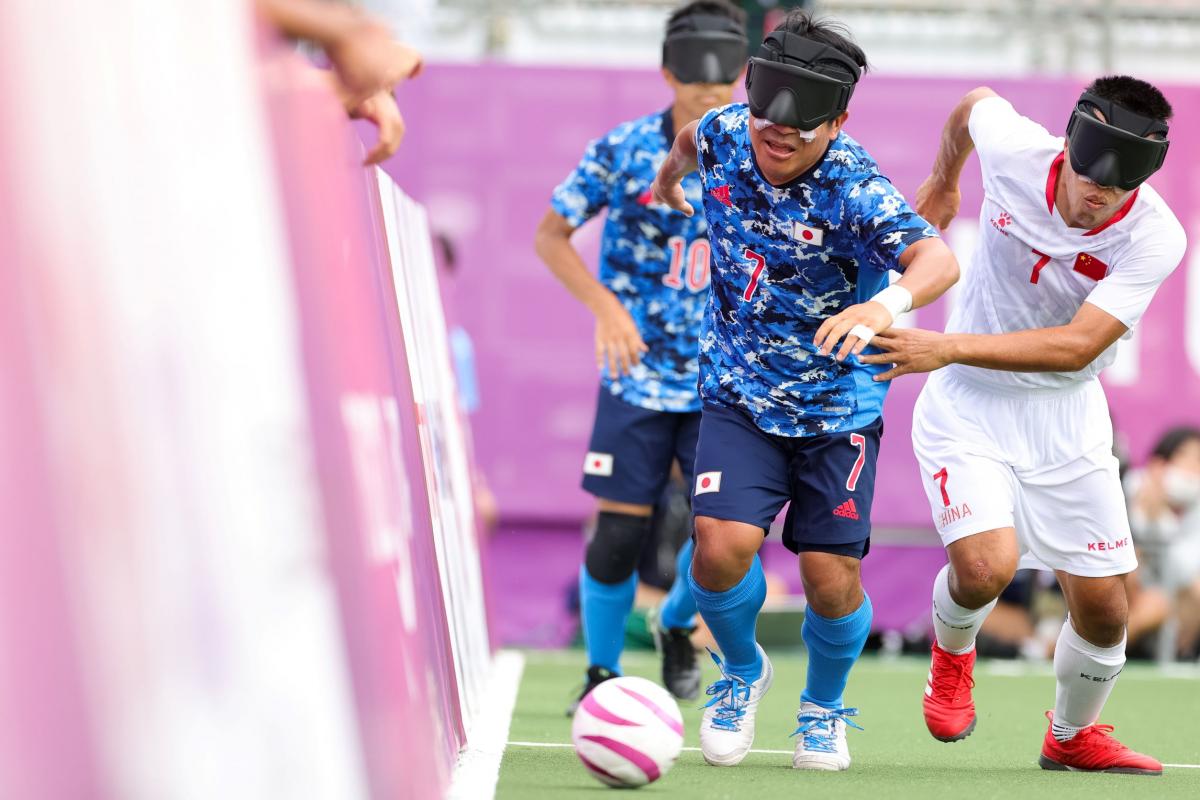 ⒸCarmen Mandato/Getty Images
By Ayano Shimizu | For the IPC
Blind football player Akihito Tanaka had dreamed of playing for Japan at the Paralympic Games for more than 10 years.
But after Japan concluded their first-ever Paralympic campaign at Tokyo 2020, Tanaka felt strongly that he must treat the Games not as an end of a long journey but as the beginning of a new chapter.
One year after the flame went out in Tokyo, the sport has already seen change in the host country.
The Japan Blind Football Association (JBFA) raised the curtain on its first top league, LIGA.i, in July as a way to improve the competition level in the country. Four teams make up the league in the inaugural season, and its players and the association hope that more teams will join the league soon.
"Through the top league, teams that want to raise their competitiveness can play exciting matches in front of spectators," said Hajime Teranishi, who plays for Tokyo-based club Papelecial Shinagawa. "As an individual playing in the league, I believe it has the potential to change positively how society views people with visual impairments."
LIGA.i takes centre stage
There are 31 registered blind football teams in Japan, but they differ in their level and goals. Some teams focus on competing at a high level, while others put more emphasis on having players enjoy the sport as part of their daily lives.
Before launching LIGA.i, there used to be only one league in the country. Now there are two.
"We saw one-sided matches and teams were looking for different things. We wanted to allow teams to select which league to take part in based on what they seek in the sport," said Daisuke Miyajima, a JBFA official.
Through the top league, JBFA also aims to draw large crowds to venues and help improve the organisation of the association and the teams.
The first season runs until September 23 with four teams playing in front of live audiences at venues in Tokyo and neighboring Shizuoka Prefecture. Tickets are sold online.
"I felt nervous and honoured at the same time when playing in the opening match before many fans," said Teranishi, who was also a member of Japan's Tokyo 2020 squad. "I think this league has the possibility to became larger because we don't have many teams participating at the moment."
While the association came up with the idea of establishing a top league before Tokyo 2020, Japan's debut at the Games on home soil helped to further promote the sport.
"Many people said they watched blind football for the first time at the Tokyo Paralympics. Some of them have volunteered at our events," Miyajima said. "We want to work on an approach so those people can continue to come to our events."
Paralympic debut on home soil
Japan qualified for the Paralympic competition as the host country and finished fifth out of eight teams. The Tokyo 2020 Games were held following a one-year postponement and largely without spectators due to the coronavirus pandemic.
While placing fifth was a "frustrating result" for 44-year-old sports veteran Tanaka, the hosts beat Rio 2016 silver medallists France in the preliminary stage and Spain, ranked world No. 3 at the time, in the match for fifth and sixth place.
Japan's two group stage losses came against China and Brazil. The Brazilian squad went on to win their fifth consecutive gold at a Paralympic Games.
"I still think about what it would have been like if the Games were held under ordinary circumstances," Tanaka said. "But the Paralympics were a competition that I targeted for more than 10 years so being able to continue playing to meet that goal was a huge confidence boost.
"I know (competing at the Paralympics) was one of the goals for the team, but the Games gave me a strong sense that we must consider it as a new start."
While stepping on the Paralympic pitch was a new experience in itself, Tanaka said he also felt a strong connection with athletes from other sports.
"By enjoying other sports on TV, I realised I was competing on the same stage as other athletes and it gave me a strong awareness that I was also a Japanese Paralympic athlete," he said.
Shooting for Paris
Tanaka still remembers when he took part in blind football practices for the first time.
"Since the sport is for people with visual impairments, I thought people would play very slowly. So I was very shocked with what I saw," Tanaka said.
"I had reduced vision until I was a student and I liked playing football. For me, the best part about blind football is that it is just like football," he added.
The veteran player has seen the sport grow in Japan over the years, with more facilities built and support programmes created for Para athletes after the nation was awarded the Paralympic Games in 2013.
Moving forward, the players have their focus set on winning the Asian Championships, to be held in Kochi, India in November, to secure a qualification spot for the Paris 2024 Games.
"We cannot deliver good results ahead of Paris without each player raising their level and we need a bigger field of talented players," Tanaka said. "I want to contribute to the team - not just on defence, which I am good at, but I will also brush up on my offensive skills."