Tokyo 2020 one-year anniversary: IPC President praises Japan's Paralympic legacy
Andrew Parsons spoke with the Japanese Prime Minister Fumio Kishida and met with Tokyo's Governor Koike as part of the events held to celebrate the one-year anniversary of the 2020 Paralympic Games
24 Aug 2022
Imagen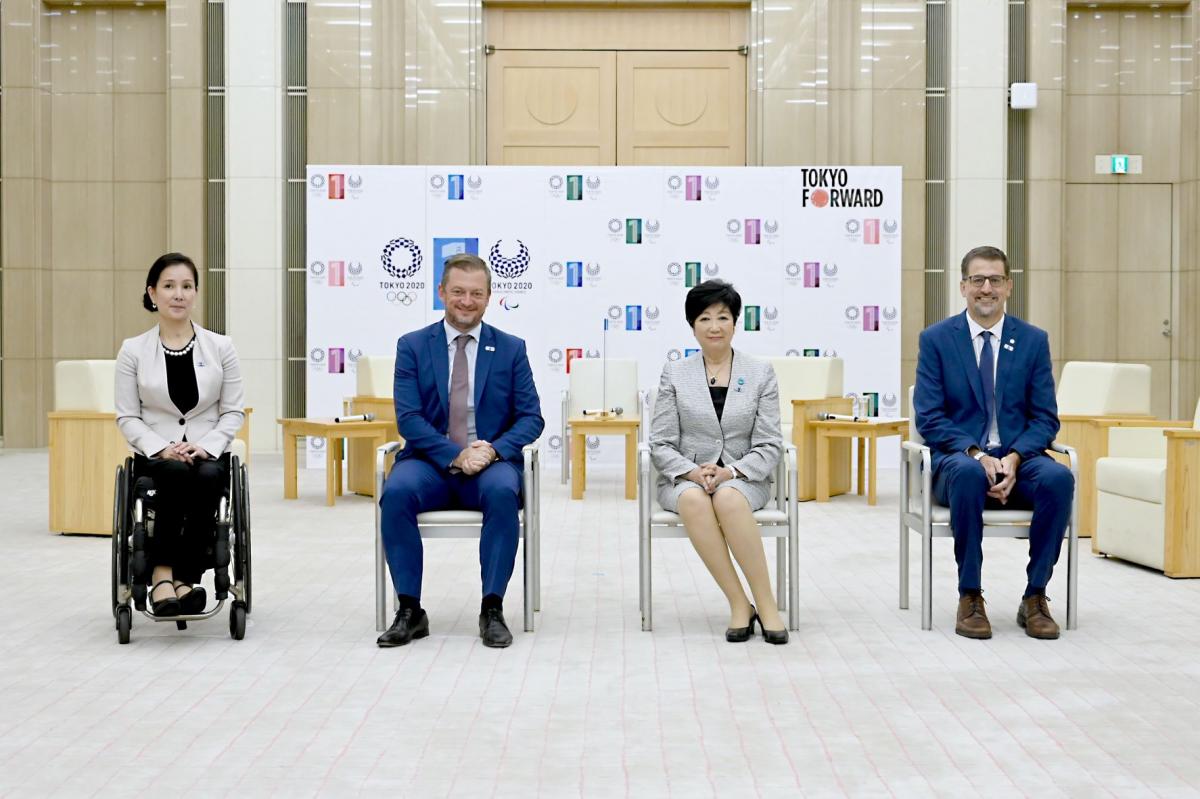 ⒸTMG
By Tokyo Metropolitan Government and IPC
During a visit to the Japanese capital to mark the one-year anniversary of Tokyo 2020, International Paralympic Committee (IPC) President Andrew Parsons expressed his delight at how the city of Tokyo and Japan as a whole is building upon the Paralympic legacy to achieve an inclusive society.
In a packed week of activities, Parsons, together with IPC Governing Board member Miki Matheson and CEO Dr. Mike Peters, spoke with the Japanese Prime Minister Fumio Kishida, met with Tokyo's Governor Koike, and took part in a series of events and visits.
Creating a blueprint for future host cities
In Monday's meeting with Governor Koike, Parsons shared his gratitude at the role the Tokyo Metropolitan Government (TMG) played in delivering last summer's highly successful Paralympic Games. He also spoke about the legacies that the Games had already delivered in the city and his aspirations for the future.
"The IPC and Paralympic Movement will forever be grateful to you Governor Koike and TMG's outstanding support and commitment towards the Paralympic Games," said the IPC President.
"You fully understood the potential of the Paralympic Games to transform this city's infrastructure and society. I am delighted you grasped the opportunity with both hands and created a blueprint for all future host cities and major city leaders.
"In terms of infrastructure, this city has never been more accessible or accommodating. Whether it is the award-winning accessible airports, step-free access and barrier gates at metro and rail stations, or the increased number of accessible hotel rooms, Tokyo is an example to all other major cities.
"Barcelona 1992 and London 2012 set the bar high in terms of Paralympic legacies, but I am greatly confident that, as it did with the Games last summer, Tokyo will raise the bar even higher for all future Paralympic Games host cities."
Eternal debt of gratitude
Originally Parsons, Matheson and Peters had been due to meet Prime Minister Kishida in person, but due to the Premier testing positive for COVID-19 days earlier, Tuesday's meeting was held remotely.
"It is a pleasure being here in Tokyo one year after the Paralympic Games to celebrate what we delivered together but also to see some of the legacies. I have been lucky enough to be involved since the bid phase in 2013 so to see the change in Japan is just fantastic," said Parsons, who wished the Prime Minister a speedy recovery from COVID-19.
"We have an eternal debt of gratitude with Japan as a nation and with Japanese society because very few countries would have committed to delivering the Games during the pandemic the way Japan did.
"At Games-time I said I would like to thank each and every Japanese person in this country, which I know is impossible! I'm now back one year later still to thank Japan and every Japanese citizen for its commitment, effort and support."
In response, the Prime Minister Kishida said: "I feel hosting the Tokyo 2020 Paralympic Games enabled us to take the first step in the realisation of an inclusive and cohesive society.
"While working together with the IPC and the international community, the Japanese government encourages Para sport further and also works on delivering a cohesive and inclusive society."
Historic and heroic achievement
On Wednesday evening, a commemorative event was held at Ariake Arena to mark the one-year anniversary and the official opening of the TMG-owned venue following last year's Games.
In a speech to assembled guests, which included Governor Koike, Japan Paralympic Committee President Kazuyuki Mori, and IPC Special Ambassadors Inagaki Goro, Kusanagi Tsuyoshi, and Katori Shingo, Parsons said: "The Tokyo 2020 Paralympic Games were a truly historic and heroic achievement, and one that you should all be immensely proud of.
"In the most difficult of circumstances, Tokyo staged fantastic and magical Paralympic Games, Games that will change this country forever.
"Through outstanding organisation and commitment, you took the Paralympics to a new level and created a blueprint for how all future Games should be staged.
"Thanks to the Paralympics, Tokyo is now one of the most accessible cities on earth. The Games here changed laws, led to new legislation and created new opportunities.
"Importantly the performances of Paralympians changed attitudes amongst Japanese citizens and empowered persons with disabilities to feel part of an inclusive society.
"There can be no greater legacy than changing the life of a human being for the better, and the Tokyo 2020 Paralympics did just that. Tokyo 2020 changed many lives here and around the world and all I can say is thank you."
In addition to the event at Ariake Arena, Parsons also toured some of the city's barrier-free facilities, visited the Nippon Foundation Para-sport Support Center and participated in an exchange with students at a city school for children with disabilities.