Tokyo 2020 one-year anniversary: A Paralympian's show-stealing violin performance
Paralympic swimmer and mother-of-three Manami Ito re-learned to play the violin with a prosthetic arm to fulfil a childhood promise made to her mother
24 Aug 2022
Imagen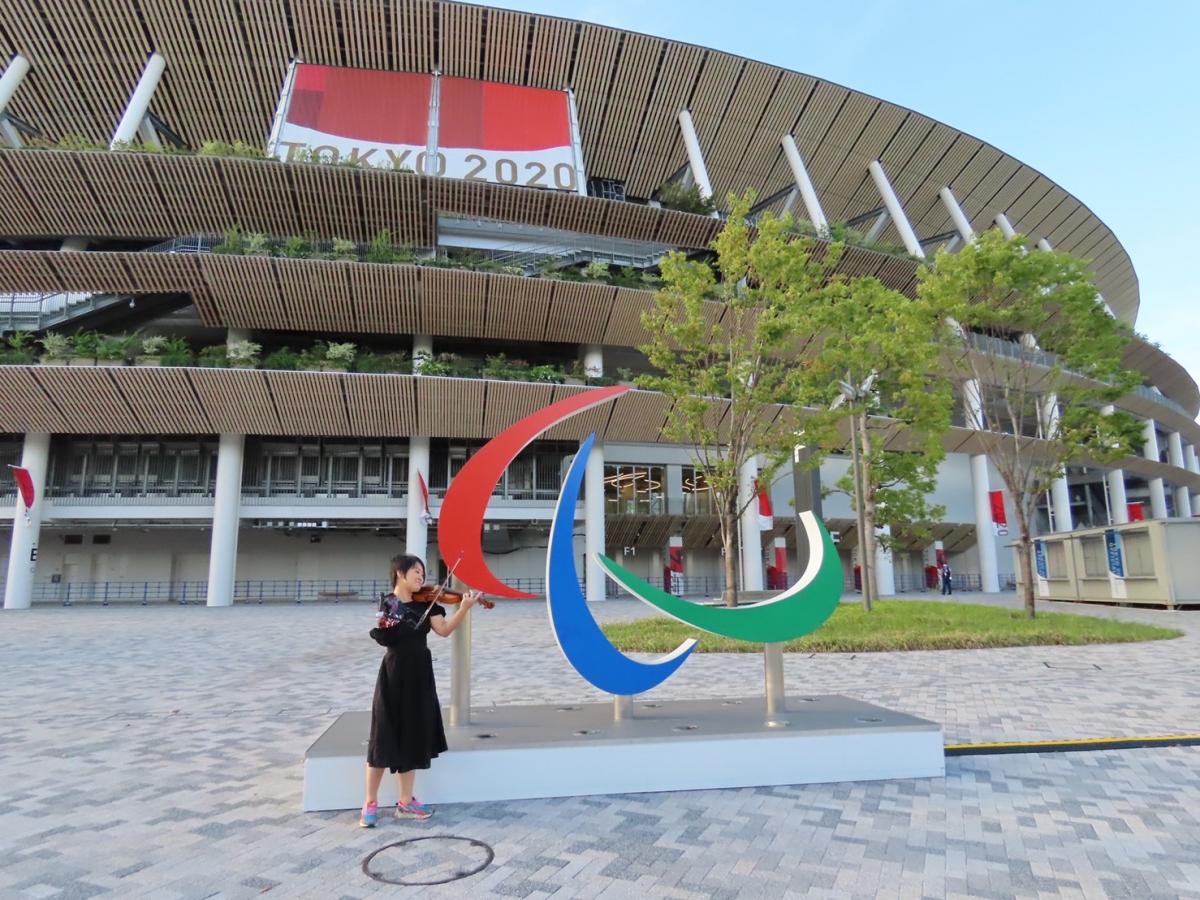 ⒸManami Ito
By Ayano Shimizu | For the IPC
Two-time Paralympian Manami Ito never got the chance to attend the Opening Ceremony of a Games as an athlete. But exactly a year ago, the retired Japanese Para swimmer was in the spotlight, playing the violin with a specially designed prosthetic arm at the opening of the Tokyo 2020 Paralympic Games.
While it was brief, Ito's performance became one of the highlights of the Opening Ceremony.
She plays with a bow attached to her prosthetic arm and uses her shoulder blades to move it back and forth.
"Even though it's been a year, I talk about how much fun it was because I feel like reliving that moment over and over," said Ito, who competed at Beijing 2008 and London 2012.
Raising the curtain on the Games
Following the Games postponement due to the COVID-19 pandemic, the Ceremony on 24 August last year raised the curtain on the Games that featured more than 4,300 athletes competing in 539 events across 22 sports.
Held under the theme "We Have Wings", the Ceremony showcased dance and music performances while following the journey of its central character, the Little One-Winged Plane that dreamed of taking flight.
Ito, a former nurse and a mother of three daughters, took to the stage toward the end of the Ceremony in a white dress, playing a tune that represented the airplane's worries about flying. 
Her performance was followed by that of Japanese rock guitarist Tomoyasu Hotei and dances by performers in colourful costumes, encouraging the little airplane to take flight.
"I told myself that I shouldn't smile during my performance because my music was supposed to highlight the anxiety of the character," 37-year-old Ito said. "But all of the staff and cast members were just enjoying every moment of it from the bottom of their hearts."
Tokyo 2020 was Ito's first time at an Opening Ceremony of a Paralympic Games. At Beijing and London, Ito's events were scheduled a day after the Ceremony, so she spent the night preparing for her races at the Paralympic Village.
"I listened to the fireworks from the Village and heard some distant music and cheering while watching the Ceremony on TV," she said. "As an athlete, I never enjoyed the ceremonies because I was so nervous.
"This was the first time I enjoyed the Ceremony, and I was so excited that the Tokyo Paralympics were finally starting. At the same time, I knew how the athletes were nervous and anxious, so I was cheering them on as well."
A childhood promise
Ito started playing the violin when she was seven years old. More than 10 years later she was in a motorbike accident on her way to her nurses' school, which resulted in the amputation of her right arm.
She initially took up the instrument promising her mother that one day she will play her favourite song. But after her accident in 2004, Ito noticed that she had never done that.
"After losing my arm, I vowed to fulfil that promise one day, no matter how many years it takes. It could be an easy tune like 'Twinkle, Twinkle, Little Star' or just a squeaking sound, but I wanted to play in front of my mom," she said.
Playing the violin with a prosthetic arm is much more difficult than it looks, Ito said with a laugh, adding that at first people thought she was taking on an "impossible" challenge. 
Ito's prosthetic arm for playing the instrument was developed after she competed at the Beijing 2008 Games, but it took the athlete several years to be able to hit the right notes. 
"I couldn't play a single note at first and I couldn't play in front of people for three or four years," she said. 
"It was difficult to figure out how to move my shoulder so I could place the bow on a certain string while also pressing the strings with my left hand."
Chasing dreams
While practising the violin was a way to keep her childhood promise, it helped Ito in her swimming career as well.  
The two-time Paralympian took up swimming as rehabilitation, but the sport also became a way to accept herself after her accident.
"I didn't want anybody to see my scars and I tried to hide them by wearing clothes, using a prosthetic arm or covering up with a scarf. But I knew that I couldn't be strong or take a step forward without revealing my scars," Ito said of the aftermath of the accident during which her motorbike collided with a truck.
"Swimming is a sport that encouraged me to take off my clothes and move forward."
After her Paralympic debut in Beijing, however, Ito recalled wanting to run away from swimming. She sustained an injury and when she returned to the pool, she failed to get good results at meets. 
"Only when I was playing the violin, I was able to stop thinking about swimming. Playing the violin also helped me improve in swimming," she said. "Violin became my way of escaping swimming when I wanted to run away from it."
Tokyo 2020 for future generations
While Ito retired from swimming after the London Paralympics and quit her job as a nurse upon marriage, playing the violin remained an important part of her life. That was why she applied to be in the cast of the Tokyo 2020 Opening Ceremony.
Her family, including her mother and daughters, watched the performance.
A year after the Tokyo 2020 Paralympics, Ito believes that the Games raised the recognition of Para sports in the host country, but hopes that there will be more training facilities and places where people with impairments can enjoy sports.
"When I was an athlete, I used to wonder how much Japanese children know about the Paralympic Games and how many Paralympians they knew," Ito said.
"After the Tokyo Games, whenever I visit elementary and junior high schools in Japan, students would tell me that they really enjoyed the Paralympics or how cool the competitions were. It made me so happy."
Watch the full Tokyo 2020 Opening Ceremony here.