IOC, IPC and Visa announce fan-votes award for Tokyo 2020's most inspiring moments
The initiative is to help spread the shared Olympic, Paralympic and Visa values. Visa to provide USD 100,000 to eligible charities chosen by winning athletes
26 Jul 2021
Imagen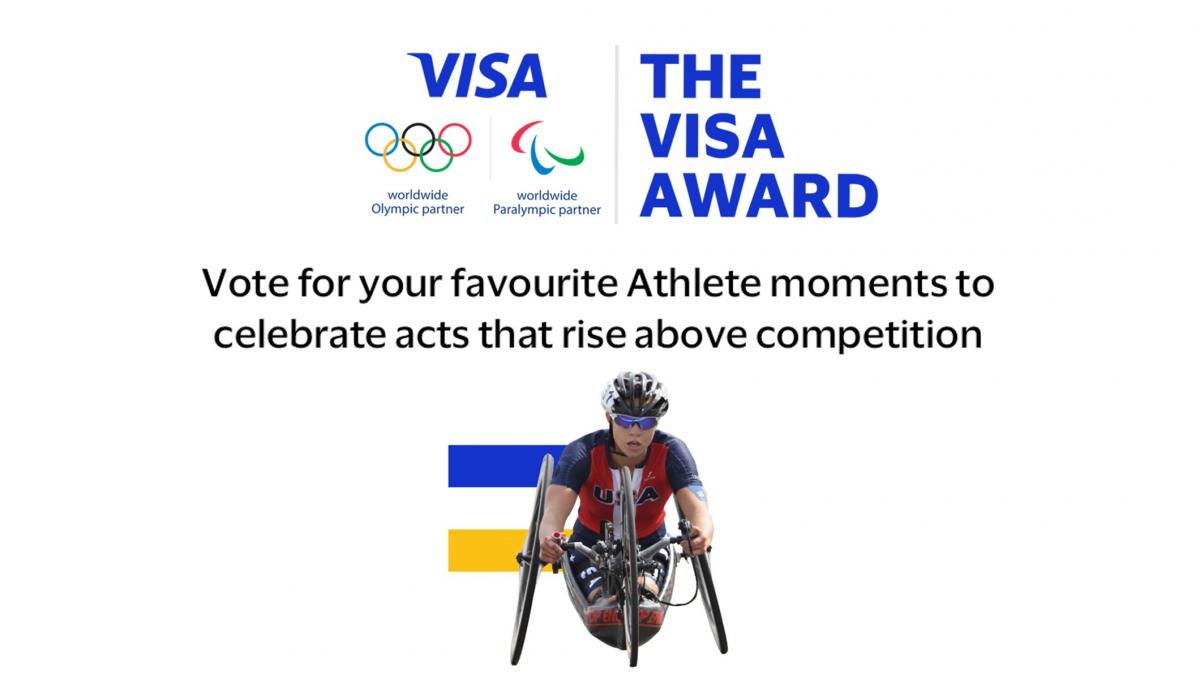 ⒸIOC | Visa
By IOC / VISA
The International Olympic Committee (IOC), the International Paralympic Committee (IPC) and Worldwide Olympic Partner Visa announced the launch of The Visa Award, which will let fans vote for their favourite moments of Olympians and Paralympians that rise above the competition during Tokyo 2020. The new accolade, which will be bestowed on one Olympian and one Paralympian following a fan vote, celebrates friendship, inclusion, acceptance and courage.
While each edition of the Olympic and Paralympic Games features extraordinary athletic performances, the moments that captivate and inspire fans around the world often rise above competition and national identity, uplift others, and represent the best of humanity. Voting for The Visa Award begins today on the Tokyo 2020 FanZone platform, a new digital experience designed to engage and unite audiences around the world leading up to and during the Olympic and Paralympic Games.
Athletes who best exemplify the Olympic and Paralympic values will be recognised throughout the Tokyo 2020 Games, and a selection of the most emblematic moments will be added to the FanZone app and website for fan voting. Eight Olympic nominees will advance for final voting, which opens on 8 August, and six Paralympic athletes will advance for final voting, which opens on 5 September.
The Visa Award winners will be celebrated during a virtual award ceremony. In recognition of their inspiring moments, the two winners will be given a platform to host a virtual session to promote a cause that is dear to them. In addition, Visa will give each winning Olympian and Paralympian the opportunity to choose an eligible charity to which Visa will donate USD 50,000 (EUR42, 415), in an effort to directly impact the community and promote equality and inclusion.
WHY THIS MATTERS
"The Olympic and Paralympic Games represent the best of who we are, and The Visa Award is designed to highlight special moments of perseverance, inclusion and friendship in a celebration of humanity," said Olympian and IOC Athletes' Commission member Sarah Walker. "As with each Olympic Games, the world witnesses examples of these moments reminding us we are stronger together and that athletes, through their memorable actions, have the power to inspire the world and bring us closer together as a global community."
"We remember Olympic and Paralympic athletes as much for their extraordinary physical feats as we do for the moments when they put competition aside and remind us what it means to lead with purpose and positive intent," said Andrea Fairchild, Senior Vice-President for Global Sponsorship Strategy at Visa. "These are moments we think are also worth encouraging and recognising, and we are excited for fans all around the world to help us do this."
Chelsey Gottell, Chairperson of the IPC Athletes' Council, added: "The Visa Award is a wonderful addition to the Games, as not only is it rewarding athletes for their great deeds on the field of play; it's providing a platform that engages sports fans all over the world to celebrate the best of sport. I have no doubt that The Visa Award will be hotly contested in Tokyo because at the Paralympic Games we have no shortage of inspirational and unifying athlete moments."