Yuma Yamazaki ready to take Tokyo 2020 by storm
The No. 1 doubles Para badminton player in the world will hit the Paralympic stage when the sport makes its debut at the Games
18 Jul 2021
Imagen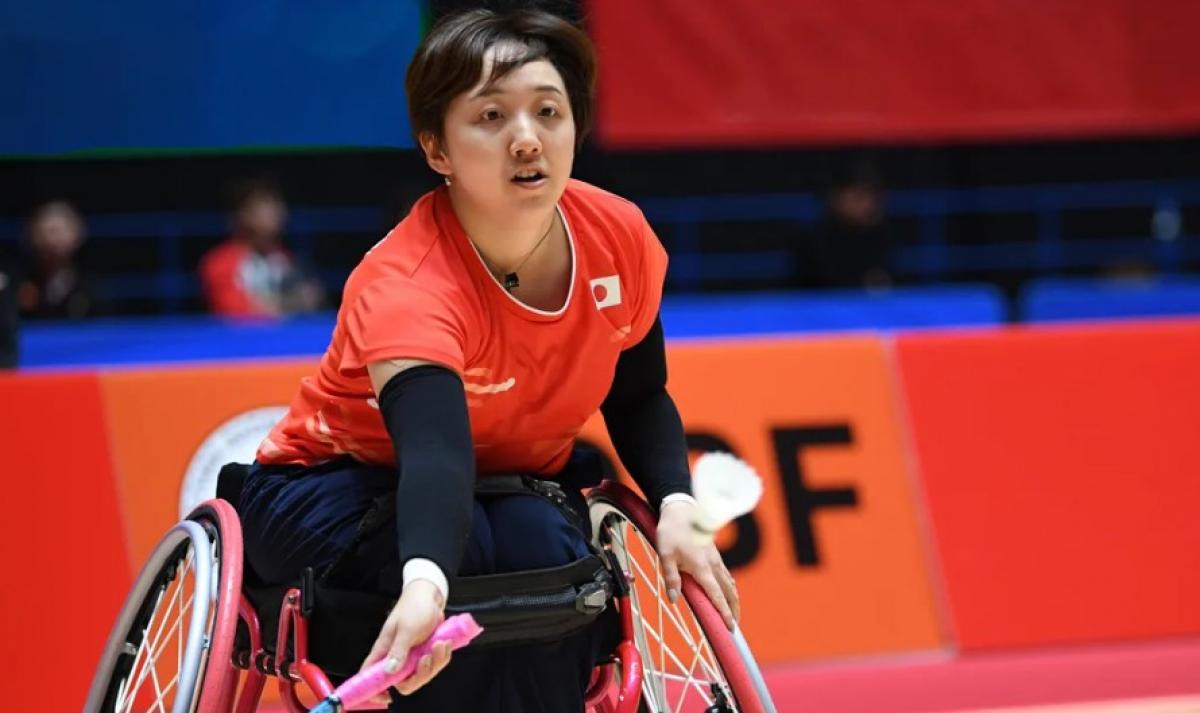 ⒸJPBF
By Tokyo 2020
After returning a powerful backhand shot during a training practice, Yuma Yamazaki spins around in her wheelchair.
"If you see someone twirling around in a wheelchair, that's me," she laughed.
Yamazaki is also the world's No.1 Para badminton doubles player and could be the first medallist in Para badminton at the Tokyo 2020 Paralympic Games, with the sport making its debut.
Yamazaki discovered badminton in her second year of elementary school and enrolled in a junior high school which was strong in the sport. She became passionate about badminton but quit the sport in her third year of junior high when she felt she couldn't become a champion.
Then, in her first year of senior high school, Yamazaki's life changed when she was involved in a traffic accident.
"Actually, I don't remember anything about the accident. I was still a minor, and my parents chose not to tell me about the details, but I learnt that I'd lost all feeling in my lower body due to a spinal injury and found myself unable to stand on my own," Yamazaki said.
However, she was not the type who would shut herself away from the world. She applied for a license to drive a vehicle, which had a special manual device, and drove herself to her high school. She later attended a vocational technical school and then joined the Chofu City Office in Tokyo as a civil servant.
She also got married and had children and her life was moving along as she had planned - until Para badminton came along.
BALANCING BADMINTON AND MOTHERHOOD
After the birth of her son in October 2014, Yamazaki heard about Para badminton's inclusion in the Paralympic Games for Tokyo 2020.
"I suddenly told my family, 'I want to play in the Paralympic Games'. My husband, knowing that I wasn't the type who would be content with just taking care of the children at home, told me, 'If you enjoy working hard towards that goal, then I'm with you'."
So Yamazaki started preparing for her comeback at court, and just four months after giving birth to her second child, she clinched silver in singles at the Japan National Championships.
While things were on a high, there was a new dilemma.
"I had taken my younger son with me to Nagoya, the competition venue, where he was hospitalised for Respiratory Syncytial Virus (RSV). He had caught the virus on the trip with me in the cold season. At his bedside, I was in anguish over whether I should continue being a player," she recalled.
"On top of this problem, I was also scheduled to return to work in April of the following year."
Time went by, and Yamazaki returned to work and her sons were enrolled in a day care centre. She continued training in the evenings, and her in-laws helped with the children. At weekends, she took her children and her mum with her when she went to train. Her mum looked after the children.
She was constantly on the move as a player, mother, and worker, trying to get everything done with support from the people around her. However, her 'balanced approach' changed after playing at the 2015 BWF Para Badminton World Championships and the 2016 Asian Para Badminton Championships.
"At the World Championships in 2015, Thailand's Amnouy Wetwithan, my opponent in the singles quarter-finals, ended up winning. It was a close match, where I had made it into the third game, so I was convinced that if I work hard against her, I would be able to take on the world."
"Yet, after a year's hard work, I was beaten badly in the league match at the Asian Championships in 2016 by young Chinese players, leaving me a far cry from Wetwithan. I felt the urge to do something about it."
ASPIRING TO WIN TOKYO 2020
Yamazaki's dreaming of playing at the Paralympic Games developed into a determination to reach the pinnacle of the sport.
However, there was a limit to how far she could go if she continued working full time and practising only at weekday nights and weekends. So she made the decision to leave her job and join a company that supports athletes. She got a job with NTT Urban Development Corporation, where she could train four days a week while going to the office once a week.
In 2018, she paired up with Sarina Satomi, who is almost a decade younger than Yamazaki, which brought about new dynamic to her game.
The pair boasts of their strong 'rotation' sets, which may seem a standard tactic in badminton, but an unorthodox strategy for players in a wheelchair. Since wheelchairs don't move sideways, most teams use a side-by-side formation, where each player covers their area of the court. However, the Yamazaki/Satomi pair rotates freely across the entire court, covering for each other wherever they need to.
"Sarina is young and powerful, and has agility in the chair. To help her feel free to move around wherever she wanted to, I am ready to cover for her from behind," Yamazaki explained.
"The longer we practiced together, the more we became capable of predicting each other's moves, which has resulted in a well-coordinated rotation between us."
At the 2019 Dubai Para Badminton International, the pair sealed a victory against a powerhouse duo from the People's Republic of China. Then at the Denmark Para Badminton International later that year, the two players defeated the Thai team for the first time.
In the past year, international competitions were scarcely held amid the COVID-19 pandemic, but Yamazaki and Satomi have been working to hone another weapon up their sleeves: their cross-court shots.
"In badminton, a quick offense pattern of 'smash, push and push' is commonly used, but this is not an option for players in a wheelchair. So, as an alternative solution, we've come up with an offense tactic whereby Sarina, with her quick chair work, hits a smash as she comes up from the back side, and then I rotate in and hit back the returned shot. This formation allows for a quicker attack," Yamazaki explained.
"However, unless we are in perfect coordination, the tactic can also end up in a disaster if the return shot comes where Sarina has rolled past. So, we're keeping our fingers crossed, hoping to make this tactic our secret weapon! I certainly hope to show everyone our combination."
ALL FOR THE KIDS
On 25 May, Yamazaki was officially announced to be a Para badminton doubles and singles player for Japan at the Tokyo 2020 Paralympic Games.
"Thanks to the Tokyo 2020 Games' one year postponement, my younger son is now in his first year of elementary school, old enough to remember about the Games," she said.
"I'm hoping that my children will find something they can enjoy, whether it be sports or otherwise. I took badminton lessons as a child, and the experience has grown into a big dream now.
"The Paralympic Games is an opportunity for me to unfold the wonderful turn of events, and I'm so happy that my children will be watching me. It makes me want to work even harder."