Expectations galore with one month to go to Tokyo 2020 Paralympic Games
Dreams soon to become realities with the Paralympics around the corner
20 Jul 2021
Imagen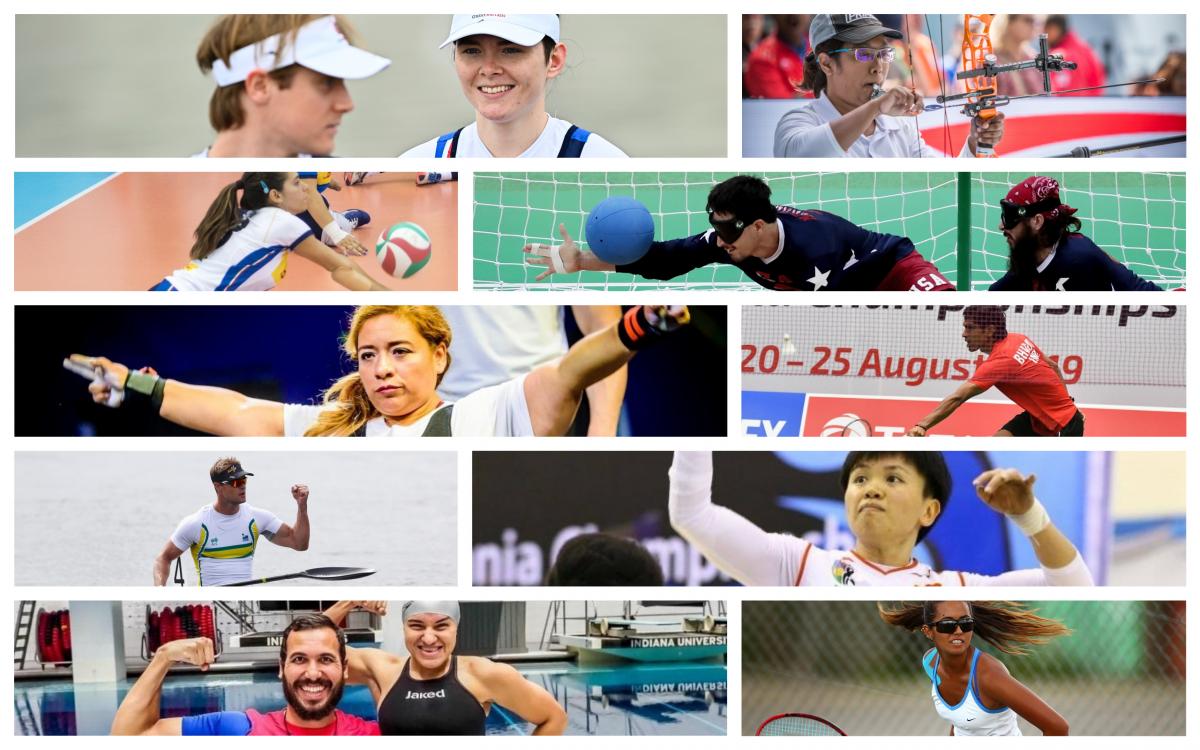 ⒸGetty Images, IWBF, Badmintonphoto/BWF, Hiroki Nishioka, World ParaVolley, Alejandra Aybar, Hiroki Nishioka
By IPC
The wait could not have felt longer for Para athletes after the Tokyo 2020 Paralympic Games were postponed due to the pandemic. But, that is all a thing of the past now. The dark clouds have withered away and the excitement amongst the athletes is clearly palpable.  
With Tokyo 2020 Paralympic Games just one month away, let's hear it from some of our top medal hopefuls:
Lauren Rowles – GBR – Para rowing
Going for back-to-back Paralympic titles with partner Laurence Whiteley in the PR2 Mix2x event.
"My first Paralympic Games (in Rio) was for myself. It was to achieve a childhood dream that I had harvested since the age of 7 and was reborn in 2012 after watching my first Paralympic Games after becoming paralysed. To make your first Games is a moment you will never recreate and the second time round is for the next generation. I want to inspire the next generation to take up sport and have their lives transformed by the power of it."
Pramod Bhagat – IND – Para badminton
Reigning world champion and world No. 1 in men's SL 3 looking to make history at sport's debut in Tokyo.
"(Tokyo 2020) is very special for me as this is also the first time badminton is being introduced to the Paralympics. I have been dreaming of playing in the Paralympics.
"The lockdown helped me work on my weakness and leg movements through a mini gym provided by the government and GoSports. I think I've utilised this time to work on my weaknesses and 2021 can be an even-better year for me than 2020 could've been."
"I have been challenged at every step of my life. Challenge makes me give my best in whatever I do and it also helps me excel whether it's on the court or off it. Some good players push me to the limit. The toughest opponent for me is England's Daniel Bethell, he has a great game and is a fantastic player."
Suiling Lin – CHN – wheelchair basketball
Barely missed the 2018 World Championships podium in bronze medal game but showed that China is capable to medalling at Tokyo 2020, which would be the country's first in the sport.
"I feel grateful for the delivery of the Paralympics in such a special period. I highly appreciate all the efforts and preparations that IPC and Tokyo2020 had done for the Games.  Participating in the Games is such an encouragement and inspiration for me in this context.
"Thanks to our government who did an excellent job in COVID prevention. This supports and guarantees the continuousness of our training in the though period.  Currently, we are in the final stage of preparation, me and my teammates are fighting for our dreams and we are looking forward to having a breakthrough for the Chinese team."
Para powerlifting legend and three-time Paralympic champion feels optimistic about adding a new gold medal to her trophy cabinet.
"This are the most expected Games given everything we have lived throughout this year. The virus physically locked us inside our houses but could not lock our dreams. I feel motivated, need to make the most of my time in the lead-up to Tokyo 2020 and give my best in every training.
"Still being among the world's best powerlifters after 30 years is thanks to my daily hard work in a sport that has taught me so many things throughout my life. I just enjoy it, and my family and friends keep pushing me to go for more and bring honour to my country."
Tyler Merren – USA – goalball
Already has silver and bronze from Paralympic Games and has a strong feeling Tokyo will be the place where he can finally call himself a Paralympic champion.
"In the fall of 2019, in preparation for Tokyo, my family and I moved across the country to the Resident Training Programme to improve the quality and level of training for me and the team. The pandemic has only given us more time and made us stronger, and each of our athletes will be satisfied with only one result. I have a bronze and a silver medal in the Paralympics...I have a gold medal to collect."
"Tokyo means so much to me for several reasons. I can sum it up in one word, resilience. The resilience of the nation of Japan to host what I am sure will be a magnificent event, even coming out of and still during, a global pandemic. The resilience of my team to come from not qualifying for London, to a silver in Rio, and to still push for more for these Games. And resilience for myself, this being my 20th year of competition with the USA Team. I am proud to be an American, and I am proud to be a Paralympian."
Nur Syahidah Alim – SGP – Para archery
Became the country's first Para archery world champion in 2019 and now aiming for more history at Tokyo 2020.
"After the World Championships and what I've done so far, definitely there is a lot of attention not only in the archery scene but in Singapore as well. But I am always reminded to take every moment as an experience and to enjoy every moment of it. And also be reminded that whatever I do in terms of representing Singapore or reaching a milestone is that it'll touch the hearts of everyone, to inspire everyone that it's possible to dream."
Silvia Biasi – ITA – sitting volleyball
Defensive specialist who helped her squad become the first sitting volleyball team – men's or women's – to qualify for a Paralympic Games.
"Sport has always been a part of my life, ever since I was little. I used to play volleyball and when I was asked to join this team I decided to make my contribution. Sport can help restart, discuss, stay together, have fun."
"I would dedicate a possible medal (from Tokyo) to my family, first of all to my grandparents."
The 2016 gold medallist and 10-time world champion will once again be firm favourite to retain the title.
"We all went over to the test Event in Tokyo in late 2019, so we were lucky to have the chance to race on the course and in the same time frame as when the events at the Games will be held. So it's not going to be foreign to us.
"The place was still under construction when we were there but the buzz was amazing. People were talking about the Paralympics and it was really good to go there, to feel it and see it. It's a shame the stands won't be full of people when we compete this time. But it's all about racing in your own lane and worrying about doing your best."
Angelica Bernal – COL – wheelchair tennis
Colombian broke into the top 10 of the world rankings, played several Grand Slam, became Parapan American champion and is now gearing up for her third Paralympic Games. 
"Tokyo 2020 will be a very different but special Games for me as it will be the first I compete in after achieving direct qualification. I have been preparing very hard and had a great two months-long season in Europe. I am hoping to perform well in Japan.
"Representing Colombia gives me great pride. I represent millions of people and try to encourage them to push forward and fight for their dreams."
Alejandra Aybar - DOM - Para swimming
Dominican Republic's first Para swimmer to qualify for a World Championships final, win Parapan American Games silver and make it to a Paralympic Games.
"It took days to sunk in that I will compete at the Paralympic Games. I am not sure if I would describe it as a dream coming true but as a goal we achieved as a team after working tirelessly and overcoming pain throughout the process.
"The number of messages I have received after being confirmed as Dominican Republic's Para swimming representative is just incredible. It is like when you have a door ajar waiting for something to happen, and it did. I believe my country trusts and feels proud about me."