100 things to know about the Paralympic Games (51-75)
Countdown to the Tokyo 2020 Paralympics with some fascinating facts, historical moments and key information, from the founder of the Movement to the tallest Paralympian!
16 May 2021
Imagen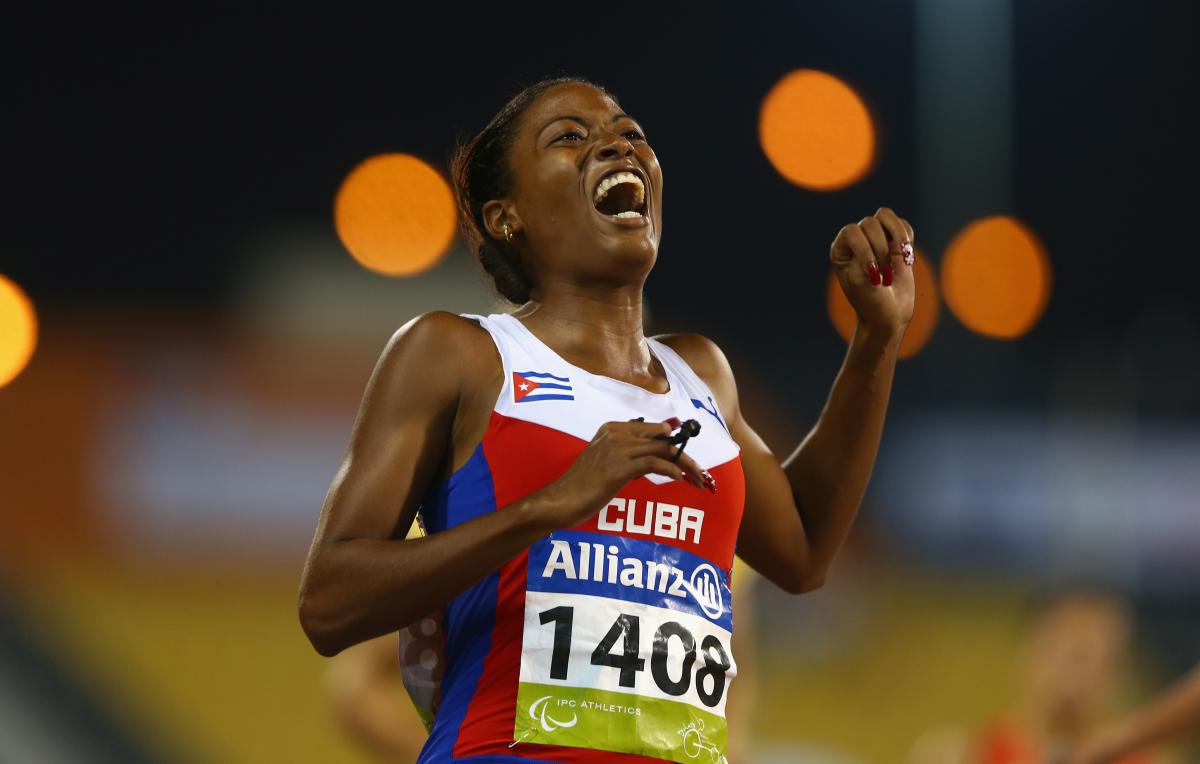 ⒸGetty Images
By IPC
51. An important rule in sitting volleyball is that players must be sitting and their torso — between buttocks and shoulders — must maintain contact with the floor when playing the ball. 
Ⓒ World ParaVolley

52. Rwanda sent the first women's sitting volleyball team to represent Africa at the Rio 2016 Paralympic Games. After winning the 2019 African Championships, they also book their place at Tokyo 2020.
Ⓒ OIS Photos

53. After becoming the first amputee swimmer to qualify for the Olympic Games at Beijing 2008, Natalie du Toit competed at her second Paralympics in China taking five gold medals in five events. The South African star retired after London 2012 with 13 Paralympic golds.
Ⓒ Getty Images

54. Sareh Javanmardi made history by becoming Iran's first ever female gold medallist in shooting Para sport at Rio 2016, winning the P2 (women's 10m air pistol SH1), swiftly followed by P4 (mixed 50m pistol SH1). 
Ⓒ OIS Photos

55. Tandem bikes are used in Para cycling for athletes with a vision impairment, with the front rider called a pilot guiding the way.
Ⓒ OIS Photos
 
56. One significant difference between Paralympic and Olympic judo is in the Paralympics, judoka must grip their opponent's sleeve and lapel and hold still before a match can start. 
Ⓒ IBSI

57. Dutch wheelchair tennis player Esther Vergeer retired after London 2012 with a remarkable 470-match winning streak stretching back more than 10 years and seven Paralympic golds.
Ⓒ Getty Images

58. Wheelchair rugby has two types of wheelchairs – offensive and defensive. Offensive wheelchairs have a round bumper. Defensive wheelchairs have a long bumper protruding from the front for use in stopping opposing players' movement.
Ⓒ CWSA/Kevin Bogetti-Smith
 
59. The world record in powerlifting is a staggering 310kg, set in the men's over 107kg by the late Siamand Rahman of Iran at the Rio 2016 Paralympics. 
60. A rule specific to Paralympic taekwondo is that only kicks to the trunk count as valid attacks. Kicks to the head are not permitted and result in a warning giving the opponent one point.
Ⓒ Turkey Taekwondo Federation

61. In boccia, a pair of callipers is set to the distance between one ball and the jack, then that distance is compared to the distance of another ball from the jack, to determine which of the two is closer. Referees may also use other measuring devices to ensure the correct outcome.
Ⓒ Getty Images
 
62. Poland's five-time table tennis Paralympic champion Natalia Partyka is one of the few Para athlete to have competed in the Olympics as well when she did so in 2008, 2012, and 2016.
Ⓒ Vid Ponikvar/Sportida 

63. Brazilian Petrucio Ferreira (10.42 in T46/47) and Cuban Omara Durand (11.40 in T12) set the two fastest times ever in men's and women's 100m races, respectively.
Ⓒ Getty Images
 
64. Iranian archer Zahra Nemati competed at both the Paralympics and Olympics in 2016, becoming the first Iranian athlete and first Asian woman to do so.
Ⓒ Getty Images

65. 'Tappers' are assistants who tap the head of a swimmer with a vision impairment to let them know when to make a turn.
Ⓒ OIS Photos

66. Paralympic swimming legend Daniel Dias will retire after Tokyo 2020. The Brazilian competed in three editions of the Paralympic Games from Beijing 2008 to Rio 2016, taking 24 medals – more than any other male Para swimmer in history. 
Ⓒ Getty Images
 
67. Former Formula 1 driver Alex Zanardi created at London 2012 one of the most iconic images in Paralympic history, 11 years after suffering a life-threatening CART Championships accident. The Italian sat on the finish line following his road cycling gold in the men's individual time trial H4, while holding his racing bike in one hand and making a triumphant fist with the other.
Ⓒ Getty Images
 
68. Wheelchair fencers cover the lower half of their body with a metal apron to make sure hits to off-target areas are not registered.
Ⓒ OIS Photos

69. Italian sensation Bebe Vio was only 19 years old when she won her first wheelchair fencing Paralympic gold medal in the women's foil category B at Rio 2016.
70. Football 5-a-side is played with no throw-ins and no offside rule.
Ⓒ OIS Photos

71. Since Rio 2016, the size of the goal in football 5-a-side increased from 3m wide x 2m high to the size of a hockey goal (3.66m wide x 2.14m high). This may lead to higher-scoring matches.
Ⓒ OIS Photos

72. In Para triathlon, "handlers" work with athletes who have lower-limb impairments to help them in transition areas. 
Ⓒ OIS Photos

73. An iconic Paralympic moment occurred at the Opening Ceremony of Beijing 2008, when Chinese athletics Paralympic champion Hou Bin pushing left the world in awe. With the Paralympic torch fixed to his wheelchair, Bin used his bare hands – and every ounce of energy in his body – to haul himself and his wheelchair 39 metres into the air and light the cauldron on the stadium's roof in front of astonished 90,000 spectators. 
Ⓒ Prezioso

74. Wheelchair basketball players "tilt" in their chairs to gain a little extra height for shots, rebounds and blocking shots, as well as for the tip-off at the start of the game.
Ⓒ OIS Photos

75. Brazil's judo legend Antonio Tenorio holds the record for having won six medals at consecutive Games (1996-2016), with the first four being gold (also a record).
Ⓒ Getty Images
 
CLICK HERE TO DISCOVER THE NEXT 25 THINGS TO KNOW ABOUT THE PARALYMPIC GAMES (76-100)
CLICK HERE TO DISCOVER THE NEXT 25 THINGS TO KNOW ABOUT THE PARALYMPIC GAMES (1-25)
CLICK HERE TO DISCOVER THE NEXT 25 THINGS TO KNOW ABOUT THE PARALYMPIC GAMES (26-50)