100 things to know about the Paralympic Games (26-50)
Countdown to the Tokyo 2020 Paralympics with some fascinating facts, historical moments and key information, from the founder of the Movement to the tallest Paralympian!
16 May 2021
Imagen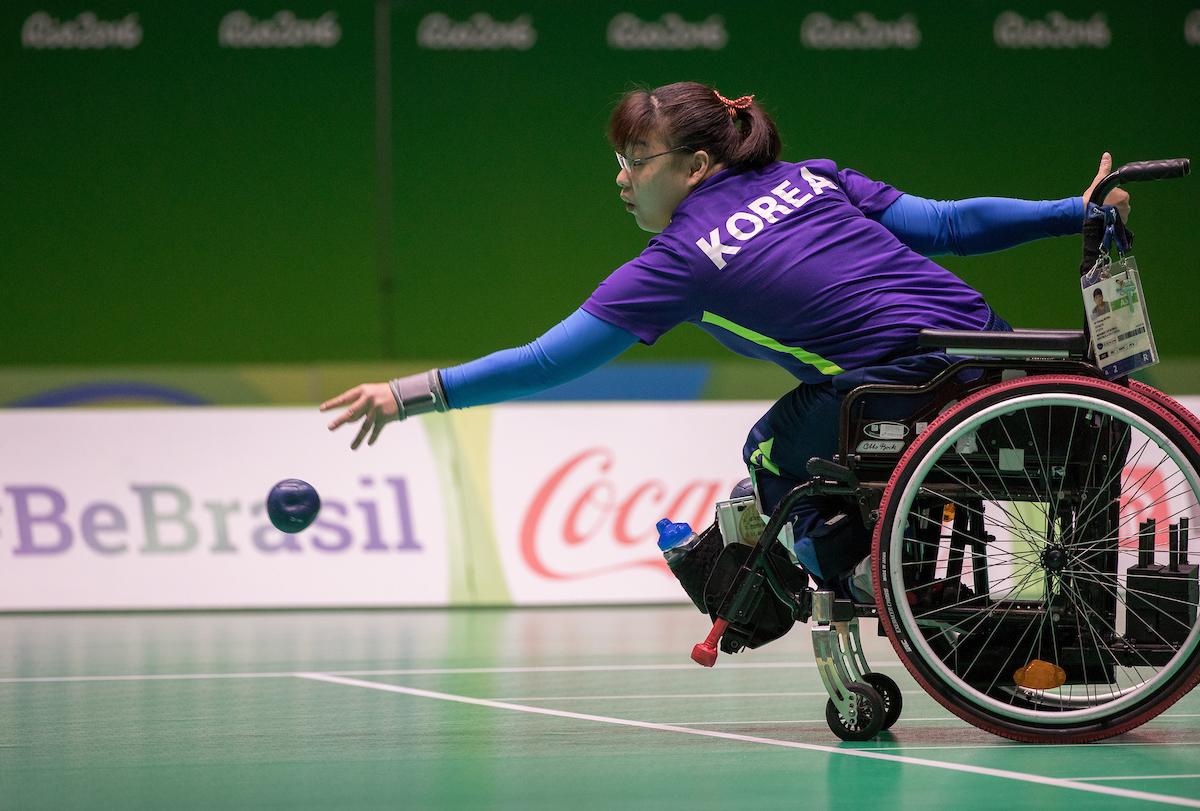 ⒸOIS Photos
By IPC
26. In wheelchair basketball, a player is allowed two touches of their wheelchair in between a dribble, a shot or a pass. Otherwise, it is a travel violation.
27. Football 5-a-side sighted coaches are positioned behind the attacking goal to direct forward players.
Ⓒ OIS Photos

28. A red dot on a Paralympic judoka's outfit signifies that they are a B1 athlete, meaning they have a very low visual acuity and/ or no light perception.
Ⓒ Lieven Coudenys

29. The two wheelchair classes and one standing class (for athletes with lower-limb impairments) in Para badminton play half-court for singles.
Ⓒ Badmintonphoto/BWF

30. The Beijing 2008 Paralympics acted as a trigger to build more accessible infrastructure across China, including some of the most popular touristic places. Elevators and wheelchair ramps were installed in the Great Wall of China, and accessibility was also improved in the 600-year-old Forbidden City and Imperial Palace.
Ⓒ BOCOG

31. According to figures from the Office of National Statistics, 3.85 million persons with disabilities were in employment in Great Britain in 2018, nearly one million more than before the London 2012 Paralympics.
 

32. Para taekwondo has world champions from nearly every continent, with Denmark's Lisa Gjessing, Iran's Mahdi Pourrahnama, the USA's Evan Medell, Great Britain's Amy Truesdale, and Mongolia's Bolor-Erdene Ganbat among some of the big names coming into Tokyo 2020.
Ⓒ World Taekwondo 

33. Since athletes with different levels of vision impairment can compete in goalball, all players must wear eyeshades to compete and therefore ensure a fair competition. 
Ⓒ OIS Photos
 
34. Tokyo 1964 represents the first example of the use of the term 'Paralympics' in official documentation.
Ⓒ Tokyo 2020

35. The Paralympics and Olympics have been held together in the same city ever since the Seoul 1988 Games.
Ⓒ NPC Korea

36. The word "Paralympic" derives from the Greek preposition "para" (beside or alongside) and the word "Olympic". Its meaning is that Paralympics are the parallel Games to the Olympics and illustrates how the two movements exist side-by-side.
Ⓒ Tokyo 2020 / Shugo TAKEMI

37. Para equestrian is the only artistic sport on the Paralympic Games programme. It includes mixed gender dressage events (team, individual and freestyle), with athletes being grouped across five classes depending upon the nature and extent of their physical or vision impairment.
Ⓒ Tokyo 2020
 
38. The Paralympic Symbol (three Agitos) consists of three elements in red, blue and green – the three colours that are most widely represented in national flags around the world. The three Agitos (from the Latin meaning "I move") encircling a central point symbolise motion, emphasise the role of the Paralympic Movement in bringing athletes together from all corners of the world to compete. 
39. Spectators need to stay silent during football 5-a-side and goalball games as players rely on the ball's sound.
40. While teams in Olympic volleyball are separated by a raised net (2.43m and 2.24m from the top of the net for men and women's competitions, respectively), sitting volleyball is played from a lower net (1.15m for men, 1.05m for women).
Ⓒ Cicero Rodrigues for the IPC

41. Wheelchair rugby was initially called 'murderball' for its chair-knocking intensity.
Ⓒ Kevin Bogetti-Smith 

42. Tokyo 2020 will mark a historic moment for Para canoe with the addition of va'a boats for the first time at a Paralympics, together with the kayak events. The kayak is propelled by a double-blade paddle, while the va'a is an outrigger canoe which has an ama (second pontoon) as a support float and is used with a single-blade paddle.
Ⓒ Kevin Bogetti-Smith 

43. The first official Paralympic video game named 'The Pegasus Dream Tour' will be launched ahead of Tokyo 2020.
Ⓒ JP Games

44. Netflix's ground-breaking Paralympic film Rising Phoenix landed four Sports Emmy nominations in Outstanding Long Sports Documentary, Outstanding Camera Work, Outstanding Editing and Outstanding Music Direction. This year's ceremony will award winners in 46 categories and will be livestreamed at Watch.TheEmmys.TV on 8 June at 2 p.m. CEST.
45. Egyptian armless Rio 2016 Paralympian in table tennis Ibrahim Hamato holds the paddle in his mouth to compete.
Ⓒ Lucas Uebel/Getty Images

46. Paralympic powerlifting legend Sherif Osman of Egypt lifts over 200kg, nearly four times his body weight -competes in the men's up to 59kg- and the equivalent to 140 bags of flour.
Ⓒ Hiroki Nishioka
 
47. Distance in Para rowing doubled from 1,000m after Rio 2016, which means Tokyo 2020 will see first Paralympic champions crowned over the new distance of 2,000m.
Ⓒ OIS Photos
 
48. Football 5-a-side is played on a pitch measuring 40m x 20m, with 1m high boards running down both sidelines to keep players and the ball within the field of play. 
Ⓒ OIS Photos

49. In Para archery, athletes compete with both recurve and compound bows, which feature mechanical pulleys and release aids. Compound bows are not part of the Olympic programme.
Ⓒ Indonesia 2018 Asian Para Games

50. In boccia, the target white ball is called the 'jack,' and whoever throws their ball closest to the jack gets a point. 
Ⓒ OIS Photos

CLICK HERE TO DISCOVER THE NEXT 25 THINGS TO KNOW ABOUT THE PARALYMPIC GAMES (51-75)
CLICK HERE TO DISCOVER THE NEXT 25 THINGS TO KNOW ABOUT THE PARALYMPIC GAMES (76-100)
CLICK HERE TO DISCOVER THE NEXT 25 THINGS TO KNOW ABOUT THE PARALYMPIC GAMES (1-25)