IPC President Andrew Parsons' Tokyo 2020 Opening Ceremony speech
Full text of Andrew Parsons' Opening Ceremony address
24 Aug 2021
Imagen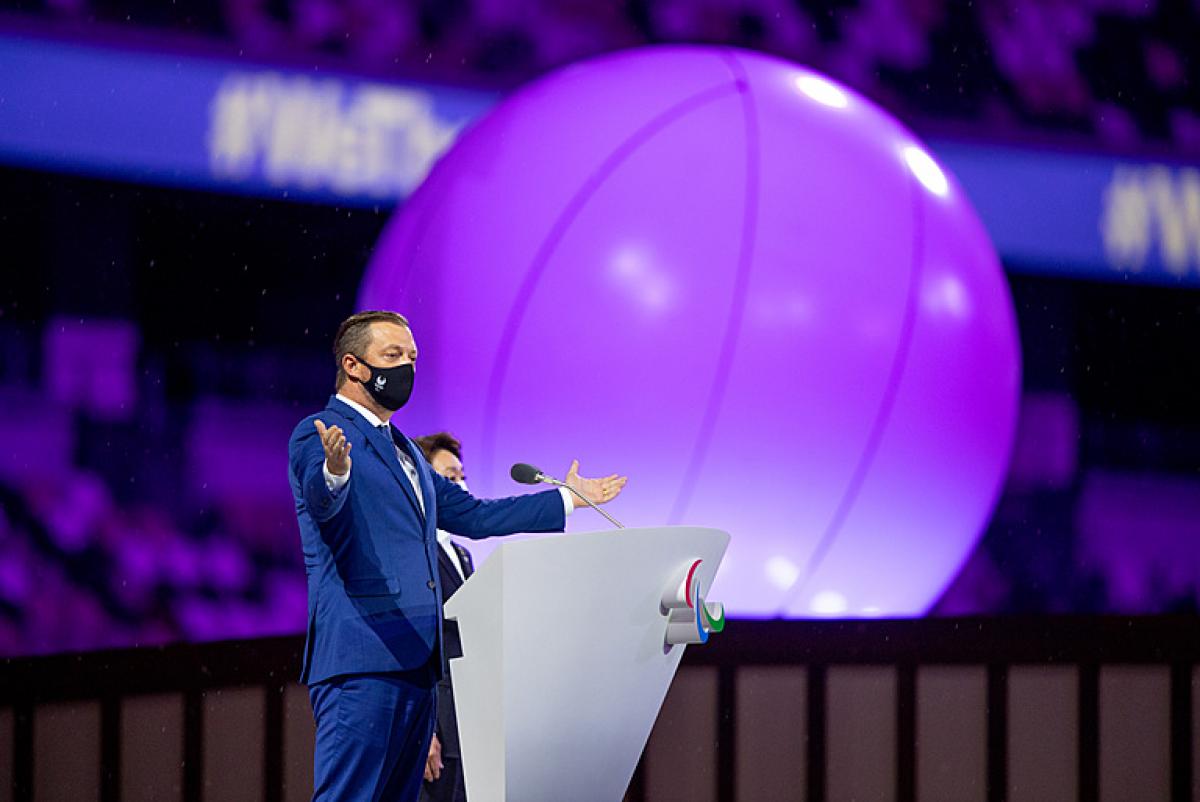 ⒸOIS/Joel Marklund. Handout image supplied by OIS/IOC
By IPC
Your Majesty, the Emperor,
Athletes,
Prime Minister Suga,
Governor Koike,
President of the Organising Committee Hashimoto Seiko,
Friends from the Paralympic Movement
Sport fans all over the world,
Good evening and welcome to the Tokyo 2020 Paralympic Games
I cannot believe we are finally here.
Many doubted this day would happen. Many thought it impossible.  But thanks to the efforts of many, the most transformative sport event on Earth is about to begin.
The Japanese Government, Tokyo Metropolitan Government, Tokyo 2020 Organising Committee and the International Olympic Committee never lost faith and worked tirelessly, alongside the International Paralympic Committee, to make these Games happen.
We thank our hosts for trusting we can deliver safe Games for the athletes and officials, but also for Japanese society. From the bottom of my heart, arigato Japan! Arigato, Tokyo! 
We will honour your trust, your omotenashi, so that the outstanding legacy these Paralympic Games leave this country is a new perception of persons with disabilities.  
But we want more.
We want to change the entire world.
That is why the IPC and International Disability Alliance spearheaded the launch of WeThe15.
Over the next 10 years WeThe15 will challenge how the world's 15% with disabilities are perceived and treated at a global level. With the support of 20 international organisations, civil society, the business sector, and the media we will put the world's 1.2 billion persons with disabilities firmly at the heart of the inclusion agenda.
The Paralympic Games are for sure a platform for change. But only every four years is not enough. It is up to each and every one of us to play our part, every day, to make for a more inclusive society in our countries, in our cities, in our communities. 
When humanity should be united in its fight against COVID-19, there is a destructive desire by some to break this harmony.
Overlooking what brings us together, to focus on the factors that differentiate us, fuels discrimination. It weakens what we can achieve together as a human race.
Difference is a strength, not a weakness and as we build back better, the post-pandemic world must feature societies where opportunities exist for all.
When the Games were postponed last year, Paralympic athletes were beacons of hope.
When the shadow of uncertainty was upon us, they never stopped training, they never stopped pursuing their dreams, and they never stopped believing they would be here in this stadium tonight. They are a force of nature, a force for good. 
Their resilience empowered many. But they did not do this alone. Behind them were the National Paralympic Committees and the International Federations, supporting them, and navigating them through this unprecedented time for humanity. This is the strength of the Paralympic Movement: working together to provide athletes the best platform to shine.
Paralympians! You gave your all to be here. Blood, sweat and tears. Now is your moment to show the world your skill, your strength, your determination. If the world has ever labelled you, now is your time to be relabelled: champion, hero, friend, colleague, role model, or just human. You are the best of humanity and the only ones who can decide who and what you are.
You are the truth. You are amazing. You choose to be the greatest in whatever the plan is.
Your performances could change the fortunes of your lives. But most importantly they will change the lives of 1.2 billion forever.  This is the power of sport, to transform lives and communities. Change starts with sport. And from tomorrow on, Paralympic athletes start once again to change to world.
Domo Arigato! Thank you very much! Muito obrigado!