Tokyo 2020: Takeaways from football 5-a-side
Talking points following Brazil's fifth Paralympic gold medal at Tokyo 2020
30 Sep 2021
Imagen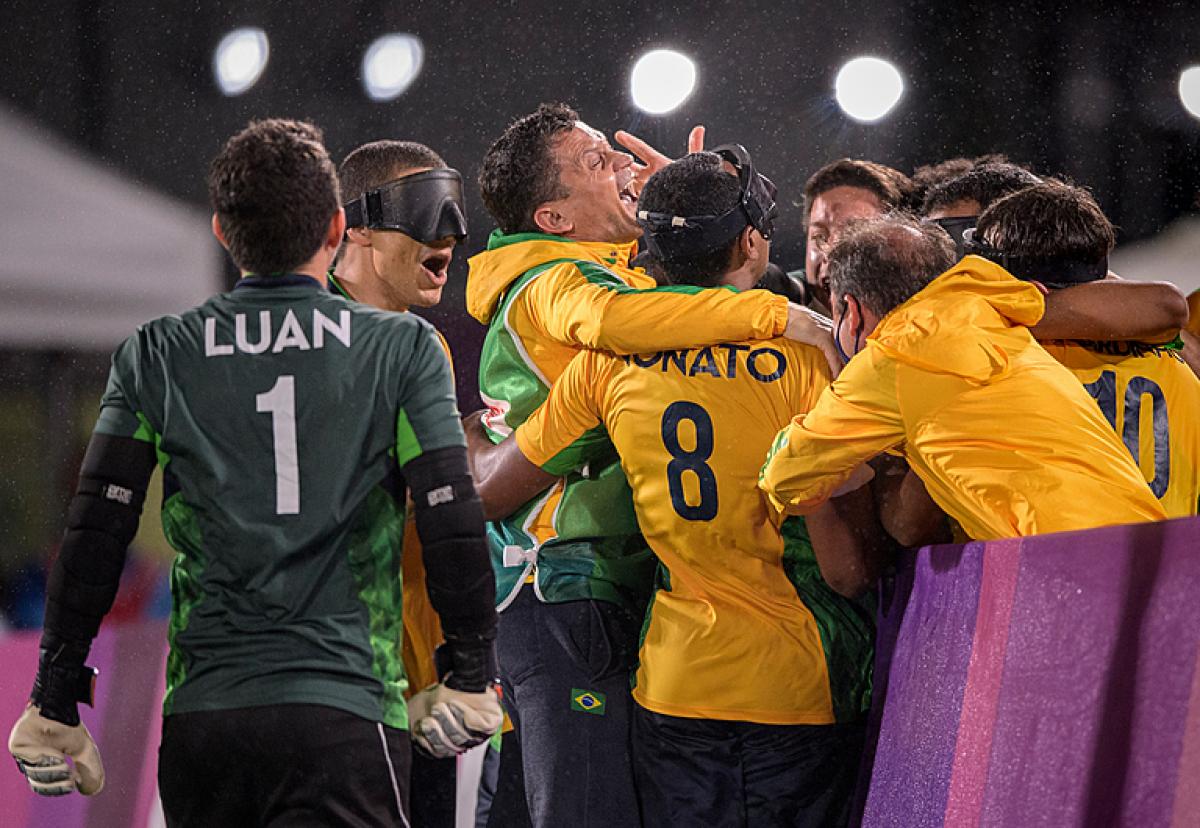 ⒸOIS/Joel Marklund
By Keon Richardson for IPC
Brazil and Argentina duelled in the Tokyo 2020 gold medal match as many expected. However, a shock bronze medal and two impressive debuts showed the gap in football 5-a-side is closing fast. Here are five takeaways from the Tokyo 2020 Paralympic Games. 
Brazil maintain undefeated record
The South American powerhouses succeeded in their quest for blind football glory following Nonato's winning goal in the gold medal match against rivals Argentina, extending their 100 per cent record at the Paralympic Games to 27 matches.
Brazil topped Group A after defeating China 3-0, Japan 4-0 and France 4-0. An own goal in the semi-final against Morocco helped Brazil qualify to defend their title. 
Morocco and Snisla have more history to make 
Five years ago at Rio 2016, Morocco finished last in their Paralympic debut. But the African champions made several historic marks at Tokyo 2020. They progressed to their first Paralympic semi-final thanks to Zouhair Snisla's four goals in a 2-1 defeat to Argentina, a 2-0 triumph over Thailand and a 1-1 draw against Spain. 
A slender defeat to defending champions Brazil granted Morocco a chance to achieve their first Paralympic podium finish in the bronze medal match against China. Zouhair Snisla fired four goals past the Asian champions to achieve Morocco's first Paralympic bronze and finish top goal scorer. 
Asian debutants impress
Japan and Thailand both made their Paralympic debut at Tokyo 2020.
The hosts recorded their first win with a 4-0 over France and sealed fifth place over Spain following a first touch finish by Tomonari Kuroda.
Thailand confirmed seventh place with a 3-2 win over France with two goals from Kittikorn and one from Panyawaut Kupan. Displaying technical skill, physical strength and goalscoring capability, both nations bode a promising future on the world stage. 
China miss out on another Paralympic bronze
The six-time Asian champions have struggled to transfer their regional dominance to the pinnacle stage of football 5-a-side since their bronze medal on home soil at Beijing 2008.
Tokyo 2020 increased China's bronze medal drought after losing a Paralympic third place play off for the second consecutive time. They lost to Argentina on penalties at Rio 2016 and a disappointing defeat to Morocco at Tokyo 2020 meant China had to settle for fourth place once again.
If they can bolster their teams' post group match performances, Paris 2024 might see their return to medal memories.
Several medal contenders ahead of Paris 2024
While Tokyo 2020 saw Brazil and Argentina reach the gold medal match for the second time since Athens 2004, it could have been a very different final with one or two different results.
Morocco's rapid improvement from Rio 2016 saw them from within inches of qualifying for the gold medal match after losing to Brazil through an own goal in the 28th minute. China, Japan and Thailand also produced some good performances through the competition. 
Argentina and Brazil will be watching their backs in the next three years as more teams rub shoulders with them to contend for gold at Paris 2024. The World Championships in Birmingham, Great Britain, in 2023, will be a fierce competition with numerous teams possessing the quality to derail Brazil for the world title.