Tokyo 2020: Scott Martlew seeks to show the world what he can do
New Zealand's Paralympic canoeist reflects on his life as he prepares for his second Games
14 Dec 2020
Imagen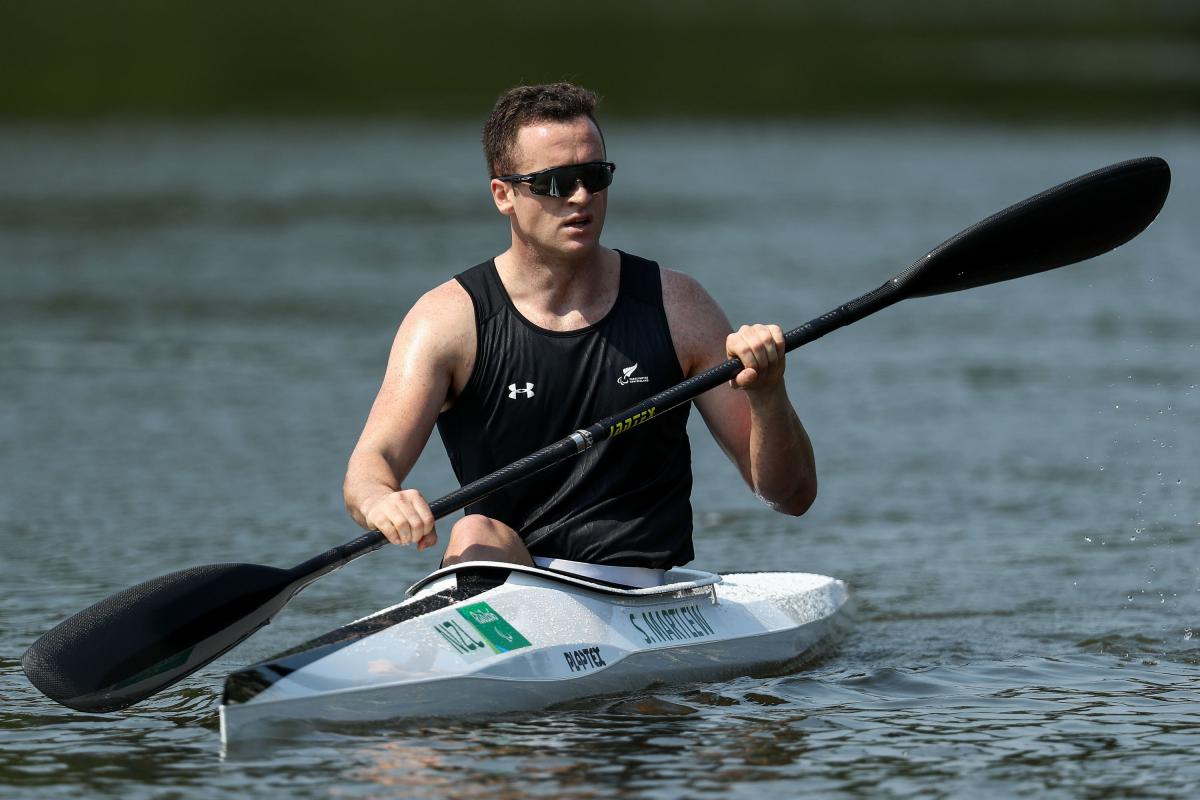 ⒸGetty Images
By Tokyo 2020
From dreaming of competing at the Olympic Games to making his Paralympic sprint canoe debut, the two-time World Championship medallist from New Zealand has his sights firmly set on Tokyo 2020
From a young age, Scott Martlew had always been competitive in any sport he played, whether that was sprint kayaking or rugby union.
The Christchurch local loved the feeling of challenging himself not just physically but mentally too, as it was a "rewarding feeling" he explained. So, it was not a surprise that, just like many young athletes from all over the world, he had dreams of going to the Olympic Games.
"The biggest stage of all is the Olympics - representing your country and competing against the best in the world, so it was a challenge I wanted to face," Martlew told Tokyo 2020.
"I really began to get serious when I was 17-years-old… a matter of months later I had a life-changing injury and my sights then shifted to the Paralympics."
TAKING UP PARA SPORTS

In mid-2010, during a high school's first XV curtain raiser for Super Rugby's Crusaders and ACT Brumbies, Martlew took a hit to his left quadricep. While the initial hit hurt, the adrenaline kicked in and he continued on despite the pain.
It was not until a few days later that he realised something was wrong. There was a 10cm tear in his quadricep muscle; given crutches and sent home, his condition did not improve. In fact, the swelling and pain only worsened and Martlew ended back up in hospital.
He would learn that his tear had become infected with necrotising fasciitis, better known as a flesh-eating disease. The only way to save his life was to amputate his leg and part of his buttock. While Martlew could've fallen into a pit of despair, he did not.
"Mentally it was very hard thinking about what I had lost and what could've been, the only way to overcome this was to think about what I still had and what I can make of it," he explained.
GETTING BACK IN THE WATER

Returning to paddling after his injury, the Martlew recalled how dauting the experience was. He did not know if he could even sit in the boat or if that competitive drive to win he had before his life-changing experience, would still be there.
But he puts his return to the water down to the support of his friends, family and local community.
"Two months before losing my leg I had competed in my first ever NZ Surf Lifesaving Nationals, racing in the four-man double hulled surf canoe, where my team won a gold and silver medal," he said. "On the flip side, 10 months after losing my leg, I competed in my second surf lifesaving nationals winning another gold and silver medal with the same crew, minus my leg.
"That was one of my greatest sporting moments to date, overcoming so many obstacles, that feeling of victory with my good mates and my brother was priceless."
OLYMPIC DREAM TURNED INTO PARALYMPIC DEBUT

Reaching the start line for the men's K3L category at the Rio 2016 Paralympic Games was in itself a rollercoaster experience.
"Originally missing selection by just over one hundredth of a second was extremely disappointing," Martlew said before continuing, "to hear the Russian Paralympic Team had been banned, knowing there was a possibility of getting the call up raised a glimmer of hope."
The sprint canoe athlete had been putting in the hard yards and long hours – training twice a day six days a week for almost six months as he aimed to qualify for Rio 2016.
After finishing fourth in the KL3 semi-final at the 2016 World Championships, he made the Final B which meant his hopes for qualification were still alive since majority of the A finalists had already booked a quota sport for Rio. Martlew just needed to finish top two but it was not to be – missing out by one hundredth of a second.
But as fate would have it in a crazy twist of events, a spot in KL3 event at Rio 2016 opened up.
"Two weeks before the Paralympic [Games] Opening Ceremony I got the call I had been selected to race," Martlew said.
"Walking out to the Opening Ceremony was a whirlwind of emotions, seeing my parents in the audience was the most rewarding."
The sprint canoeist, who had no expectations heading into Paralympic competition, may have even surprised himself with the results he achieved in Rio.

"I went into racing with no expectations, due to not having a traditional build up to racing but [I] was willing to go out there and give it all I had," Martlew said, finishing an impressive eighth in the final.
"This shone through, that showed earning me a spot in the final beating people that beat me to the selection."
LOCKDOWN TO TOKYO 2020 GOAL
As 2020 began, there was a slight bump in the road for Martlew as he continued his preparations toward the Paralympic Games. The Para canoeist was in the midst of training for February's Oceania Championships in Sydney when he fell onto concrete while painting his garage and fractured his hip.
"I couldn't sit in the boat for six weeks, putting a huge spanner in the works for the build up to the Paralympics," Martlew said as he went on to improvise his gym training since he couldn't paddle.
"The postponement of the Games was a bit of a blessing in disguise, allowing me to have more time to heal and have a more adequate preparation."
The fracture wouldn't have hindered the 27-year-old's Tokyo 2020 ambitions if the Games had gone ahead at the original date. Martlew had been tracking well towards a second Paralympics, where he would have been competing in the men's KL3 category after being reclassified at the end of 2018.

He had even won a bronze medal at the 2019 World Championships in the men's KL3 which in turned qualified him for the now rescheduled Paralympic Games next summer.
But now, with New Zealand being relativity COVID free and after a four-week level four lockdown in March, the summer season of racing is set to get underway as planned. It is something Martlew is looking forward to getting back into after missing out on competition for most of the year.

More than anything, it will help the Paralympian see where he is with less than nine months until Tokyo 2020.
"I plan to get myself in the best condition physically and mentally as I have ever been and arrive on that start line knowing I've given everything to get to where I am and then it's time to show the world what I can do."