Tokyo 2020: Vanessa Low keen to sign off on a high
'I think it's a healthy balance of being committed and having a passion but also knowing when it's time to move on'
17 Jul 2020
Imagen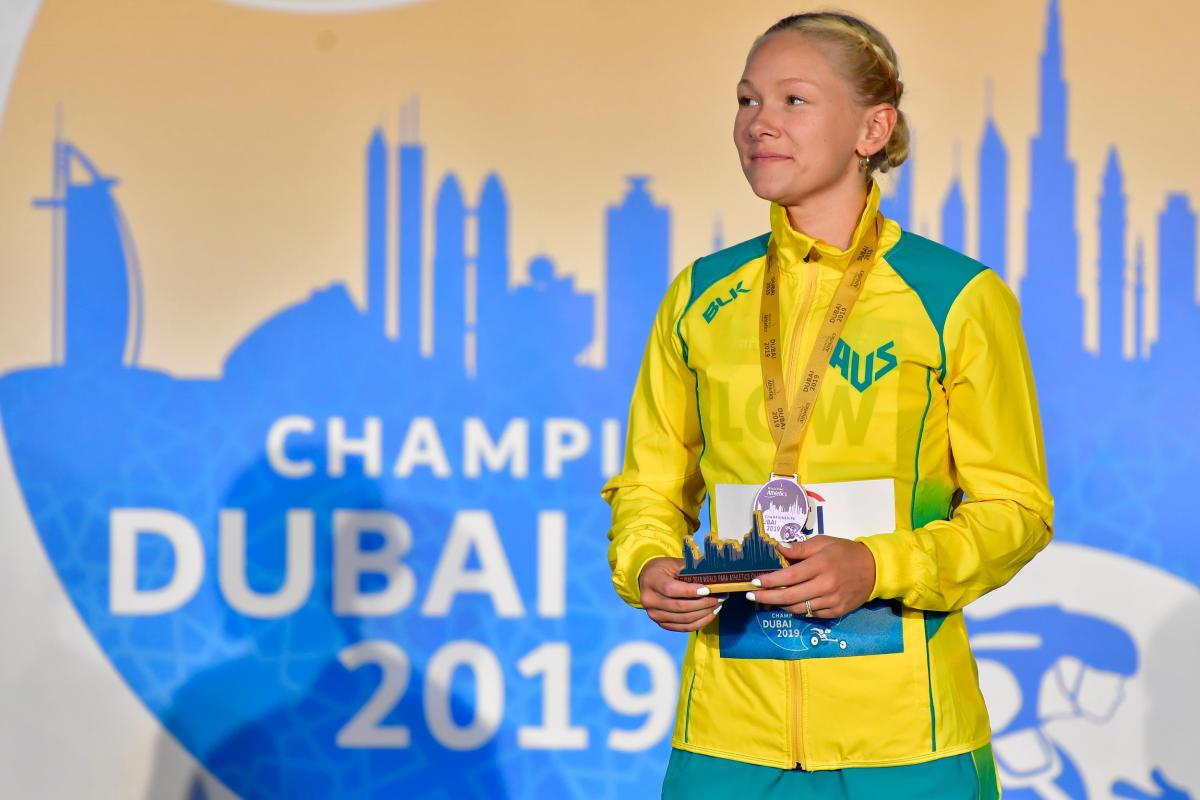 ⒸLuc Percival for World Para Athletics
By Tokyo 2020
Four years ago, Vanessa Low stood on the podium with a gold medal around her neck and a world record to her name.
"It was amazing to come home with a gold medal and a world record," said Low.
"All that was great, but the overall experience wasn't amazing because I had put so much on the line."
The then 26-year-old had done everything possible to make her dream of winning Paralympic gold a reality after her sixth-place finish at London 2012 including, moving away from her native Germany to the United States to train on her own.
So, when she arrived in Rio for the 2016 Paralympic Games with a stress fracture in her lower back and feeling the pressure to perform, it became a turning point in her career.
"I felt in doubt whether or not I'd made the right decision," she explained. "Rio was a little bit of a wake up call that I needed to have something that is a little bit more sustainable and healthier."
Now 29, healthy and representing Australia, Low has decided to make the Tokyo 2020 Paralympic Games her final swan song.
Heading into the unknown
After Rio, Low had to make an important decision: would she continue to put her body through another four-year cycle to try and overcome her injury?
"I wasn't quite sure if I was going to take on the challenge of overcoming that injury," she said.
"You just don't quite know if your body's going to come out the other side being able to compete again."
The stress fracture comes as a result of the injuries she sustained as a teenager. Low was just a month shy of her 16th birthday when she stumbled off a platform in her hometown Ratzeburg, Germany unto the path of an incoming train. Waking up from a coma two weeks later, the active teenager discovered that both her legs had been amputated above the knee.
Due to the extent of her injuries, doctors were unable to plan her surgeries which resulted in her left leg being amputated quite high. This isn't optimal for the movement of running and jumping because it's pulling on the hip, which causes Low's back to get very stiff which eventually resulted in a stress fracture.
After all, when Low eventually chooses to retire, she wants to have a body that will allow her to live a quality life.
"So, I made a decision and committed knowing that I may not get there," the Canberra-based athlete said.
"But the reason why I'm committed to going for another Games was because I love the training. I'm not just competing to stand on top of a podium, I do it because I love the day-to-day work and challenging my body and trying to see what I'm capable of and finding my own boundaries."
Wearing the green and gold
It was November last year at the World Para Athletics Championships that Low returned to the international stage for the first time since her Paralympic Games win in Rio. However, there have been a few slight changes over those three years.
Low married Australian Paralympic gold medallist Scott Reardon, who she had met at the Anniversary Games the year following London 2012, and moved to the quiet capital city of Canberra.
So, not only were the World Championships her return to the world stage but also the first time pulling on the famous green and gold as an Australian representative. However, there were mixed feelings for Low.
"Obviously, I know where I'm from and I appreciate everything Germany has done for me. I know I wouldn't be the athlete that I am today if it wasn't for the German team," she said.
"Being able to be in the same team as my husband and competing for the country that I live in, and that I call home is a great feeling as well."
Despite being away from the international scene, it looked as though Low didn't miss a beat, coming away with gold in the T61-63 long jump.
"It was amazing to see that the German team celebrated my medal for Australia last year as one of theirs as well. It was a great feeling standing on top of the podium for my new country."
However, despite winning, Low admitted that her performance in Dubai was one of the poorest distances (4.68m) she had jumped in a long time.
"The pressure probably got a little bit of the better of me."
"I think leading into Tokyo, that was a very good experience to have because I now know that I can't take it for granted or the experience that I have. I have to continue to do the work and not just be expecting things to be perfect on the day."
One last hurrah
The Paralympic Games next summer will be Low's last. The decision to retire wasn't an easy one but there were two main factors. The first being the health of her back.
"Putting my body through another Games, I think will probably take a little bit too much out on it, knowing that one day I want to be running around with my kids and maybe even grandkids," said Low, who has been competing internationally for over a decade.
"I think it's a healthy balance of being committed and having a passion but also knowing when it's time to move on."
Secondly, with sport being incredibly demanding, sometimes travelling 26 out of the 52 weeks of the year, Low wanted to give attention to her life outside of competition and training.
"I have so much outside of sport that I'm enjoying, that I'm grateful for and that often has to take second priority. Being away for a lot and missing out on family birthdays, weddings and all these things."
"I do want to give that other part in my life, a little bit more attention and hopefully start a family sometime soon as well."
Coming up against the unexpected
Dealing with the unexpected isn't new for Low. From the stress fracture in her back to the devastating bushfires Australia experienced throughout their recent summer forcing athletes indoors due to the poor air quality and more recently the postponement of the Paralympics.
However, if there is one thing that her accident taught her, it's that: "You can make all these plans and you can have a game plan for the next couple of years, things change."
"And sometimes those changes aren't bad. Sometimes those changes tend to be your biggest opportunities."