Tokyo 2020 will be the pinnacle: Curtis McGrath
Defending title will be tough but the Australian has trained harder than ever to keep his crown
18 Aug 2021
Imagen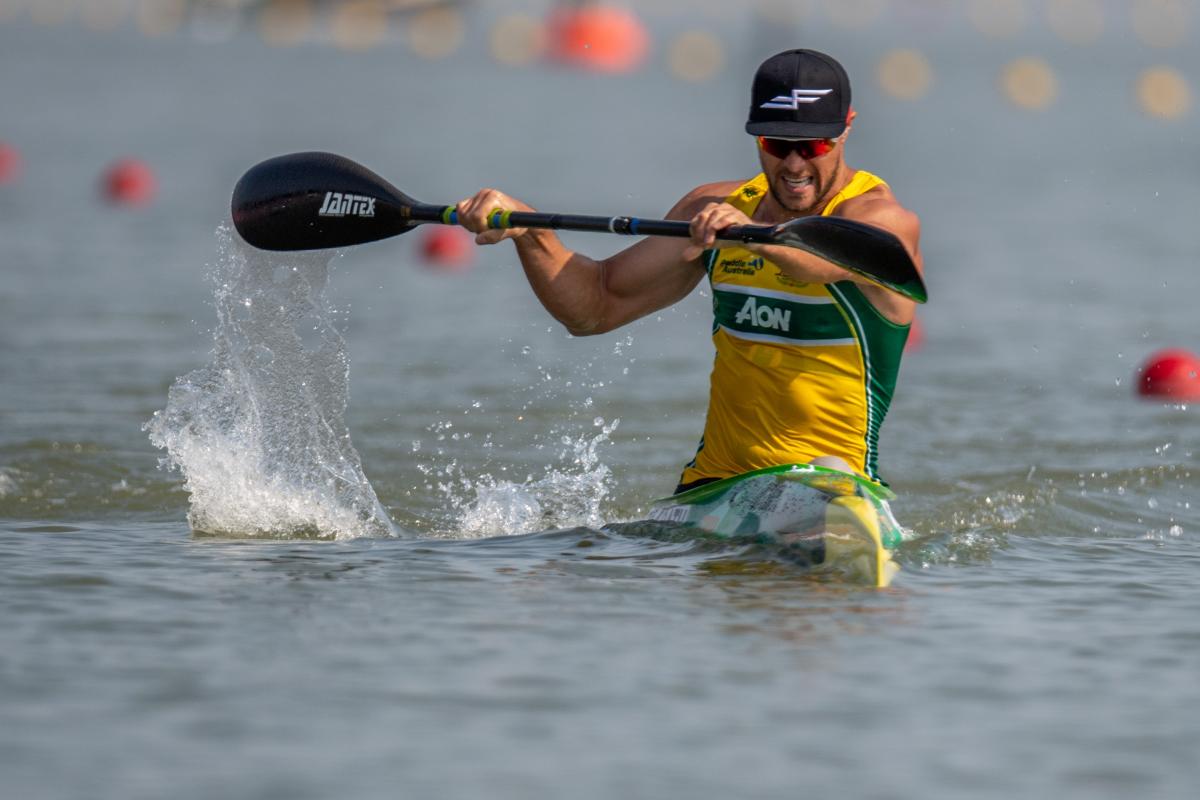 ⒸParalympics Australia
By AMP Media I For The IPC
When the Paralympic Flame is lit at Tokyo 2020, it will be nine years and a day since Curtis McGrath was being bundled into a helicopter, having had both his legs blown off by an improvised explosive device in Afghanistan. As the Australian soldier was put on a stretcher, he said: "You'll see me at the Paralympics."
McGrath vividly remembers the moment in 2012 that changed his life. "It was a passing comment, I guess. At the time, it didn't mean anything, I was just trying to give the guys I was with a little bit of hope," he said. "Because it was their trauma, too, I hoped it might give them a bit of comfort, 'I'll be OK guys, my legs are gone, but I can go to the Games'."
But McGrath's throwaway line became reality. Having lost his right leg at the knee and left leg just below the knee, within months he was walking on prosthetics, and by 2013 he was competing in Para canoe. Four years after the explosion his rehabilitation was complete, when at Rio 2016 he won gold in the men's 200m KL2 canoe sprint, breaking the Paralympic record. McGrath was then selected to carry the Australian flag at the Closing Ceremony.
"It's been amazing. To look back on everything that I've done and had the opportunity to do, with such happiness, makes me so grateful to everyone that has supported me along this way.
"Rio was an unbelievable experience. To have friends and family over there with me, to line up under the Christ the Redeemer statue, to come away with a gold. But the most amazing part was carrying the flag at the end. To have that sort of acknowledgement of my efforts was special, and made me so proud."
McGrath knows it is going to be a challenge to retain his crown. "We've been lucky in Australia, we haven't been as affected by COVID as some places. We were able to have that opportunity to get on the water, to be outside and click over the kilometres. The delay to competition was mundane, and we had to pump the breaks a bit. But since Christmas, we've really got going again.
"I'm super excited and so grateful for the opportunity to be able to compete in Tokyo. As athletes, we have worked so hard for five years for this. It is the pinnacle of what we do. But the lack of competitions means it is tough to measure the opposition. This sport isn't like swimming or athletics. It's an open environment and the conditions have a big effect on the results. So until race day, I won't be able to compare myself to anyone. Hopefully, I've done enough to come through, to defend my gold medal, and go for another one."
SPORT FOR RECOVERY
The athlete credits sport with aiding his mental recovery from injury and trauma, as much as it has helped keep him physically fit. "It's good to help people understand that some veterans have mental health issues as well as physical wounds. In the military, you're part of a system, and when you come out the other end, you have to work out what you're going to do without a structure to support you.
"Sport has helped me in my approach to life and my ambitions. I believe it has helped me avoid mental health issues, because it has given me a purpose to focus my mind on, to set a goal and go after it." For McGrath, the next mission is clear.