Tokyo 2020: Youngjin Roh wants gold for ailing mother
'I'm a work of my mother and she has devoted her entire life for me'
14 Mar 2020
Imagen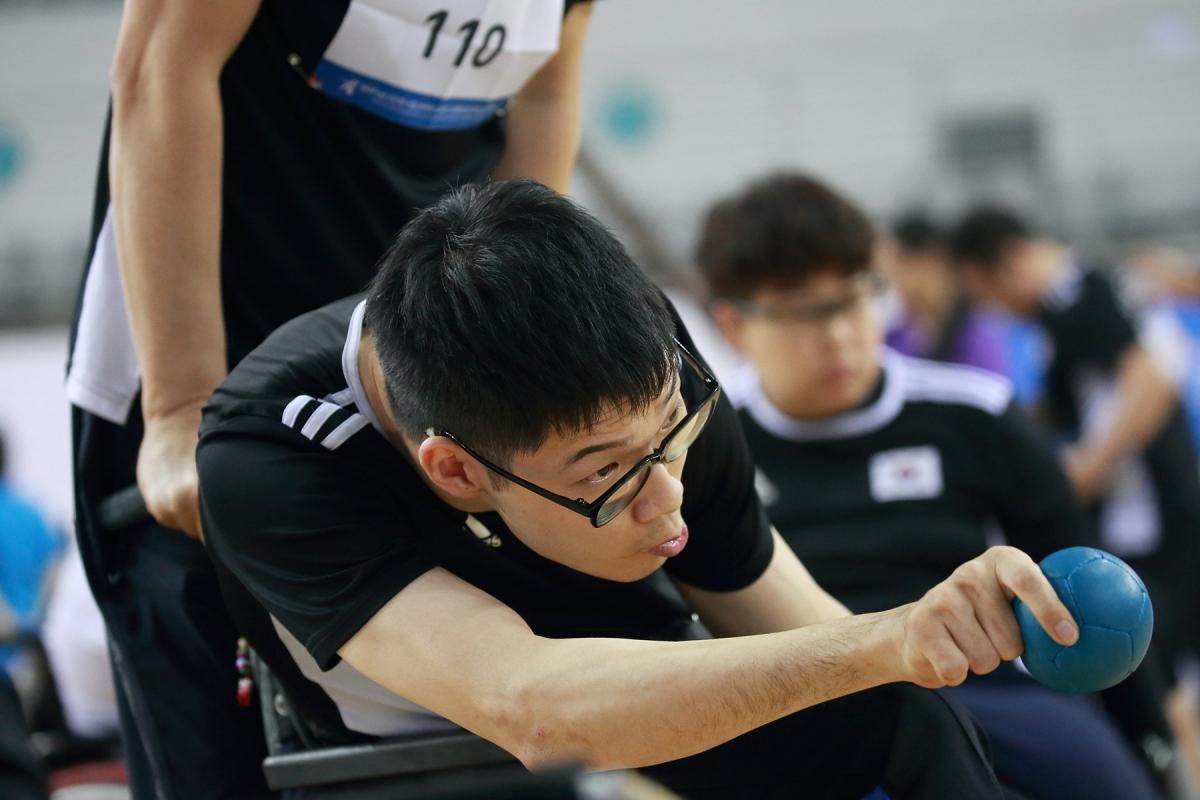 ⒸKorean Boccia Federation
By EJ Monica Kim | For IPC
South Korea's Youngjin Roh is leaving no stones unturned in his quest for gold on his Paralympic debut at Tokyo 2020. He is desperate to win it for his mother who has been his guiding force and is now battling cancer.
"I'm a work of my mother and she has devoted her entire life for me," said Roh who shot into limelight by claiming two medals, including his first individual BC1 gold at the 2019 Boccia Asia-Oceania Regional Championships in Seoul, South Korea.
The achievement was even more noteworthy as Roh had made his international debut, just seven months ago, at the Dubai Boccia World Open in December 2018.
"Despite earning the medals and the quota for the Paralympics, I felt mixed emotions while thinking about my mother and my future sporting career," confessed Roh, whose guiding force at every competition has been his mother, Hyang Mi Lee.
"My mother has been assisting at tournaments ever since I got hooked to the sport in 2007," revealed Roh, who recalled how much of a struggle it was when he first started to compete and how much he owes his mom for what he is today.
"My son wasn't even able to throw all six balls in the match due to muscle stiffness. Therefore, we set goals step by step. At first, I said that let's just enjoy a pre-competition meal. And then, in the next competition, I told him to finish throwing all the balls," recalled Lee, who spent the next 10 years travelling the length and breadth of her country to ensure that her son was taking part in as many tournaments as possible.
"Literally, he is a boccia fanatic. So, I wanted him to gain as much experience as possible. And then, to see him represent our country was special," said Lee.
However, just when things were going their way and Roh was taking giant strides, tragedy struck as Lee was diagnosed with stage IV colorectal cancer in February 2018.
Though Lee braced the illness head-on, she acknowledged her initial approach was casual.
"I wasn't aware of the seriousness of the illness until the day of my surgery. I was very naïve, because I hadn't thought about the treatment for cancer. I was too keen on being with Youngjin during his training," she said, adding that, reality dawned upon her when the doctor asserted "we would become lifelong friends."
"It was really hard to tell Youngjin that we had to take a break from the sport as without anybody to assist, he wouldn't be able to participate. I wasn't sure if he would be able to cope without my company. But he surprised me," said Lee.
Roh, like a true champion remained resolute and roped in his club coach Jung Hyun Hwang to assist him. The partnership has already paid rich dividends and Roh has risen as one of the firm favourites for Tokyo 2020.
"I always aspired to be part of the Paralympic Games along with my boys, and Roh became the first one of mine to make this dream come true," said coach Hwang.
Extra-motivation
The World No.7 South Korean is aiming for individual and team gold at Tokyo.
 "Actually, I started feeling more confident after defeating Thailand's Witsanu Huadradit [world ranking no.2] in the semi-final before that gold at the 2019 Boccia Asia-Oceania Regional Championships.
 "Now my sole aim is to win gold at Tokyo and tell my mother, I'm doing well. I 'm working really hard. I want her to not worry about me and enjoy her life more."