Ugandan's Ritah Asiimwe retrains body and mind after loss of right hand
Just like learning how to write again, Asiimwe had to re-learn how to play sports, and it has paid off in her Paralympic debut at Tokyo 2020
10 Sep 2021
Imagen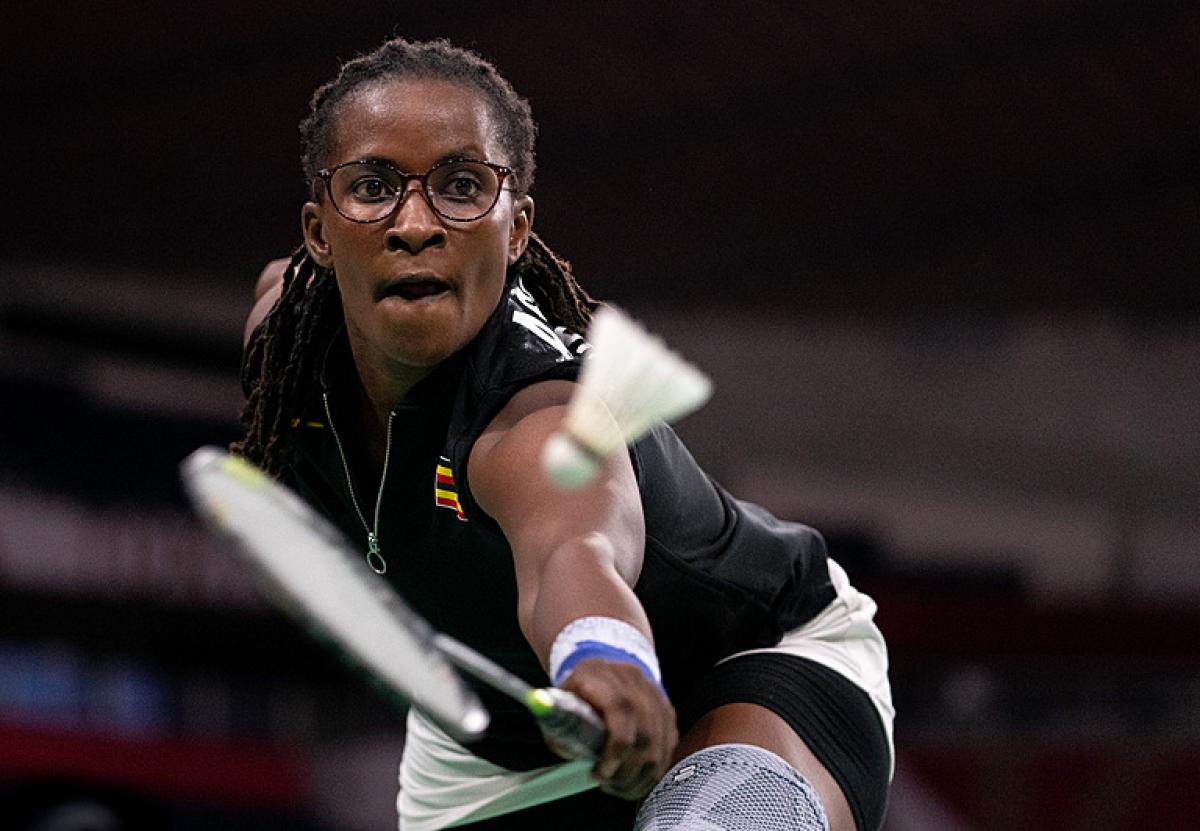 ⒸOIS/Thomas Lovelock.
By BWF, IPC and OIS
Ever so often, the right side of Ritah Asiimwe's body tries to reclaim its natural, dominant role. The right arm, instinctively, reaches out for any task. But then the left has to remind it – that without the right hand that was once there, their roles have to switch. Thought has to override instinct.
The Ugandan has trained herself with that thought process to reach badminton's Paralympic debut at Tokyo 2020. 
Asiimwe grew up fond of sports such as volleyball, table tennis and running. But it all changed on January 2005 when she woke up in a hospital without her right hand. 
From that day, she said she never wants to "be too vulnerable" 
"I want to be an independent person," said the 35-year-old, who competed in the women's singles SU5 in Tokyo. "I want to be a person making my own decisions, with my own will, so I never let the depression of losing a hand take over."
"It was on January 4th that I was assaulted," continued Asiimwe, who boldly opened up about that day. 
She found two people trying to break into her grandmother's home. One had a machete and the other a hammer.
They chased her. 
"When I woke up in a hospital I realised I didn't have a hand anymore, (but) I need to finish my school," she recalled. "In February I went back home, and in March I went back to school. I wanted to complete my studies. I never wanted to see myself left behind because of what happened. I wanted to finish everything. I never wanted to see anyone look down on me or feel pity for me. I wanted to fight my challenges."
Looking back at the incident, Asiimwe described herself as the "sacrificial lamb."
"I'm grateful they did (chase me), because I don't know how many people would have got hurt in the house because it was Christmas season and all my cousins, my sisters, everyone was there," she said.

Having lost her dominant hand, the first major challenge was to train her left hand; she had to learn to write and do the things that the right was accustomed to doing.
"I had to train my left hand from scratch. I was like a baby in kindergarten, trying to write A, B, C. My teachers said I can't finish high school because I had to learn to write. I had to catch up. I couldn't sit for more than five minutes because my body had become so weak. I needed to keep going. I wanted to be ready, so when opportunity knocked, I had to be ready.
"Just like badminton knocked, and it found me ready."
She happened to visit the Uganda Para Badminton International in 2018 and realised that Para badminton was what she had been looking for.
Just as she taught herself to write, Asiimwe taught herself to play badminton with the non-dominant left hand.
There are peculiar challenges, though. Badminton is a sport of footwork as much as it is about strokeplay, and so she found the right side of her body was sometimes in conflict with her left. 
"I had to change my leg, it's kind of annoying sometimes. Gradually I learned to move with my left leg. Sometimes they collide. The right one always claims its position. I have to keep the left going.
"They do cooperate now. Every microsecond they need reminding," Asiimwe laughed.
The training paid off when she learned in July she had qualified for Tokyo 2020, where badminton made its Paralympic debut.
"When my coach told me I had qualified, it was unbelievable. The excitement engulfed me. It was a mix of emotions. I wanted to shout out, I wanted to cry, I was in disbelief," Asiimwe said. "I needed to go into my bedroom and cover myself in a blanket."
She played three matches but did not make it out of her group. But it is a starting point for Paris 2024. 
"It did take me a lot of time, around 14 years, until I found badminton. That's when I found a new voice of freedom, that I can do anything," she said. "I stopped thinking less negatively. So it's keeping me positive. I know there's a lot of setbacks and stigma, but it's about your mindset."