Memorial necklace a comfort for Dutch badminton player Megan Hollander
'It's a journey that I started with my mum, and that I can be here for her is a very big goal'
02 Sep 2021
Imagen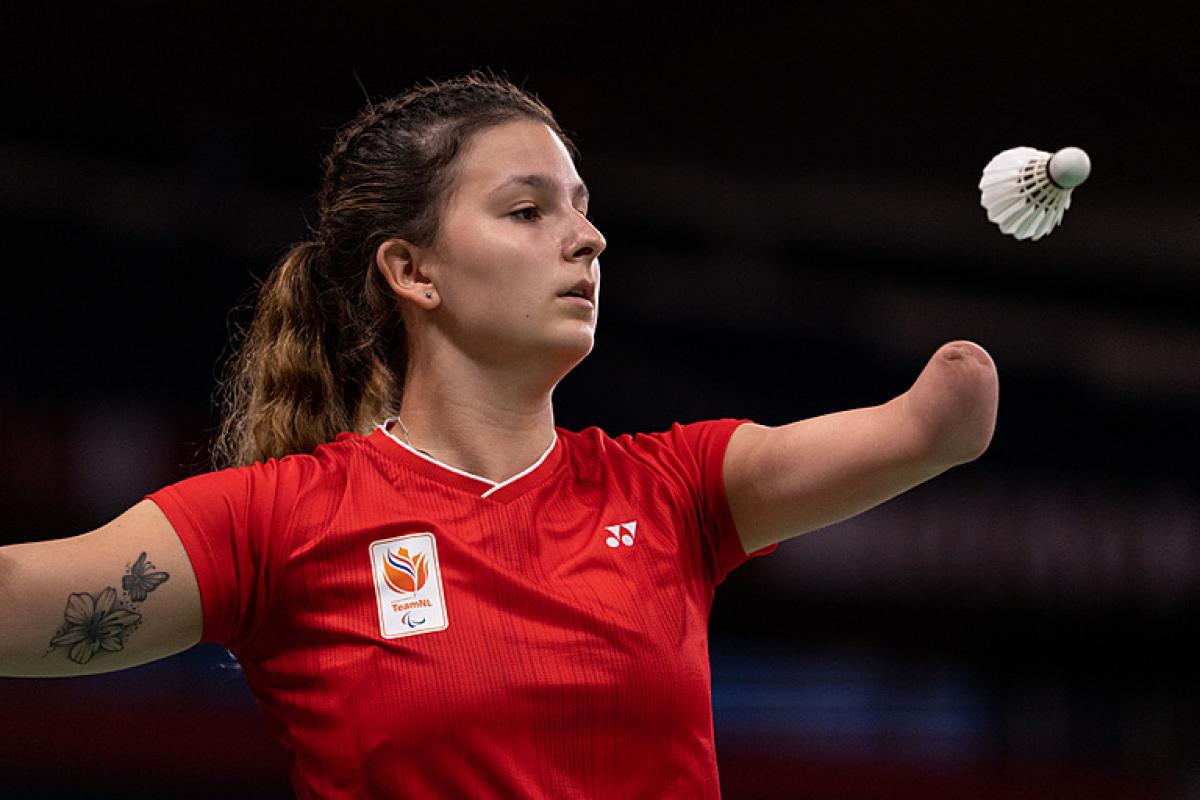 ⒸOIS/Thomas Lovelock
By OIS
Few players felt the long-awaited Paralympic Games debut of badminton as deeply as Megan Hollander of Netherlands, who walked away from the sport after losing her mother to cancer in 2018.
Now refreshed and refocused, the Dutch SU5 player has brought more than just the memory of her maternal mentor to Tokyo – she wears a necklace containing her ashes while she plays.
"It's very precious, the best thing I ever had," Hollander said of the trinket after her opening match at Yoyogi National Stadium on Wednesday (September 1).
Back in 2015, with her mother Marion at her side, Hollander tasted success only months after taking up badminton as a way to come to terms with her impairment.
"She took me to the world championships (in England) and I won bronze," she said. "I shared that moment with her so it was very special."
Hollander fared less well in her first taste of the Paralympics, losing her opening women's singles SU5 group match in straight games to the 15-year-old Portuguese prodigy, Beatriz Monteiro of Portugal. 
Dutch flag painted on arm
"Of course my mother is watching," Hollander said. "She will be proud even if I lose (but) if you're standing there and you're not playing as you should, it hurts.
"It's a journey that I started with my mum, and that I can be here for her is a very big goal. It's something I've been living for."
It might all have been so different for Hollander, who gave up playing badminton when the Covid-19 pandemic hit the Netherlands and forced the closure of the National Training Centre.
"I said, 'It's fine for me, I'm quitting right now', because I needed the time off," she said.
"I took seven or eight months off and then I started back in January again because of the promise I made to my mum to be here. I said I will be here for her and if I'm going to win a medal, it will be for her."
With a surname like hers, Hollander knows her nationality is unlikely to be mistaken. Even so, the 23-year-old took no chances on Wednesday, proudly painting the Dutch flag on the upper part of her shorter left arm.
On her right arm was something more permanent: a tattoo of 26.06.2018, the date when her mother passed away.
"In 2017 when we heard that she was sick, she just kept saying, 'Go on, you can do it, you could be the best'," Hollander said.
"That's something I keep reminding myself of every day."