Jung Jun Kim eyes badminton gold on the biggest stage
'I'd like to show my daughters I can do something that other fathers can't. I want to be a father to be proud of.'
02 Aug 2021
Imagen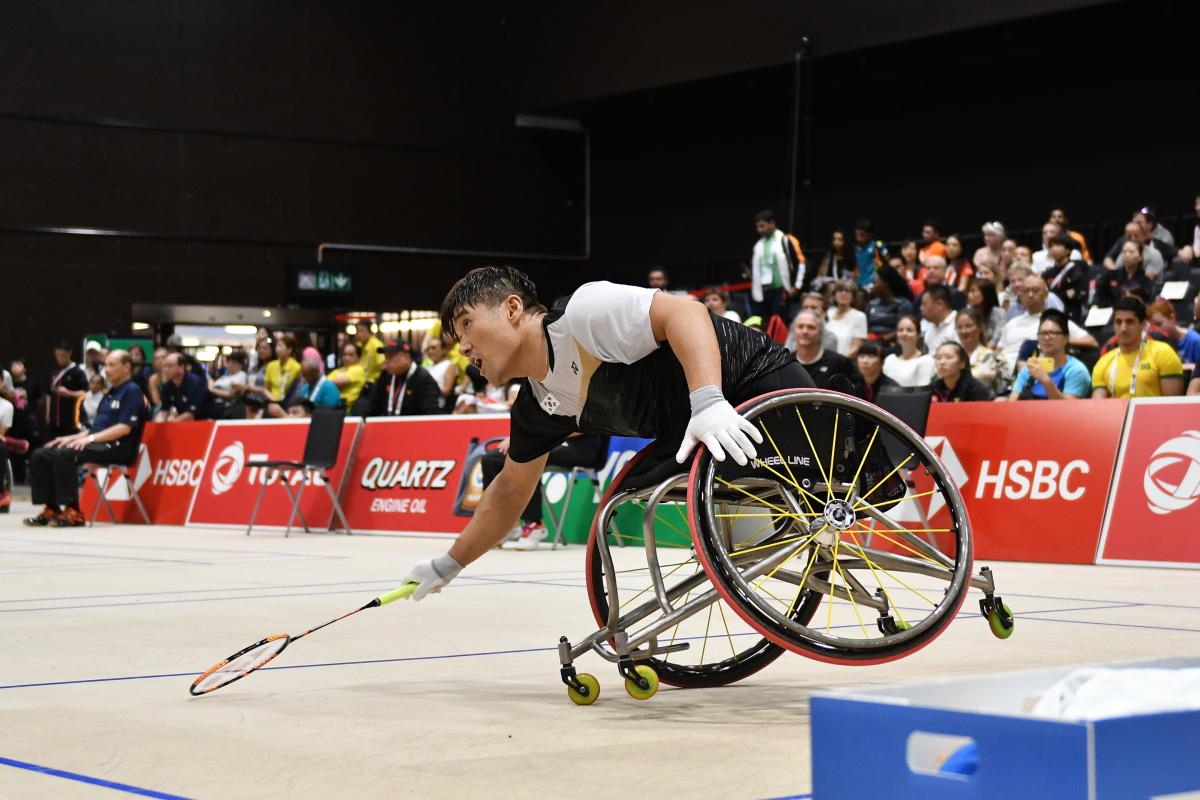 ⒸBadmintonphoto/BWF
By Amp Media and Jennifer Choi | For the IPC
Four-time Para badminton World champion Jung Jun Kim is already a giant of his sport.
While he is driven to win Paralympic gold, the athlete famous for his rapid manoeuvring and precise shots goes into Tokyo 2020 primarily grateful that badminton has been added to the roster on the biggest stage.
"I couldn't believe it at first when I heard it was becoming a Paralympic sport," he said. "It felt like reimbursement for all the work I've done over the past years. Every time I heard about other sports players earning medals in the Paralympics, I envied them. So just the fact that Para badminton was accepted made me happy. It was the dream of all the players."
LEADING FROM FRONT
Kim is a passionate ambassador for his sport and believes it will be a huge hit at Tokyo.
"Para badminton is speedy and lively, so its sudden speed and power will attract all the spectators. You will see wheelchair and person become one with this sport, and the spectators will fall into it before they know it. It is exciting to watch.
"The venue, Yoyogi National Stadium, is very big and the perfect place to play badminton. I feel more excited that I will be one of the first to participate in Para badminton at the Paralympics. I wish I could pass on even a little bit of joy to South Korea."
Postponement of the Games has allowed Kim to recuperate from a serious shoulder injury. "Thankfully, I've recovered most of my health. [The COVID-19 pandemic] gave me time to rehabilitate my shoulder, and I was able to focus more on analysing games. Now I am training hard."
He will need every bit of effort to win. Unbeaten for the first six years of his sporting career, he lost for the first time, to Hong Kong's Ho Yuen Chan, in 2018.
"I'm not getting any younger, and as time goes by it won't be easy. But I think my main competitor is myself. When I first had my injury, I felt like the world was falling apart. However, I was able to overcome all of this.
"Of course, during the actual matches, Chan will be my main competitor. I won't be a champion forever, but I like to determine my rank through friendly competition. I also think that you can only improve when you have good quality rivals."
ALL FOR HIS DAUGHTERS
Kim reflects on his career to date with pride. "I think speedy sports fit me well. Effort is the best way to perform. I always listen to my coach's advice and try to figure out how to play better. Speed and power are my strength, but you can only have that if you know how to control your wheelchair. I would like to be a player who goes down in Para badminton history."
Whatever happens, he will always have the support of his No.1 fans, his young daughters, who always present him with good luck drawings before tournaments. "I want to be like other fathers, but due to injury it's not possible, and that's sad.
"Instead, I'd like to show my daughters I can do something that other fathers can't. I want to be a father to be proud of. I believe my daughters are trying to leave a message through their drawings, 'Cheer up, dad, we're always on your side'. I want to be in their hearts forever as a wonderful father."