US Para Ice Hockey team looking to continue dominance
Stars hoping to see Para Ice Hockey on the same level as Olympic Ice Hockey one day
22 Feb 2022
Imagen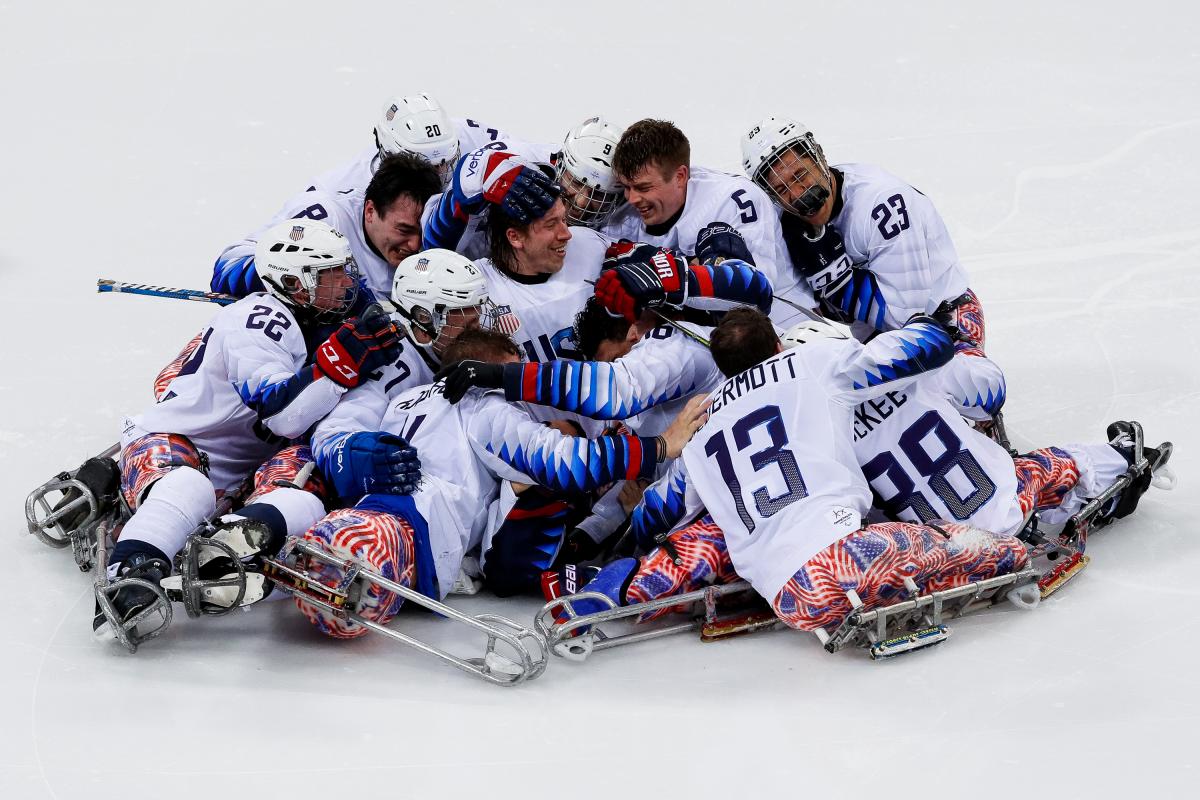 ⒸGetty Images
By Teddy Katz | For the IPC
The US Para Ice Hockey provided one of the most dramatic moments at the 2018 PyeongChang Paralympic Winter Games and is looking for more of the same in Beijing.
In PyeongChang, the USA which had won the previous two Paralympic titles trailed their arch-rivals from Canada 1 to 0 with time running out in front of a packed and noisy arena.  
"As the game wore on and was so close, the players were putting their heart and souls into every shift, and that wore off on the crowd.  It was just an electric emotional atmosphere by the end of the game," says US star Declan Farmer.
BIGGEST GOALS OF HIS CAREER
Farmer scored with just 37 seconds to go to tie the game and to send it into overtime. Then Farmer potted the winner in overtime as his teammates came off the bench to mob the player who had become a scoring machine with 12 goals in the tournament.
"It's kind of what you dream of as a kid, you know that game winning goal," recollects Farmer, who started playing when he was 9.
US Captain Josh Pauls adds, it was an unforgettable moment.
"It was a wild finish. Sometimes you wonder if we deserved to win that game. But ultimately, it doesn't matter," Pauls says.
US HAS WON 3 CONSECUTIVE PARALYMPIC TITLES
Pauls is the only member of Team USA in Beijing who has been part of all three consecutive Paralympic titles, dating back to Vancouver 2010. While he's enjoyed that success, he's been equally happy to see the growth of the Paralympics in that time.
"The Paralympic Movement, in general, has gotten a lot bigger since I started in 2010." 
He says once people see his sport, they can't wait to see more.
"Whether or not it's a Paralympic sport, it's still hockey. It's a great physical game. So, if you are fans of old school hockey, big hits and everything, you love it. With teams like the US, Canada and Russia, we have some really high end talent."
GROWTH OF THE GAMES
The Paralympics are now more widely available on Television with NBC streaming the games in the US and other countries doing the same.
"The really cool part is we're seeing the growth of the game not just in our country. You're seeing the skill level go way up," Pauls says, adding, "The different technologies, the stick blades, we're seeing all that grow because we have more support and more funding. We have the ability to take our game to another level."
While there used to be 10 to 20 teams playing at the national championships in the US. Now there's about 100 club teams.
CRAZY MOVES AND SKILLS
Pauls marvels at the skills that some of his teammates, including Farmer now possess.
"He works every minute he's on the ice. Off the ice, he's a constant pro taking care of his body. He's a fierce competitor. He's always looking for a little extra move to get around you. He's made some crazy moves in practice. He definitely makes me go 'wow' at least once a practice."
Farmer says, he tries to be equally strong using both of his hands to shoot and picks up skills from the best players in the world. One of his US teammates does a spinarama move, spinning around in his sled before shooting. Another player on the Canadian team does 360-degree spins on the edges of his sled to speed along the ice.
"People are constantly thinking of new moves and ways to play the game that other guys try to learn. So, it is a constantly evolving sport. And you see that on the ice.  There's an incredible increase in talent and depth of talent around the world," adds Farmer.
THE REAL DEAL
Farmer explains, "It is an intense sport on the same level as the Olympics. It's not just, you know, people with disabilities going out and having fun playing a sport. It's, it's the real deal."
While happy with the evolution of Para Ice Hockey, Pauls says there is still much room for improvement when it comes to the perspective some people have for people with disabilities.
Pauls is a member of the Board of the Carnegie Initiative, an organisation in North America fighting to ensure hockey is more inclusive, diverse and welcoming for all.  Pauls says, he wants to ensure that athletes with disabilities are included in those conversations and have a place in the game he loves so much.
"I do think disability is often left by the wayside when we talk about minorities."
ROOM FOR IMPROVEMENT
Pauls says, "We're the largest minority group in the in the world. We make up 15 per cent of the world's population. In the US, I think that number is going to be up to like 20 percent by 2035."
He's hoping to continue educating people on that front in Beijing.
"There's sometimes a perception from those unfamiliar with disabled hockey that it's not hockey. I think it's finding ways to frame it to show it's still the game you love. It's just a little different."