US sitting volleyball setter Kaleo Maclay aims another shot at Paralympic glory
Two-time Paralympian aims to repeat Rio 2016 gold medal feeling in Tokyo
10 Apr 2021
Imagen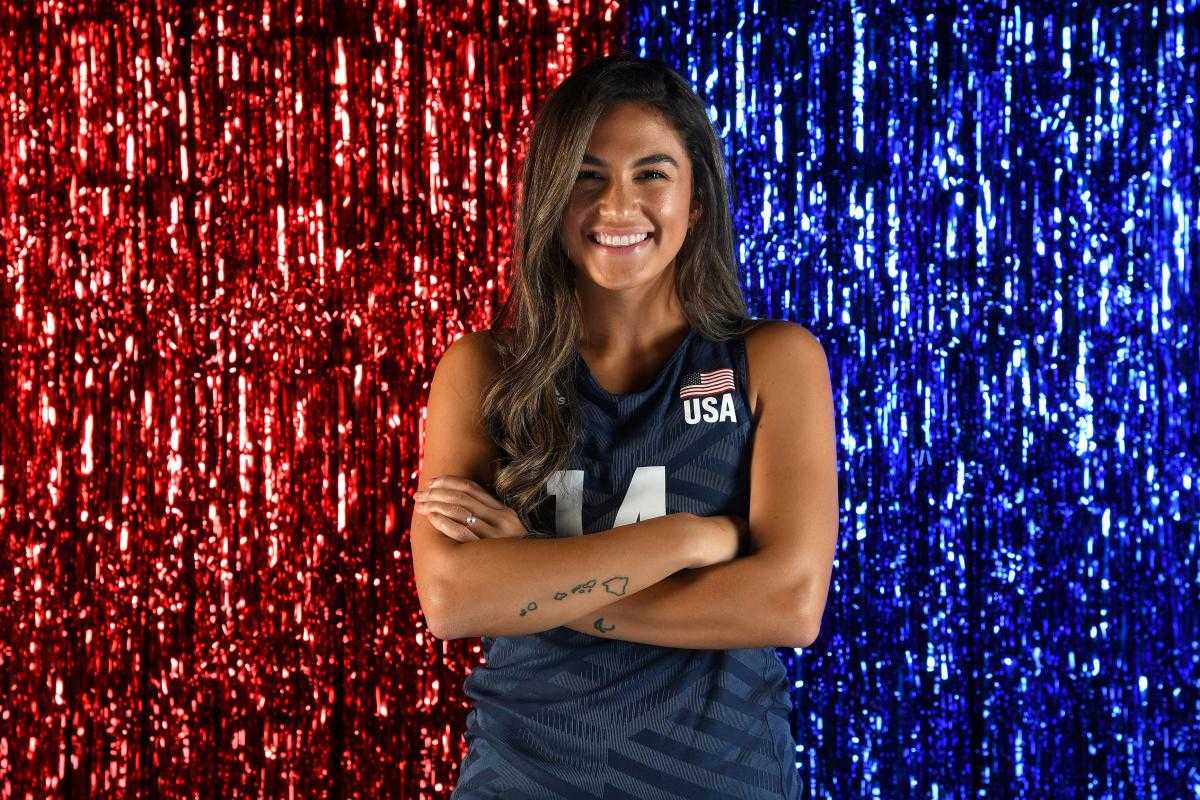 ⒸGetty Images
By Tokyo 2020
If you ask Kaleo Kanahele Maclay about her experiences at both London 2012 and Rio 2016, the US sitting volleyball player would say two opposite things.
"Going into the London Games - I was 16 at the time - I was just happy to be there, excited to experience the Games without tons of pressure on me to perform," Maclay said. 
"[But] in Rio at 20-years-old, it was the complete opposite. I had one goal and it was [to win] gold. I felt a lot of pressure, but I knew that we were a team with the commitment, dedication and skill to win the gold."
However different those Paralympic Games experiences are for Maclay, on both occasions the US team went on to win medals, a silver in London and finally their first gold in Rio, which ended China's unbeaten streak at the Paralympics.
That victory had been a long time coming for Maclay who has been at the roster of Team USA ever since she was 14.
"I was so proud of all the work we had put in as a team to get to that gold medal match, and that match was a beautiful performance and a true example of all of the work and dedication we had put in as a team," the now 24-year-old athlete said.
BECOMING A WORLD-CLASS ATHLETE

Maclay is now enjoying a stellar career in sitting volleyball. Her success, however, has been laid out ever since she was young.
"I don't remember life before sports to be honest! I started in gymnastics, then ballet which didn't last long, then basketball, then softball and volleyball was actually the last sport I got into. It sounds dramatic, but sports didn't just change my life, they were my life (and still are)," she said.
Among all the sports she tried, it was volleyball that truly clicked for Maclay, who was born with clubfoot.
At age 9 to 10 years old, she joined a club named Oklahama Peak Performance to play [standing] volleyball.
Then serendipity played its part.
Bill Hamiter, head coach of the national sitting volleyball team, was involved with the same club and spotted the young star-in-the-making. Hamiter got her started with the Para sport at age 12 and the rest was history.
"She probably has the best technique of any setter in the world. She also has an exceptional IQ for reading the game, trying to know where the blockers are at, where I need to take this set to make sure that we can attack more efficiently against the defence or against the blocking scheme," Hamiter described.
But when it comes to being called the best setter in the world – and also one of the most consistent servers – Maclay still thinks of herself as a work in progress.
"I am so honoured that when people think of me that's what they say. It's a great reminder because I don't always feel that way — although I know I am a good server, consistency is actually on my list of things to work on," she said.
"I tend to be very critical on myself because I believe I can be better than I currently am, but I know how hard I've worked to get to where I am. So when those things are said about me it makes me smile knowing that my hard work is being seen."
MOTHERHOOD AND OTHER VENTURES

Sitting volleyball is not the only place that Maclay wants to make her mark.
Knowing that the unpredictable nature of sports could impact an athlete's career or end it, Maclay wanted to look at life beyond sports.
That gave birth to a new passion: a cookie decorating business; Cookies with Kaleo along with a coffee, bakery and flower shop called Flower and Flour which she opened in Oklahoma, where she resides.
"My husband (Matthew) oversees the coffee aspect, our business partner (Kelly) oversees the floral aspect and I oversee the bakery. I call the pastries my labour of love, they are some of my favourite recipes and now I get to share them with every customer who walks through the door," Maclay said.
On top of all this, she is also a mom.

"I am a mom to the coolest three-year-old on the planet," she said.
And how does she juggle an elite career, her business ventures and raising a family?
"I get asked this question a lot on how I juggle them all," the Paralympic champion said. 
"The best way for me to explain it is for me to be wherever I am while I'm there. If I'm in the parenting role with Duke, I do my best to be present and be with him, when I'm at the shop baking or running the business, I do my best to be present there. Same if I am at practice, I choose to focus only on being at practice.
"I think as people we tend to spend a lot of time invested in thinking about what's next and not enough time of being where we are."
The sacrifice of time is something that Maclay has done to be at her best in all aspects of her life - from being a mum, to a businesswoman and as an elite athlete.
"[It] has always made me thankful for the time I'm with my family and time I'm on the court. Since time is the sacrifice it encourages me to make that sacrifice worth it. If I'm going to be away from my family I go into each practice or each match more intentional when I remember what I have sacrificed to be in that moment."
To be a person who wears many hats, Maclay takes inspiration from the women from Team USA.
"Each of my teammates are doing incredible things, like Nicky [Nieves] she has her own non-profit organisation, Katie [Hollyway] has been incredibly involved in the Paralympics getting equal pay, Heather [Eriskson] is an incredible coach to the club I used to play for, Whitney and Bethany [Zummo] both own small businesses as well.
"I'm so thankful for my team, I have grown up with most of my teammates — they've watched me grow and become the person I am and I have watched them grow and become the people they are."
ALL FOR ONE IN TOKYO

However present Maclay may be for all her business ventures and her family, this year requires her to be as focussed as ever with the upcoming Tokyo 2020 Games, where USA aim to confirm their status as the world's best.
With the team already qualified thanks to the silver medal at the 2018 World Championships, the final roster have yet to be announced but Maclay is almost a sure shoe-in for the squad.
"Our goal for Tokyo 2020 is gold. There is of course a road map to get there, but that is goal insight and I can't wait!," the athlete said.

While training took a backseat last year with most of them working out individually at their homes, Maclay is now grateful that they can get back together as a team.
And is she looking forward to another showdown with strong rivals China come Games time?
Maclay says Tokyo 2020 will be different.
"The rivalry has shifted for us since the Rio Games, we've gained the perspective that our biggest rivalry is with ourselves — meaning we have worn the title of No.1 in the world with honour. We want to be the team to beat, and the only way we stay that way is if we are the bar to beat," Maclay said.
'Be the bar' has become their team motto, which according to the Maclay helps them to push each other to be the best version of themselves.
"[After Rio, our coach] went on to share about 'becoming the giant' and the idea that now we are the team to beat and how we can go forward while other teams may be chasing to beat us — how we can be the best team that we can. It has really stuck with me and molded how our team has operated post-Rio and into Tokyo 2020."