USA's Salamone on top of the world
Having won the last World Championships and Paralympic Games, American Alexi Salamone is now being heralded as one of the world's ice sledge hockey greats.
30 Nov 2012
Imagen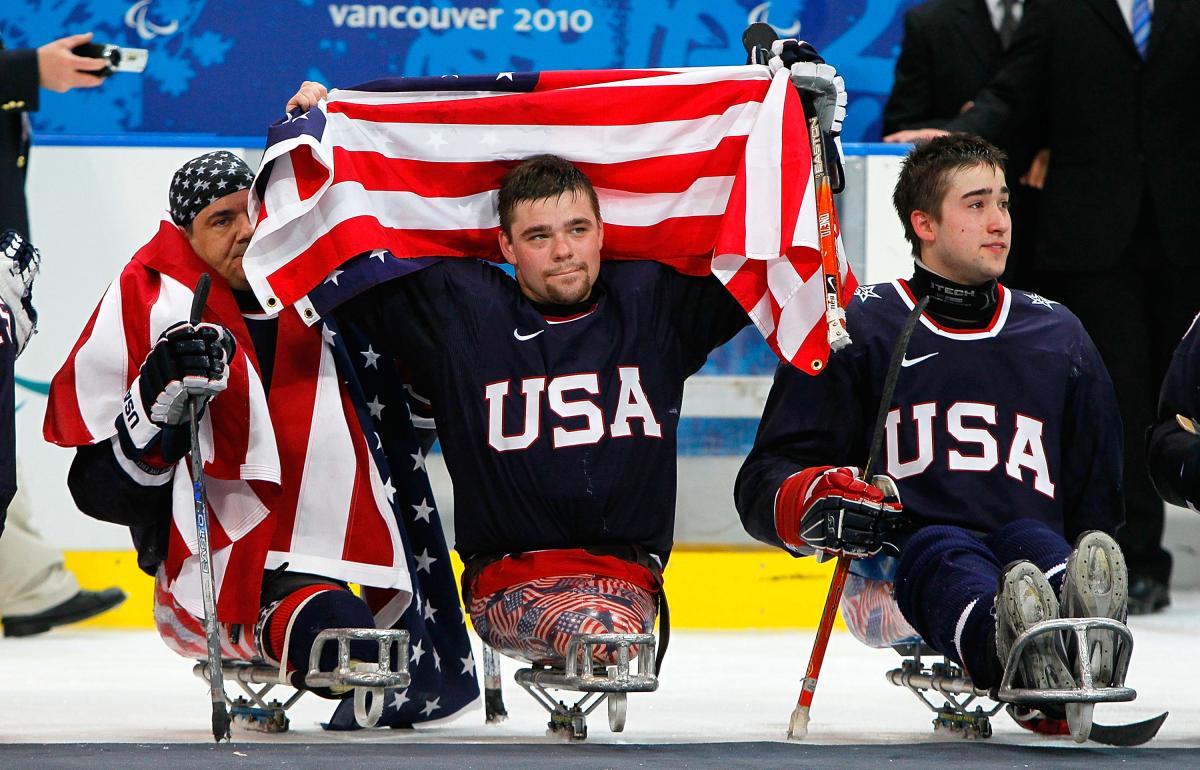 ⒸGetty Images
"I'm 25 and I'm at the top of the world. I think there's a lot more athletes that will get to my spot. But while my time is here now, I want to truly make the best of it."
The USA will begin their 2012-13 ice sledge hockey season this weekend as the defending world and Paralympic champions, putting a large target on their backs as the ones to beat.
For American starting forward Alexi Salamone, who was adopted at six years old from Ukraine, hockey life cannot get much better at the moment.
He has been a part of the USA's national team since 2003, scored the game-winning goal to beat Japan for gold at the Vancouver 2010 Paralympic Winter Games and was second among all scorers at the 2012 IPC Ice Sledge Hockey A Pool World Championships, where USA also finished first.
"I'm at the top of the world right now," Salamone said. "I'm 25 and I'm at the top of the world. I think there's a lot more athletes that will get to my spot. But while my time is here now, I want to truly make the best of it."
In the last four years, Salamone has scored 18 goals and recorded 30 assists in 40 IPC recognised ice sledge hockey games.
The double-amputee, along with defender Taylor Chace and goalie Steve Cash, has helped spearhead an American dominance in ice sledge hockey the last couple of years.
The team open their season on Sunday (2 December) at the World Sledge Hockey Challenge in Calgary, Canada, but are trying to keep their lofty expectations quiet.
"One of our biggest goals is to keep playing as if we haven't had a title yet," Salamone said.
"We want to keep our team as level-headed as possible. There's many situation where sports teams have taken the title to their head too much and you lose yourself because you don't think of the things you'd think of if you were working on it for the first time."
But the vision of another World Championship title and Paralympic gold still ring prominently in the back of Salamone's head.
Since when has anything stepped in the way of his go-getting attitude?
Salamone was born with malformed legs in Briansk, Ukraine, just 14 months after the infamous nuclear reactor meltdown in Chernobyl. His legs had to be amputated at the Children's Hospital of Prosthetics in Moscow, Russia, and then he was adopted by Susan and Joseph Salamone in the USA at and eventually found his way to the ice.
"I was at my grade-school graduation and a friend of mine I was with, her mother came up to my mother and explained about sledge hockey," Salamone said. "She told my mother 'This little boy, he's doing everything. In his mind, he has legs, and he's just active.' "
Everything from there just seemed to fall into place for Salamone to help make him one of the leaders of the American squad and one of the world's quickest and most agile players.
"The control you have to have on your body propelling with one arm and stick handling with another at the same time and vice versa, left or right, I think is just truly unique," Salamone said of the game.
"I think that's what just makes me come back harder, harder and harder."
The task now for Salamone is to ensure that his team – the youngest in the world in terms of age – do not let all of their success go to their heads.
He said Canada's failure to make the podium at the Vancouver 2010 Games after winning gold at Torino 2006 definitely provided the Americans with a lesson to learn.
"Canada, they are always fighting, and being neighbors we have that rivalry and they'll never back down," Salamone said.
"It was just a burden for them to think they were the best and they thought they were so good, and that come time to play, they just fell apart. That was really a good lesson for all of us who were in Vancouver to realise that after wearing a gold medal around our neck we can brag about it for a little while, but then have to put it away. It's an honour to have that, but there's also more work to be done."
And with Korea's surprise silver at the A Pool World Championships and Russia's recent B Pool world title, there are several new teams rising who could provide the USA with even tougher competition.
"I remember back in the day there were only a few teams that could contend with USA, Norway or Canada," Salamone said. "But now there's Korea, there's Russia coming up and Germany still contending.
"There's just so many teams that have developed themselves that's it's not just seen as the sport of sledge hockey anymore.
"It's just hockey in general."
Related Images