Wallace Ready for USA's Trials
Jarryd Wallace, whose leg was amputated just two years ago, will try to qualify for the London 2012 100m T43/44 sprint this weekend at the US Paralympics Track and Field Trials.
28 Jun 2012
Imagen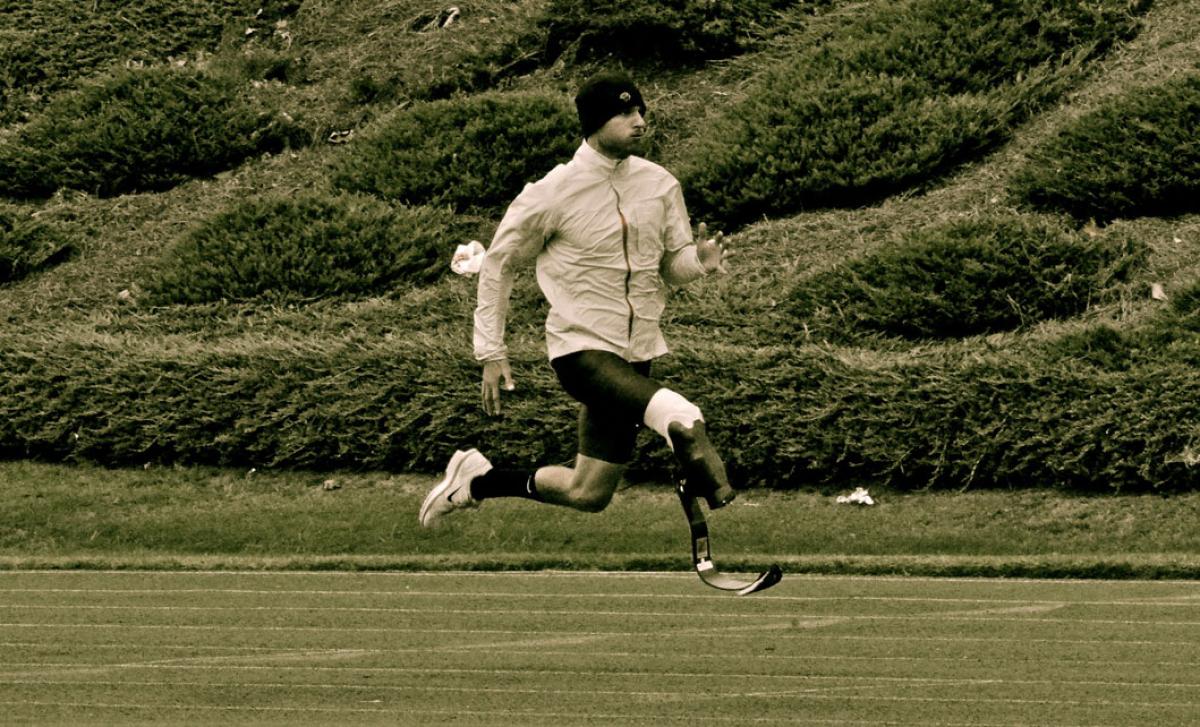 ⒸJarryd Wallace
"It's a typical overcoming adversity story. I've been able to get a lot of positive reactions and inspiration and just kind of challenge people."
Jarryd Wallace sent a declarative email to US Paralympics Track and Field High Performance Director Cathy Sellers in the spring of 2010.
It looked something like this:
Hey, my name's Jarryd Wallace. I'm having my leg amputated in a couple months, and I just wanted to let you know that I'm going to be on the team at London 2012 representing United States of America.
That email was sent two months before Wallace's right leg was amputated.
Fast forward two years later, and Wallace has now been deemed one to watch in Indianapolis at the US Paralympic Track and Field Trials this weekend as he competes for a spot in the 100m T43/44 sprint at the London 2012 Paralympic Games.
Stacked field in Indy
USA has the potential to have multiple medallists on the podium in the 100m T43/44 event in London this summer.
Just take a look at the faces in the lineup in Indianapolis who hope to challenge "Blade Runner" Oscar Pistorius for the title in the most coveted event at this year's Paralympic Games.
Jerome Singleton. Defending world champion in the event.
Marlon Shirley. The comeback veteran who is a two-time Paralympic gold medallist in the event and the only American to break the 11-second barrier.
Blake Leeper. The up-and-coming 22-year-old fresh off a personal best time of 11.2 seconds.
And Wallace, the 2011 Parapan American Games gold medallist with a story that seems to touch everyone's hearts.
Only problem? Just three of them can qualify for the Games.
"I'm just excited to get the opportunity to run with some of these guys and put it all on the line with some of the best," Wallace said. "I love racing in pressure situations, and I thrive in that moment. It's my job to just kind of show up and execute."
"Honestly, whoever gets fourth and doesn't make the individual team has, or would have had, just as good an opportunity to make the finals or podium as the first three guys because we've just got that much depth in the US this year."
Overcoming adversity
Wallace used to be a long-distance runner at the University of Georgia, but when compartment syndrome caused most of the muscle to die in his lower right leg, he chose to take it off and replace it with carbon fibre on 22 June, 2010.
"It's been the best thing that's ever happened to me," Wallace said. "Before, I was in excruciating pain on a constant basis, and my mobility was next to none. Now, I'm able to do anything and everything I want to do, and most importantly, I've been pain-free."
Just a year and a half later, in his third meet, he struck gold in Guadalajara, Mexico at the Parapans, running the 100m in 11.31, three hundredths of a second faster than Singleton ran the distance at the World Championships last year.
The only T43/44 runner who outpaced Wallace in 2011 was Pistorius, who clocked an 11.04 at the BT Paralympic World Cup in Manchester.
"It's a typical overcoming adversity story," Wallace said. "I've been able to get a lot of positive reactions and inspiration and just kind of challenge people.
"It's not about the adversity faced, but how you handle to adversity that faces you. That's been my mentality. In life, you're going to face adversity. People are going to face adversity, but it's how you handle that adversity and what you do with it."
Wallace comes from a sporting family, as his mother was a Canadian national runner and his father has been a university tennis coach for the last 27 years.
The 22-year-old, with his laidback, chilled attitude, claims he is an open book to the world and loves to share his story with anyone and everyone more than anything.
"To be able to do the thing that I love and be able to get a platform from that is really, really cool," he said.
Wallace takes everything in his stride, both the good and bad.
Once a training term, when he gets a new leg made, he has to run full speed as part of the alignment process to test that everything is ok.
The result is not always positive.
"It's like if you're running full speed and someone just takes a samurai sword and just cuts off the bottom of one of your legs and you just lose it," Wallace chuckled." It's a funny sight. Obviously, it's not something that you want to have happen often, but I've become a pretty good faller."
His attempt to make the London 2012 team is just the beginning of a long career ahead for Wallace, who revealed the Paralympics will be calling his name for the next two Games.
"I'll be based in Athens training for the next eight years," Wallace said. "This is my home. This is my town. This is my school and university. This is where all my coaches and friends are. This place has been so amazing to me and has joined behind me in my recovery and my trials and triumphs."
In the blink of an eye
At the American trials, which run 29 June – 1 July, Wallace will compete in the 100m and 200m, and remains undecided on whether he will run the 400m.
Though it goes without saying which race his focus will be on.
"I'm excited to get the opportunity to get on a stage with some of the best and have the opportunity to execute the race at the trials and hopefully make the team for London," Wallace said. "When we get out on the track and we're racing against each other, we're out for blood and we want to just win as bad as the other."
In 2012, Wallace has only run a few races due to a mishap he had with his prosthetic, and once he returned to the track he decided not to run races but rather focus on preparing specifically for the trials.
His best time of 11.99 this year ranks him ninth among all T43/44 runners, behind Shirley, Leeper and another American, Richard Browne.
Wallace said the adjustment from long-distance runs to sprints has been almost tougher than the adjustment from two legs to one.
"It's over before you really get to sit back and enjoy the moment," he said of the 100m. "I used to have plenty of time to think. I used to kind of get myself in a position and figure out how I was going to run a race. Now, the big gun goes off, I blink and it's over."
If Wallace qualifies, he admits he will have a jam-packed two months ahead of him.
"I would go out and have a nice steak dinner and the next morning get back to training," Wallace said. "It's one of those things that I've said all along. The trials are just a means to the end."
Related Images