The men's 100m T44 final will be 'The Race' of London 2012
Why Craig Spence, the IPC's Director of Media and Communications will be pulling out the stops to be in the Olympic Stadium on 6 September
29 Mar 2012
Imagen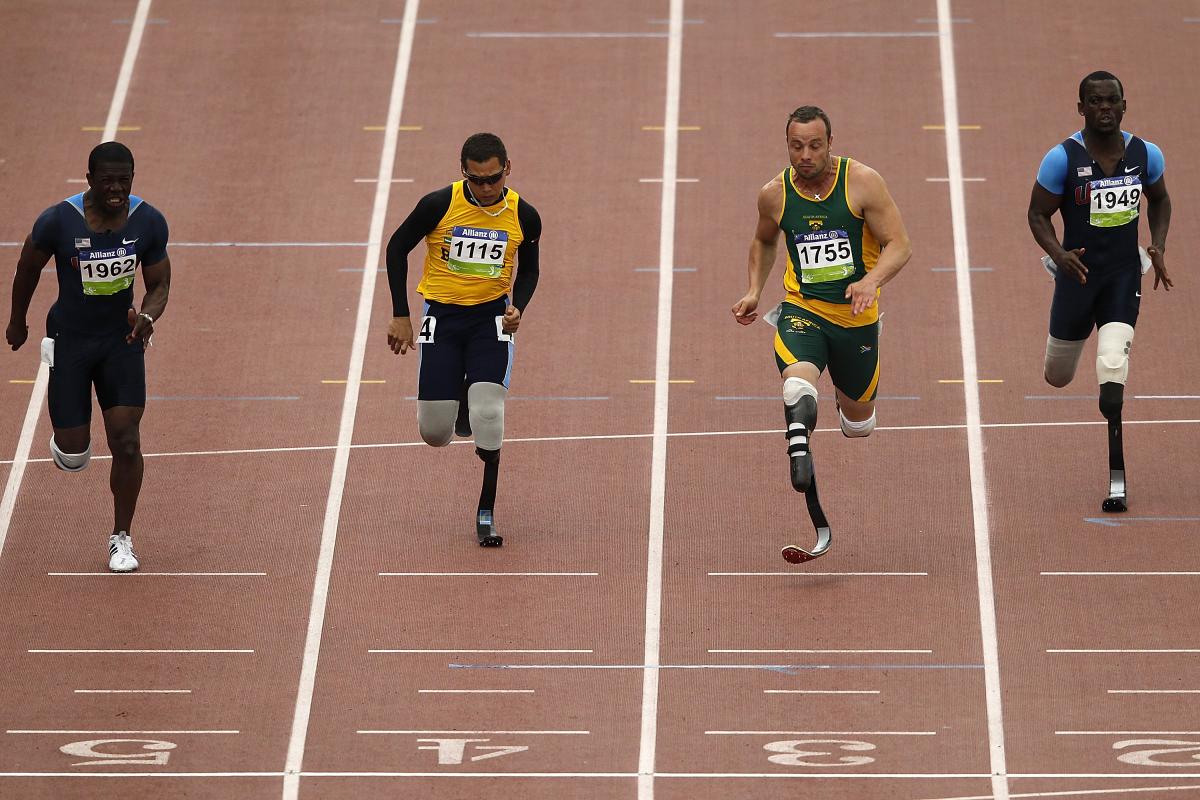 ⒸGetty Images
Mark it in your diary – 'Thrilling Thursday' 6 September 2012 – the day I believe Paralympic history will be created in London's Olympic Stadium!
Great Britain's Dan Greaves will be aiming to break his world record in theT44 discus, his teammate Hannah Cockcroft will be racing for gold in the 200m T34, while the men's 800m T54 will see Britain's David Weir do battle with Switzerland's world record holder Marcel Hug and Australia's Kurt Fearnley.
However, what I'm most excited about is the men's 100m T44 final, a race I'm confident will be one of the greatest ever, especially if last year's IPC Athletics World Championships is anything to go by.
Last year American sprinter Jerome Singleton did a superb job in talking up his rivalry with Oscar Pistorius likening it to that between Rafael Nadal and Roger Federer or Muhammad Ali and Joe Frazier. He spoke of his determination to finally beat Pistorius, whilst his good friend Oscar simply said running against Jerome was 'scary'.
Now call me a cynic, but sometimes when you hear athletes talking up a rivalry, the end result is often a very damp squib.
I've lost count of the times I've seen boxers talk up a fight in the media, only to be left bitterly disappointed by 12 rounds of tedious hugging rather than the brutal contest they had promised.
However, Jerome Singleton is a very clever man (majoring in Mathematics, Applied Physics and Industrial Engineering as well as interning at NASA). He is not a man to make bold statements if he isn't confident of delivering something special.
In fact the history books show that when Pistorius races Singleton something quite epic and spectacularly close always occurs.
In Beijing, Singleton led the 100m for almost the entire race before Pistorius came out of nowhere to snatch gold by just 0.03 seconds.
Eight months later, the two fought out another titanic battle in Manchester at the 2009 BT Paralympic World Cup. Pistorius was again the victor and again by just 0.03 seconds ahead of Singleton.
The two rivals did not race against each other again until they met in the semi-finals at the 2011 IPC Athletics World Championships. Again they delivered an absolute thriller with Pistorius running 11.33, 0.02 seconds ahead of Singleton.
After the race Singleton claimed he still had plenty in the tank and that his best was yet to come. Of course, our former NASA intern was right.
The final, despite the blustery weather conditions, was sporting theatre at its best with both Pistorius and Singleton finishing in a dead heat. Close scrutiny of the photo finish gave the victory to Singleton by the narrowest of margins, partly due to his spectacular dive across the finishing line.
Although the race marked Oscar's first 100m defeat since the Athens Paralympics, it was also historic for other reasons.
For the first time ever, all finishers were under 12 seconds with just 0.62 seconds separating first place with seventh. Even more impressive is that just 0.09 seconds separated South Africa's fourth place finisher Arnu Fourie and gold medallist Singleton.
It's fair to say that any of the seven finishers could have won a medal.
In terms of closeness and competitiveness the race was head and shoulders above the last Olympics or IAAF World Championships.
In Beijing, Usain Bolt ran an astonishing world record time of 9.69 seconds, a whopping 0.2 seconds ahead of his nearest rival. At last year's IAAF World Championships in Daegu, where Bolt was disqualified, 1.03 seconds separated first and seventh place. In fact the seventh place finisher came home in 10.95 seconds, 0.04 seconds slower than Pistorius's 100m world record!
London 2012 though will not just be about the Singleton-Pistorius rivalry.
Just this week South African sprinter Arnu Fourie ran 11.22 to beat Pistorius by 0.05 seconds in the Nedbank National Championships for the Physically Disabled in Durban, South Africa, handing the Blade Runner only his second 100m defeat in eight years.
Fourie's time was also impressive as it was 0.12 seconds faster than Singleton's gold medal run of last year. Also faster than Singleton's time in Christchurch was the 11.31 seconds American Jarryd Wallace ran last November to take 100m gold at the Parapan American Games in Mexico.
Wallace's rise to fame is nothing short of extraordinary when you consider he only had his leg amputated 15 months prior to the Parapans. Should his meteoric progression continue then he may come out of nowhere to snatch gold in London and be one of the stories of the Games.
And Singleton, knows that too. I was sitting with him at the Parapans when Wallace's raced to gold and his first reaction was "Wow!"
There are other contenders too who should not be discounted for Paralympic 100m gold. Brazil's world bronze medallist Alan Fonteles Cardoso Oliveira has the potential to beat anyone on his day, USA's Blake Leeper is an emerging talent and Great Britain's Jonnie Peacock, who will face Pistorius at May's BT Paralympic World Cup, is improving all the time.
There are just 163 days to go until the men's 100m T44 final in London. My excitement for the race is growing by the day and, like the sprinters who will lineup in the Olympic Stadium on 6 September, I'm not sure I will be able to sleep the night before!
My schedule during the London 2012 Games will be manic but I can assure you I will be doing all I can to take my seat for a race that I think will be a record breaker.
It may only take 11 seconds to complete the race however I believe it will be talked about for years to come.
So whether you're planning to watch the race on TV or in the stadium strap yourself in, it may just be the best 11 seconds the Paralympic Movement ever enjoys!
Craig Spence
IPC Director of Media and Communications
Related Images
Related Videos