Yui Kamiji: A gold for home Paralympic Games
The Japanese athlete won the 2020 French Open singles wheelchair title - her second Grand Slam singles title this year
13 Oct 2020
Imagen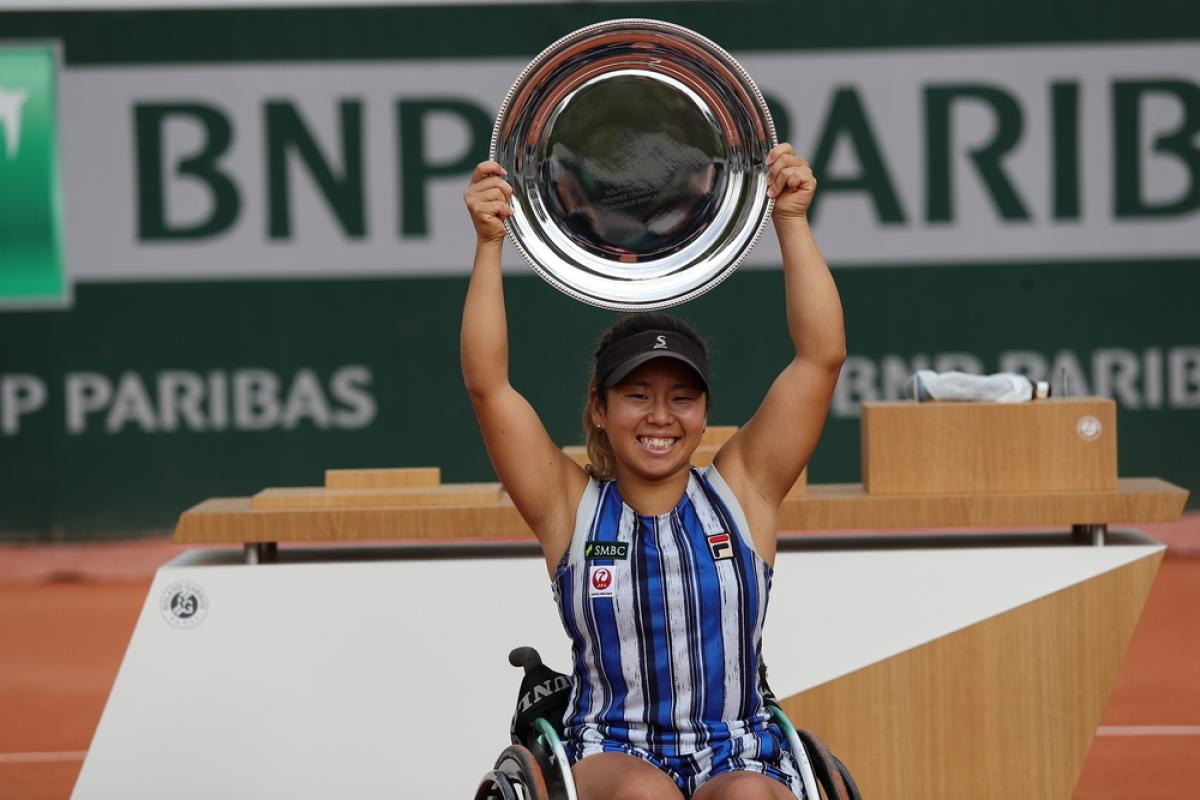 ⒸFFT
By Tokyo 2020
Yui Kamiji has set sights on the home Paralympic Games, having won her fourth French Open title in the women's wheelchair singles in an all-Japanese finals against Ohtani Momoko, defeating her compatriot 6-2, 6-1. It was the first time in the Grand Slam history that two Japanese players faced off in the Grand Slam single finals.
The 26-year-old has won the French Open singles titles in 2014, 2017 and 2018. With this year's victories in the French Open and Australian Open, Kamiji has swelled her Grand Slams singles title to eight.
She also has 16 double titles alongside her Paralympic success in Rio 2016, where she won bronze in both the women's singles and doubles event.
Kamiji spoke about her journey as a wheelchair tennis player, how rivalry motivates her and her quest for winning gold at the home Games next year.
Her first Paralympic Games
Kamiji vividly recalls the London 2012 Paralympic Games where she made her Paralympic debut - a life-changing experience.
"The spectators there were very knowledgeable. They were encouraging and supportive. Being Japanese, I was not a home player, but they applauded warmly and were genuine in their support. I had never experienced this before as a player, so this atmosphere left a striking impression on me," she said.
Tennis is extremely popular in the UK, where the Paralympics has its origins and the Wimbledon Championships are held. The spectators see the subtle difficulties in the play and give generous applause to players who overcome them. It is truly rewarding for the players to be acknowledged and commended for their play.
"The spectators have a real compassion for people with impairment. The children seemed to have done a lot of research in advance at school. The spectators weren't merely having fun, but rather, truly trying to support us athletes by making in-depth observations," recollects Kamiji, who at 18 even contemplated calling it quits after the London Games, having achieved her goal of being a part of a Paralympic Games.
However, after experiencing the atmosphere of the Games as well as both the joy of winning and the disappointment of losing in the quarter-finals, she felt a strong urge to continue.
"In that sense, I was lucky that I made my Paralympic debut at the London 2012 Paralympic Games," said Kamiji.
Once she decided to continue, she made tremendous progress. In 2014, she won the calendar Grand Slam in doubles and was ranked world No. 1 in both singles and doubles. However, the pressure of being a favourite at the Rio 2016 Paralympic Games got the better of her. The attention she grabed as a flag-bearer of the Japanese team, too weighed heavily on her.
"I felt nothing but frustration after the Games. I did feel the relief of having earned a (bronze) medal, but I wasn't happy. I still feel the same way even today as I look back."
However, Kamiji feels, there were plenty of positives to take from the Rio 2016 Games.
"When I returned to Japan, people around me were really happy for me to have gained a bronze medal. Before the bronze medal match, following my loss in the semi-finals, many people sent me messages of encouragement despite the time difference between Brazil and Japan, urging me to play my own style of tennis without worrying about the result," she said.
"I owe it to these people that I was able to switch my mindset and give my best in the bronze medal match, which resulted in my medal. Through this experience, it really came home to me that I was being supported by a lot of people, and I felt a renewed appreciation for them," Kamiji reflected.
Talking to myself is essential during play
For three and a half years since the Rio 2016 Games, Kamiji has focused on achieving growth as a player through a process of trial and error.
"Before Rio, I had been working on a new technique, but I couldn't take it to a level I could confidently use in matches, which was a mistake. Now I'm also trying out new techniques, but this time I'm using them in matches from an early stage so that I can learn from my errors and consider what steps I should take next," she explained.
Originally, Kamiji's style of tennis had been to create structured patterns of play and wait for chances to arrive, but she realised that she needed to hit the balls hard and put pressure on the opponent if she wanted to be on par with strong and speedy international players.
"The more I concentrate on the match, the more doubts arise over how I should have played. As it's too much to process in my mind, I verbalise my thoughts out loud. When I talk to myself while playing, I can maintain a broader perspective and see things objectively," the 26-year-old said.
"I try to keep a balance. For example, when I'm playing well, I say things to calm myself down, and when I'm not doing well, I tell myself to look on the bright side, saying things like, 'The good thing about that error was that I chose to do this or that,' to seek neutralisation."
Poised to enjoy the Paralympic Games
Kamiji has also formed the habit of jotting down in her 'tennis notebook' any notions or insights she gains during practice, which has been prompting her to contemplate even more.
"My condition changes by the day, and I want to keep the fluctuations to a minimum. The differences can only be perceived intuitively, and the perception fades away with time. That's why I began to take notes so that I can look back. Sometimes, what worked yesterday doesn't work today, or vice versa, but whichever way, taking notes has given me more food for thought," she said.
The more experienced she becomes, the greater challenges she needs to face, which is also leading her to contemplate how she can raise her play to an even higher level. To achieve further evolution, this process is essential. Kamiji is currently in the middle of this growth phase.
The Tokyo 2020 Paralympic Games will be Kamiji's third Games. Her goal is, of course, to win a gold medal, but she also has another target.
"At the London 2012 Games, I wasn't able to progress beyond the quarter-finals, but I had great fun because it was my first Paralympic Games. At the Rio 2016 Games, I did win a bronze medal, but I can't say that I had so much fun. More than anything, I felt frustration and disappointment. At the Tokyo 2020 Games, I will of course aim for a gold medal, but on top of that, I hope to be able to enjoy playing," she said.