Alfie Hewett completes grand double at Roland Garros
Yui Kamiji clinches fourth Roland Garros crown in an all-Japanese final
11 Oct 2020
Imagen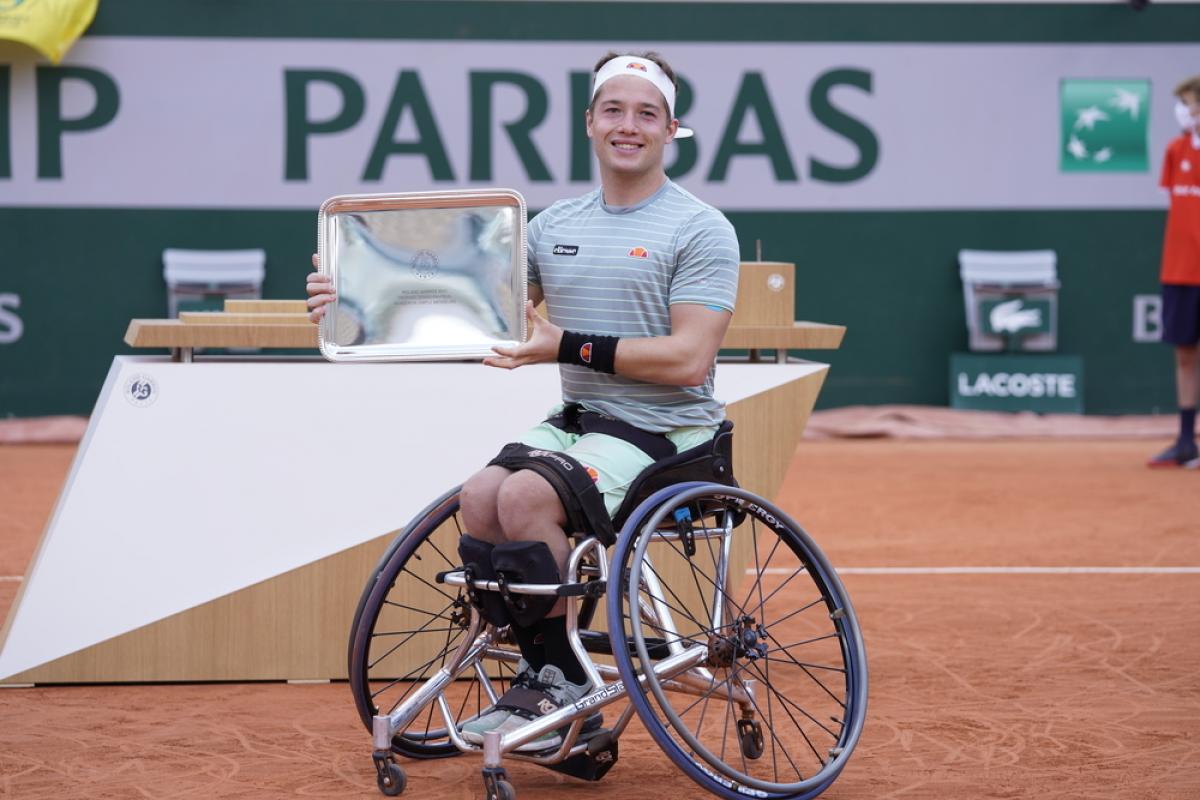 ⒸFFT
By ITF
Great Britain's Alfie Hewett clinched his second Roland Garros men's singles title, and the fourth of his career, with a dramatic late surge to record a 6-4, 4-6, 6-3 victory over Joachim Gerard of Belgium.
The 22-year-old stormed back from 3-1 and 0-40 down on his own serve in the final set to add the singles title to his first doubles triumph in Paris, claimed a day earlier with compatriot Gordon Reid.
With that, Hewett has completed an unbeaten fortnight on clay in both singles and doubles, having also won both titles at the French Riviera Open. He has now won a Grand Slam singles title in each of the last four seasons, dating back to his maiden triumph in Paris in 2017.
"I'm still quite emotional, haven't really let it out yet," Hewett said after the two-hour, 36-minute contest. "The way the match was in terms of the rollercoaster way, I can't believe I actually won it. It felt like it was going little bit against me, but the momentum was in my favour in the third set. I don't really know how I'm sitting here victorious, to be honest."
Struggling on serve at times and needing treatment to an impingement in his shoulder as the match wore on, Hewett did not have it all his own way against 31-year-old Gerard, contesting his second Grand Slam singles final after finishing runner-up at the 2016 Australian Open. Of the Briton's 11 double-faults, four came in the first set and five in the third, including two as he handed Gerard a shot at sealing a 4-1 lead.
"With the shoulder kind of affecting me a little bit, I decided I just needed to kind of get the point over with as quick as possible," Hewett said. "I think in some bizarre way that actually improved my game because I used the channels a lot more, used the angles better. I found a little bit of confidence."
The hold proved decisive. Having saved four break points, Hewett still trailed by a break, 3-2, but from that moment on he proved unstoppable, taking the next four games as Gerard, by his own admission, "disappeared".
"It was a great week, but the way it ends is so disappointing for me," said the world No. 4. "I showed a lot of good things all week, and during the first and second set. But in the third set from 3-1, I completely disappeared – I was not there anymore, I was not moving anymore, my mind was gone. I think that's the most disappointing thing."
For Hewett, however, this represents another fightback to a title win in Paris, as it was in 2017 and as he and Reid produced against Gustavo Fernandez and Shingo Kunieda in Friday's doubles final.
"No matter what the score is, I always just believe that I can come back and fight," Hewett added. "I think I've got a bit of a name for myself to being a little bit of a comeback king. It's not great because I loved to be ahead for once, but at least I know I have that assurance if I am behind, it's not panic stations. I can kind of think my way through at that point, which is what happened – I just back myself."
Kamiji clinches fourth Roland Garros crown
Yui Kamiji claimed a fourth women's singles title at Roland Garros in an emphatic fashion, downing compatriot Momoko Ohtani 6-2, 6-1 in the first all-Japanese wheelchair singles final in Grand Slam history.
Kamiji, who won the Australian Open title in January and arrived in Paris after reaching the US Open final, underscored her clay court prowess with a pitch-perfect display, overwhelming Ohtani on return to break six times en route to victory in 57 minutes.
"My first Grand Slam title was here, and I've won more titles here than anywhere else," said Kamiji, who first triumphed at Roland Garros in 2014. "And I'm very happy to have my second Grand Slam title for this year. And I'm also very happy to have a final against someone from the same country."
Playing in just her second Grand Slam event, Ohtani reached the final after a stunning straight-sets victory over world No. 1 and defending champion Diede De Groot in the semi-finals. But she met her match in Kamiji, who made light of two tighter showdowns between the Japanese duo earlier this year.
"I was happy with my performance today," she added, pointing to the positive impact of her training regime during lockdown.
"In Japan we couldn't practice for two, three months, and when I came back to train we had more time to practice because we had no tournaments. I tried to do new things with my tennis, and also with my wheelchair. I watched videos of my games against other players, and it really worked."
Alcott defends quad singles crown with victory over Lapthorne
Dylan Alcott's name remains the only moniker etched into the Roland Garros quad singles trophy after the Australian defended his victory in last year's inaugural event by defeating Andy Lapthorne 6-2, 6-2.
The Australian, who has been on the road for two months to meet the quarantine requirements in USA and France, can now make the long journey home with an 11th Grand Slam singles title and 18th overall, having won the US Open doubles title alongside Lapthorne last month.
And with Saturday's wheelchair finals being staged on Court Suzanne Lenglen, Alcott said the long spell away from home has truly felt worth it.
"It's been obviously such a crazy year," Alcott said. "For Roland Garros to even get up is pretty awesome, let alone wheelchair tennis, put on the main court today for the first time. As soon as I saw that, I had a spring in my step, to be honest. I like a big, big occasion.
"I stuffed up the US Open, lost in the final. I think winning today made the trip worthwhile, you know what I mean? I'm really proud of how I played. I had a really good time out there."
Lapthorne, playing at Roland Garros for the first time in 2020, has been open about his struggle for form and confidence in recent times, but gave his all in a match he came into pitting himself the underdog.
"I just tried to go out and play aggressive," said the 29-year-old. "It's probably going to be my last match for a while. I'm going to take a break from tennis for a bit, try and get my mind fixed."
In both sets, Lapthorne did what he could to stay with Alcott before the Australian claimed the last three games to post a comfortable scoreline, underscoring his position as the division's premier player and burnishing a legacy he has already taken far beyond the tennis court.
"I love the clay," Alcott said. "I didn't think I liked clay, to be honest. I hate getting dirty. I play well on it. I think I like it now – I had an awesome week here.
"I love winning Grand Slams, but it's not the reason I get out of bed. It's not. It's to provide opportunities and try and change perceptions.
"I feel privileged to play it, I really do. I love it. I just want to build the sport so when I retire, the next generation of kids can get sponsors, they can afford to come, can afford to buy a wheelchair. People do watch them. That's what I want to try and do."
De Groot and Van Koot edge Kamiji and Whiley in marathon
Top seeds Diede De Groot and Aniek Van Koot secured a hat-trick of Roland Garros women's wheelchair doubles titles by the narrowest of margins, defeating reigning Australian and US Open champions Yui Kamiji and Jordanne Whiley 7-6(2), 3-6 [10-8].
The Dutch duo avenged January's Melbourne final defeat by the British-Japanese pair in a marathon contest that lasted two hours, 13 minutes.
Kamiji, who won the women's singles title, and Whiley made a strong start to the match, breaking in their first return game, but twice had to break back to stay in the opening set before De Groot and Van Koot raced clear in the tiebreak.
The No. 2 seeds again started well in the second, surging out to a 5-0 lead. This time there would be no reply from the Dutch pair, who clawed a couple of breaks back to build some momentum before match tiebreak, where they led from the outset before sealing victory on their third match point.
De Groot and Van Koot's victory wrapped the COVID-19-affected 2020 wheelchair tennis Grand Slam season, one month longer and one major short of the anticipated quartet. Paying tribute to the Roland Garros organisers, Van Koot was quick to praise the out-of-season major for not only hosting the event but also ensuring the courts, so susceptible to the weather, were worthy of the occasion. 
"Roland Garros has done an amazing job," Van Koot said. "Everywhere in Europe it is Fall and the clay is usually really bad, but here at Roland Garros it is still the best quality there is."