France's Michael Jeremiasz goes from athlete to tournament director
French Paralympic medallist turned his 15 years of wheelchair tennis into opportunities for others
30 Sep 2020
Imagen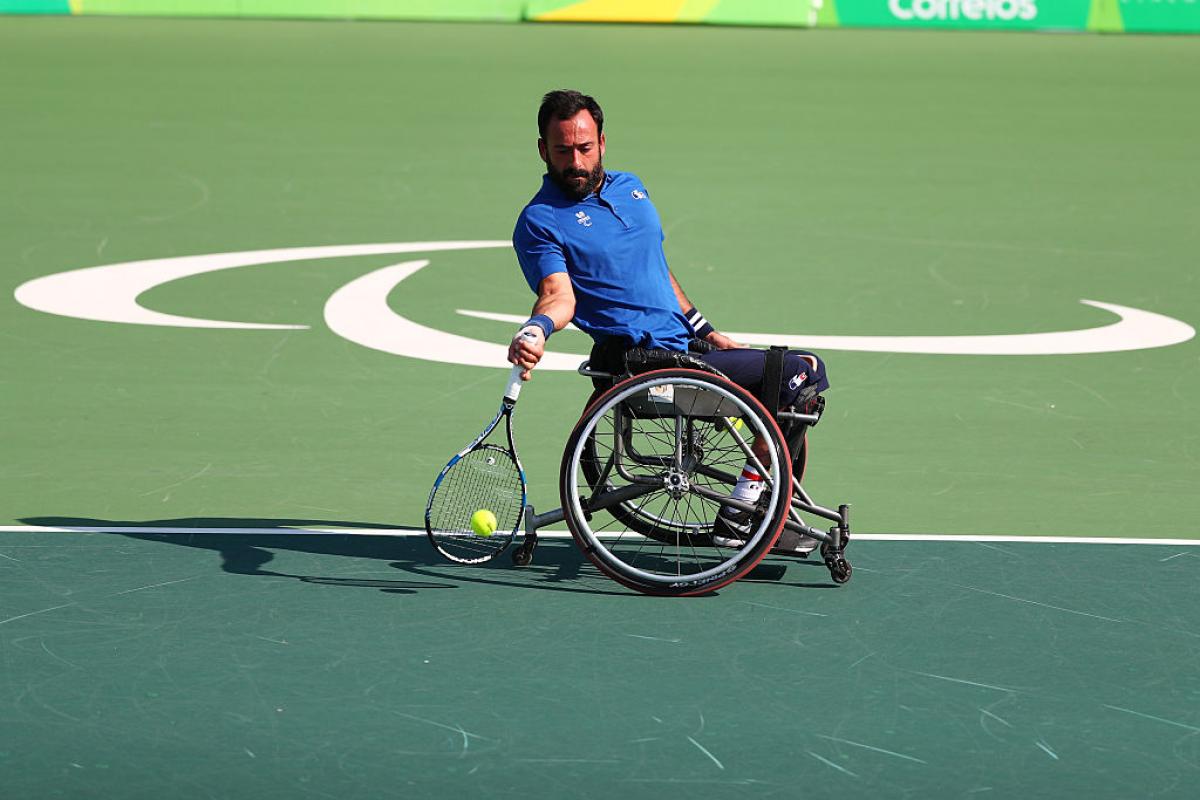 ⒸGetty
By ITF
French Paralympic medallist Michael Jeremiasz - also a former wheelchair tennis world No. 1 - is now the tournament director of the French Riviera Open that runs until 3 October and is the warm-up for the Roland Garros. 
It was his 15-year playing career that "opened many doors," including the French Riviera Open to be annually stage at the Mouratoglou Tennis Academy since 2017.
He first met Patrick Mouratoglou in late 2000, a few years after Mouratoglou set up his first tennis academy near Paris and towards the end of a year in which Jeremiasz had been injured in a skiing accident.
"I discovered wheelchair tennis by accident," recalled Jeremiasz, who first picked up a racket aged five before going on to become a promising junior player. "I asked the sports teacher of my rehab centre if I could play, because I could see tennis courts, I explained that I used to play before my accident and they put me in a basketball chair to play.
"Shortly afterwards I had a visit from Pierre Fusade, the director of wheelchair tennis in France, we had a chat and I was invited to the World Team Cup, which was being held in Paris in 2000," he continued. "I saw Ricky Molier, Robin Ammerlaan, David Hall and David Johnson play in the men's final between the Netherlands and Australia. I looked at my family and said 'one day I will beat those guys'. That's where it all started."
Jeremiasz's playing career gathered rapid momentum, and less than four years later he won his first two Paralympic medals – a bronze in men's singles and a silver in men's doubles.
"To be French champion in November 2001, it came quite quick and it made me think I really had potential and I really liked the sport," he said. "Then I would say my singles bronze medal in Athens in 2004. But my big pride was being No. 1 in the world in 2005, when I also beat David Hall in the French Open (Super Series) final 7-6 in the third after being behind 5-0. Of those original players I watched at the World Team Cup in 2000, he (Hall) was the last one left for me to beat. And, of course, there's my gold medal with Stephane Houdet in Beijing in 2008."
Off the tennis courts, Jeremiasz has experienced one of the proudest moments of his life.
"One of the most recent highlights, not just in my life as an athlete, but as a human being, was being flagbearer for France in Rio," he said. "That was probably the biggest recognition of what I did as an athlete and it's given me a voice to speak for my fellow disabled athletes."
The Rio Paralympics was Jeremiasz's last tournament as a player and he has since been planning what he wanted to do next. And currently, he is doing just that in this year's French Rivera.

"All my career, especially in the last year, I knew I wanted to organise tournaments and I wanted to be ambitious because I wanted to give back to the tour," he says. "I think I was a challenging player for tournament organisers because I was always asking for more. I wanted the tournaments to be more and more professional. So now I feel it's my turn to return the favour, which I've been trying to do for the last four years."
"When I started, I wanted the tournament to be organised in the best way and I wanted to work with people who shared my vision. So I started with my close friend Cedric Mocellin, because he believes in the same things that I do," explained Jeremiasz.
"I had first met Patrick in 2000 and now we are at his new academy with the tournament and have such great support from Patrick and all the staff. It's an amazing place. The best in Europe, I think, and maybe the world, so we're very lucky." 
The full interview with Michael Jeremiasz can be found on the International Tennis Federation's website.