Angelica Bernal stays busy ahead of US Open
Colombian wheelchair tennis player lives her life with a view on the long-term, already planning the career she wants beyond sports
07 Sep 2020
Imagen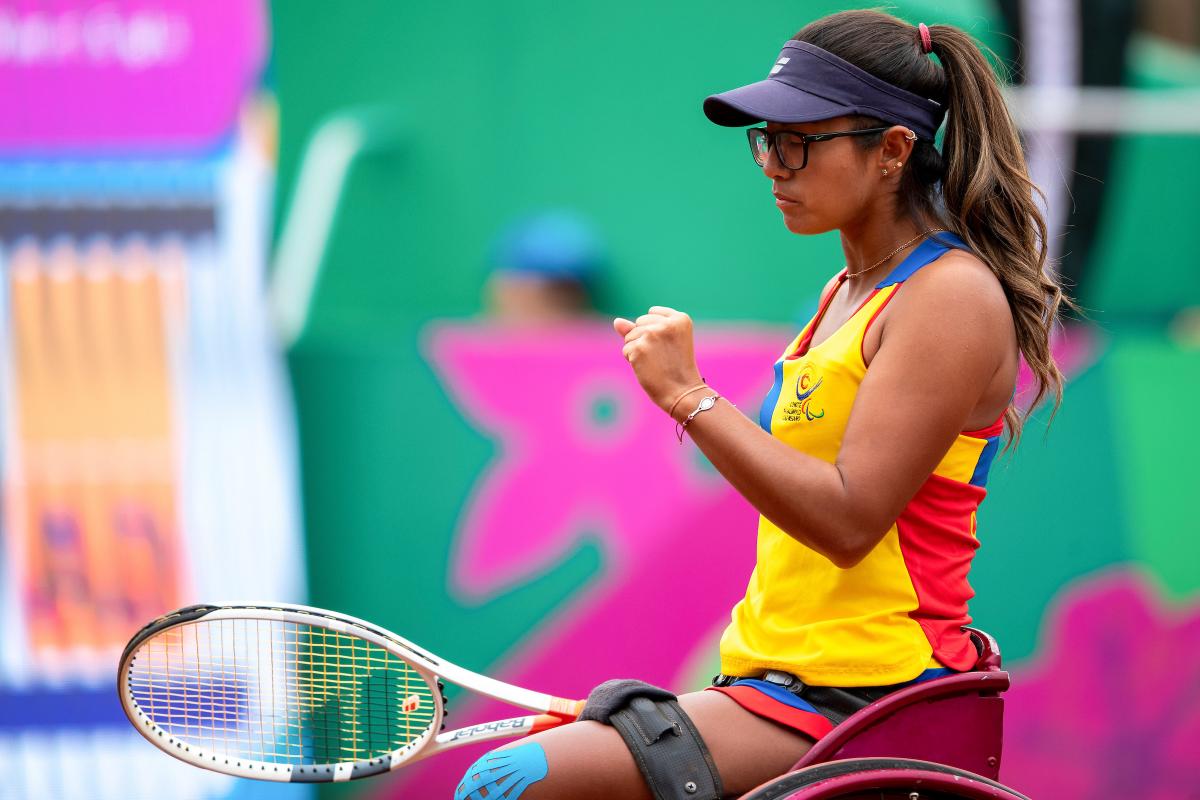 ⒸLima 2019
By Monica Escolar Rojo and Michael Beattie for ITF
Between breaking into the top 10 of the wheelchair tennis world rankings, studying for a university degree, coaching the next generation of wheelchair tennis players, going viral with her dog and now preparing for her Grand Slam debut, Colombia's Angelica Bernal knows how to keep herself busy.
For the first time in her career, the 25-year-old received a direct acceptance to the 2020 US Open women's singles draw as the world No. 10 and will take on the world's best at Flushing Meadows from Thursday (10 September), her first tournament action since reaching the Arizona Open final in March.
It is a step closer to her short-term goals of earning a regular return to the majors as one of the world's top eight players, and a seeding at her third Paralympic Games in Tokyo next year. But Bernal lives her life with a view on the long-term, already plotting the career she wants beyond her playing days.
"When you start a sports career, you have to work every day for a dream," Bernal said. "With determination and hard work, long term, you will see the results. Since I started playing wheelchair tennis 14 years ago, I have worked very hard and I have the determination to win."
Bernal was born without her right leg and has used a prosthesis since she was two years old. Sporty from the outset thanks to her father's encouragement, she had tried football, rollerblading and basketball before a life-changing experience at a clinic for young athletes with physical disabilities run by Aad Zwaan, former coach to wheelchair tennis legend Esther Vergeer.
"After the clinic, he persuaded me to continue playing," said Bernal, who was 11 at the time. "In the beginning, me and my parents weren't convinced about using the wheelchair, but one of my aunts is a tennis coach and director of the venue where they organised the clinic, and she taught me how to use it. Two months later, I played at a junior camp in Argentina where I did very well. I came back very excited, and I started playing more."
Bernal quickly made a name for herself in the sport, winning a bronze medal at the Parapan American Games in Guadalajara, Mexico, in 2011 and representing Colombia at the London 2012 Paralympics, all before her 18th birthday.
"The Games are super special," admitted Bernal, who also played at the Rio 2016 Paralympics. "You have all the support from your country and other athletes. You share rooms, share the restaurant. We train hard to win but the support of the people makes it more special."
Having won doubles silver at the 2015 Parapan American Games in Toronto, Canada, Bernal finally reached the top step of the podium four years later in Lima, Peru, beating Chile's Macarena Cabrillana 6-2 6-2 in the singles gold medal match – her most precious victory to date.
"In Toronto I had lost in the second round in singles," Bernal recalls. "I had an incredible season in Europe, and I was too confident. I couldn't cope with the pressure.
"Tennis is a long-term sport. When you play a tournament and only focus on the result, you are going to be stuck. You must work every day and the results will come later. It is the key to success.
"In Lima I had worked so hard from a psychological point of view. I played step by step, point by point. I put in a huge effort and I was concentrating so hard that I didn't realise I had won the gold medal – but when I had the medal, I was ecstatic.
"When you play for Colombia, you represent millions of your compatriots. You're an ambassador for your country and represent the best values of the nation. In the last couple of years, I've improved my level so I want to be ready for Tokyo 2020."
Training has been tough during the COVID-19 pandemic, with Colombia hit hard by the virus. But Bernal has maintained her practice as best she can in preparation for the return of the Wheelchair Tennis Tour in September, combined with her university studies.
"I wake up very early to train," Bernal said. "My training routine is divided in three parts: tennis, physical training and gym work followed by physiotherapy, then I go to university and do my assignments. I'm studying for a degree in international relations and politics.
"Until a couple of weeks ago I was based in a small town two hours away from Bogota, and I trained there on a private court. I was based there for a month. Now I'm in Bogotá and I'm training in a court around an hour from Bogotá. There are still [COVID] restrictions in Colombia."
Fortunately, the restrictions haven't prevented Bernal from working out with the help of her dog Lucky, who has shot to fame for his demanding sit-up routine. A viral hit, Lucky has been known to join Bernal on TV appearances back home.
"Lucky is a guide dog," Bernal said. "He travels with me, comes with me to the gym, everywhere. During quarantine, I started a new exercise with his ball, and he observed me. One day, I threw the ball to him and he returned it several times, so I started training with him."
As if her wheelchair tennis and university aspirations were not enough, Bernal has spent the past decade laying the foundations for the next generation of wheelchair tennis players. After beginning to enjoy some success in her own career, in 2010 she and her family founded 'Semillas sin Barreras', a tennis school that offers wheelchair tennis coaching to children and teenagers with disabilities in Bogota.
Tennis is my passion, my job and my lifestyle. I want to demonstrate to athletes with disabilities that there are no limits or barriers – they are only in our mind.
"My parents, coaches and I thought that it was a good idea to create a place to provide an opportunity for those kids with disabilities who don't know about Paralympic sport, don't have the resources or don't have access to a sports centre," Bernal explained. "I give them the wheelchairs that I don't use any more and racquets to start training. Sometimes, we have donations from family and friends.
"In the beginning, I used to coach the kids with my dad, but when I started travelling more, my dad couldn't train them all. The Instituto Deportivo de Bogota sent us a coach to train the kids so if I'm not in Bogota, the school remains open.
"The idea is to create a Paralympic hub in Colombia and for people with disabilities to be self-sufficient in society. In 12 years, six kids have been part of the Colombian Junior Team."
One of those kids is now-22-year-old Sebastian Diaz, who partnered Bernal to the national mixed doubles title last year.
"We met in my prosthetics centre, and I invited him to come," Bernal said. "He wanted to play tennis, and Semillas sin Barreras was the first step. Once you reach a certain level, you start training with the regional coach, then the national couch. Now he is my mixed doubles partner – sport changed his life as well."
While Bernal still has many years ahead of her on the Wheelchair Tennis Tour, planning for her career once she hangs up her racquet has already begun. With her degree and the experience with Semillas sin Barreras, she hopes to move into a career in sports administration – another long-term goal for the world No. 10.
"I want to work for Colombian sport and Paralympic sport," she said. "I'd love to work in an International organisation for Paralympic sport. Lately, I've realised that those bigger organisations can make real changes – be they non-government organisations or the United Nations, for example.
"Tennis is my passion, my job and my lifestyle. I love playing, helping others with Semillas sin Barreras and sharing my passion. I want to demonstrate to athletes with disabilities that there are no limits or barriers – they are only in our mind."