10-Year Anniversary of Salt Lake City Games
Large crowds and screaming fans at 2002 spectacle left a legacy on the Paralympic Movement.
09 Mar 2012
Imagen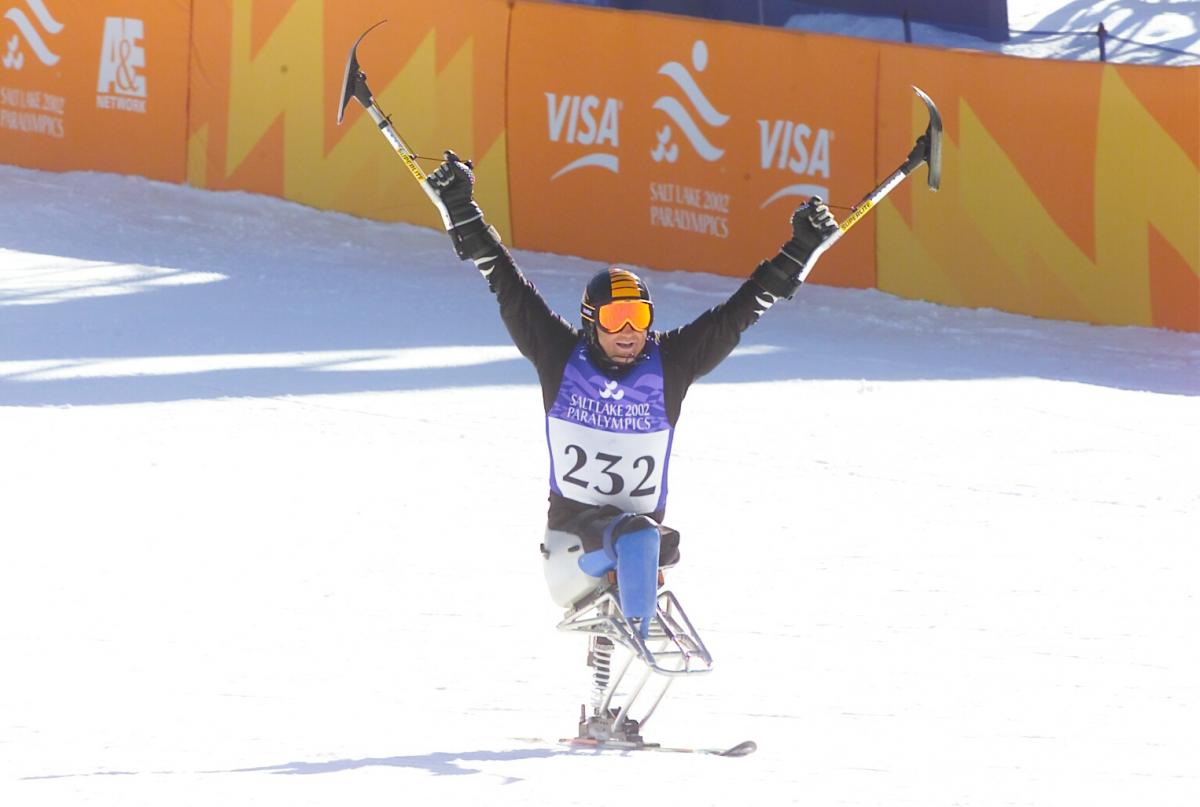 ⒸIPC
By IPC
"Those two weeks were just weeks that I will never forget. I always cherish and always talk about it."
There was something different about the spectators sitting in the stands during the Salt Lake City 2002 Paralympic Winter Games.
They were quite loud – a force to be reckoned with as a backdrop to all of the competitions on the ice and snow in Utah that March.
"Hands down, the crowd in the stands and their involvement was definitely the most memorable for me," said Sylvester Flis, Most Valuable Player of USA's gold-medal winning Ice Sledge Hockey team at the 2002 Games.
"Salt Lake put themselves on the map of being a good example of the Paralympics."
This week marks the 10-year anniversary of the Games, which ran 7-18 March 2002, and became known as the event that really ramped up the crowds for Paralympic winter sports and accumulated a mass new following of fans.
The Games drew 416 athletes from 13 countries across four different sports, and due to a high demand of tickets, the total number available had to be raised from 225,000 to 248,000.
"The Salt Lake City 2002 Paralympic Winter Games were truly an event to remember," said International Paralympic Committee (IPC) CEO Xavier Gonzalez, previously Managing Director of Paralympics for the Salt Lake Organizing Committee.
"With such a high demand for tickets and a swarm of accredited media around the venues, the winter spectacle pushed the Paralympic Movement to new heights and created further awareness for athletes with a disability in sports, as well as in society. It was also fantastic to see the Salt Lake Organizing Committee fully integrate the organization of the Paralympics with the Olympics."
Capturing the crowd
More than 40,000 spectators witnessed Eric Weihenmeyer – the first blind man to successfully climb Mount Everest – carry the Paralympic torch to the podium during the Opening Ceremony at Rice-Eccles Stadium. He passed it off to American sit skiers Muffy Davis and Chris Waddell, who then jointly lit the Paralympic cauldron.
As soon as the competition began, Germany, USA and Norway stole the headlines, finishing one-two-three in the medal standings.
Nordic skier Verena Bentele captured four of Germany's 12 golds, winning three distances in the women's visually impaired Cross-Country Skiing competition, as well as the 7.5km Biathlon.
"My performance there was perfect," Bentele said. "I liked a lot the volunteers and spectators in Salt Lake City. People living in this area were very open and welcomed all athletes very warmly."
Flis, who now coaches in Poland, noted how many more fans the Ice Sledge Hockey competition garnered in 2002 than years previously.
In the gold-medal game, in which USA defeated Norway in a shootout, there was a crowd of 8,315, the largest ever for a Paralympic event at that point in time.
"In our sport, up until Salt Lake, it was kind of just low-level hockey for us," Flis said. "Since 2002, the level has been way higher than it has ever been. I think just for us, it set a standard in our sport. Every hockey player will say that, I believe.
"Those two weeks were just weeks that I will never forget. I always cherish and always talk about it. Even here in Poland now, I show people the medal and show them the highlights."
The screaming droves of fans made him proud of what he did for a living, and he said there were hundreds upon hundreds of volunteers around the venues asking to help with the competition in any way possible.
Athletes will never forget
Both Fils and Norway's star of the Games, Ragnhild Myklebust, expressed how the 2002 Paralympic Village was by far their favourite during their careers.
Myklebust, winner of five golds in Nordic Skiing in Salt Lake City, wanted to make her last Games special. The organization of the Village and the chance for all Paralympic athletes to coexist in a tight-knit community so close to the stadiums did just that for her, she said.
Ten years after the Games, meanwhile, Flis said picture-perfect memories from the Salt Lake ice are still fresh in his mind.
"Definitely the feeling of winning it and how we won it – it was that final goal, that final penalty shot – that kind of made it even more exciting," Flis said.
"That moment when everything finally ended, and we knew we won, I haven't felt that kind of feeling ever since. Just hearing the crowd screaming and being happy that we did it for them … it's definitely something that I will never live again."
Related Images