Ali Jawad aims for 200kg lift at European Championships
The British standout reveals he did not perform to his potential in Mexico City and hopes to redeem himself at the European Open from 24 November.
10 Nov 2015
Imagen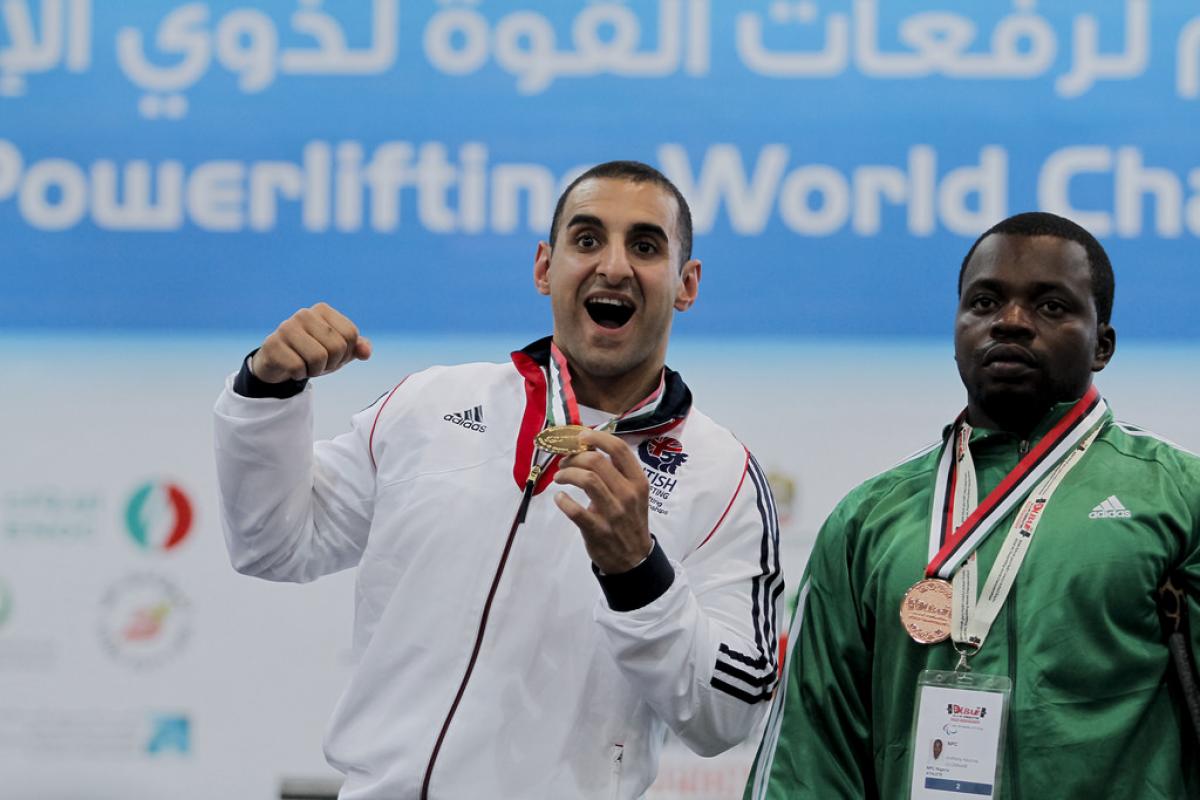 By Caryn Maconi | for the IPC
"I feel that it is finally time to hit 200kg in Eger. This year I have hit massive lifts in training, but I feel I have not shown my best in competitions."
At the IPC Powerlifting Americas Open Championships in Mexico City in April, British world champion Ali Jawad easily won the gold medal in the men's up to 59kg class, out-lifting second-place finisher Juan Carlos Garrido of Chile by 10kg.
Still, Jawad was less than satisfied with his final lift of 185kg.
"Even though I won gold in Mexico, I was very unhappy with my performance, as I did not lift to my potential," Jawad said. "The British Championships [in June] were better, where I set a British record and a competition personal best [of 195kg]."
From 24-28 November at the European Open Championships in Eger, Hungary, Jawad hopes to finally hit the elusive 200kg mark. It has been a goal of his since the 2014 IPC Powerlifting World Championships, where he lifted 190kg to win gold and set what was then a world record in the men's up to 59kg.
A new weight class – for now
For the European Open Championships, Jawad will temporarily be competing in the up to 65kg weight class. Because of this change, he said, winning is less of a focus than hitting his personal mark.
"For me, being on top of the podium is not important," Jawad said. "I feel that it is finally time to hit 200kg in Eger. This year I have hit massive lifts in training, but I feel I have not shown my best in competitions. I know if I want to challenge for gold in Rio I need to be lifting 205kg or more, and I feel confident if I make smarter decisions in training I will be very close to that number in Rio."
Jawad plans to move back down to the up to 59kg class in time for the Rio 2016 Games, where he is aiming to win his first Paralympic medal.
Facing the competition
Since finishing fourth at the London 2012 Paralympic Games, Jawad has improved his personal best lift by more than 10kg.
Still, he will face a formidable challenger in Egypt's 2008 and 2012 Paralympic champion Sherif Othman.
Othman is the current world record holder in the up to 59kg class at 210.5kg, a mark he set at September's All Africa Games in Brazzaville, Congo.
"I regard Othman as one of the greatest lifters of all time in our sport, so I am excited competing against him," Jawad said. "However, I know he will start as a massive favourite for the gold medal [in Rio]."
Jawad realises the work he has to do to catch up to Othman's tremendous lifts – but it only pushes him to improve.
"Gold medals at the Paralympic Games should never be easy – you want to face and beat the best in the world," Jawad said. "Having Othman as a rival will push me to new heights. I will give it my best, but I will start as a massive underdog."
In 2016, Jawad will be competing to win regardless of the odds.
"To win gold would be a dream come true, and something I have pursued my whole life," Jawad said. "I know I need a lift of around 210kg to really put pressure on Othman. All I can do is give it everything I have and trust in my support team to get me as close as possible.
"I will have no regrets next year, as I know I will have given myself the best chance."
Around 230 athletes from 44 countries will line-up for the 2015 IPC Powerlifting European Open Championships between 24-28 November.
Live results will be available at IPC Powerlifting's website.