Aussie delight at triumph in epic rugby final
Rio 2016 final will go down in history books as Australians retain their title with 59-58 victory in double overtime.
18 Sep 2016
Imagen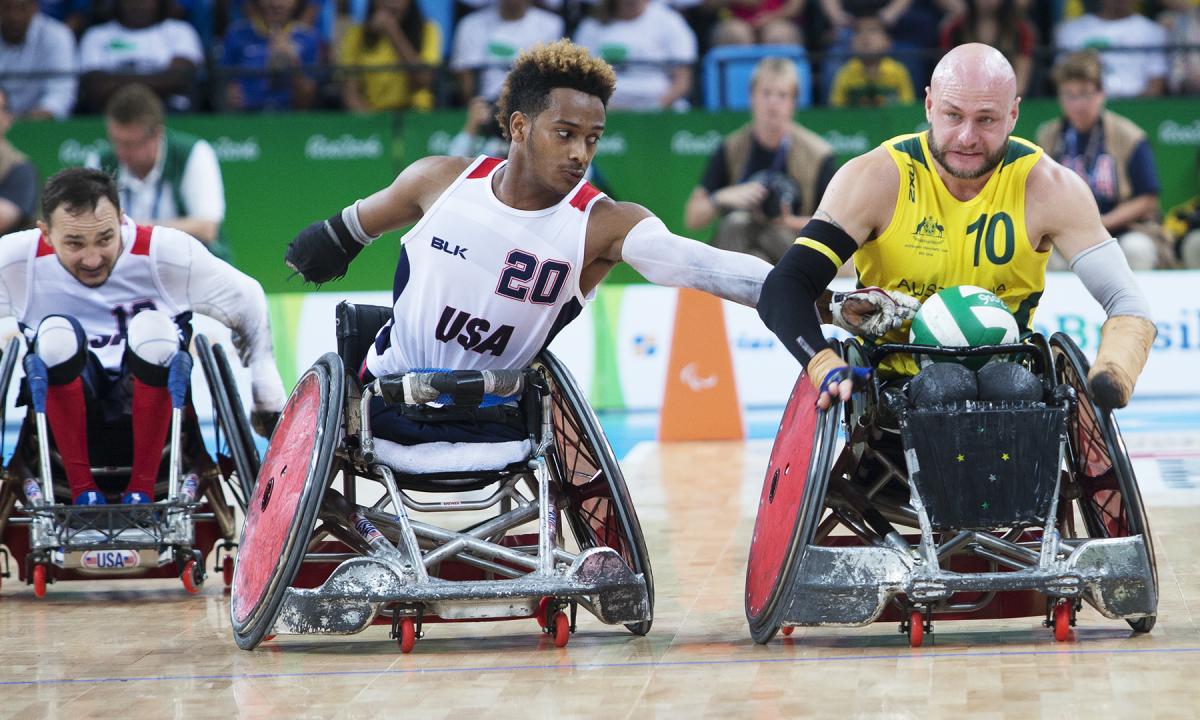 ⒸCWSA/Kevin Bogetti-Smith
By Beau Greenway
Australia are the Rio 2016 wheelchair rugby Paralympic gold medal winners after beating the USA in double overtime, 59-58, in what will go down as one of the greatest games in the sport's history.
A turnover within the final three seconds of the second extra period was ultimately all that separated the two teams in an epic final on Sunday (18 September), handing Australia back-to-back Paralympic gold medals.
The lead changed hands on a number of occasions throughout the contest, with the USA coming from two goals down late in the game to tie it at 49-all and send it to overtime.
From there they edged in front by winning the tip-off and continued to control the lead until Ryley Batt found Chris Bond who wriggled over the line to send it to double over time with less than two seconds on the clock.
Australia then got first possession in the second period of overtime and held a one-goal lead with the USA unable to convert their final opportunity to equalise after Josh Wheeler was knocked over the goal line with 2.3 seconds on the clock.
From there, Bond safely inbounded the ball to Batt who ran the remaining seconds off the block before smashing the ball into the air and falling onto his back in celebration.
Batt was swamped by his teammates after the buzzer as the emotion poured out for the Australians.
Their captain Ryan Scott was lost for words after the thrilling victory.
"It's unbelievable. I couldn't describe the first time we won so I don't know how to put this one into words," Scott said.
"It's an amazing feeling and I'm just so proud of all the boys. It's a huge honour.
"We knew the team that was going to win it hard to earn, so we definitely earned it tonight."
Scott admitted he thought his side had won after the first period of overtime and began to celebrate before coming to the quick realisation there was another block to come after Bond scored in the dying seconds.
"I looked and didn't think he (Bond) was even going to get that pass because Chuck Aoki was there, but Ryley got it to him and I was pretty confident he was going to score from there," Scott said.
Scott paid special tribute to the mountain of support for the Australian team during this campaign and is looking forward to a well-earned rest.
"With the time difference people have been getting up and watching and there have been so many messages from home every time we play a game," he said.
"What can I say about the Australian public? They love us and we love them just as much.
"Now's not the time to make an emotional decision, I just want to take some time to celebrate it with the boys and reflect on what we've done it and really soak it up."
USA captain Jason Regier was understandably gutted after the match, but admitted there wasn't much more his side could do.
"It was such a great game, both sides fought extremely well and one little play each way separated gold from silver," Regier said.
"You sacrifice four years for an opportunity to represent your country to get here and we did everything we could out there, but hats off to Australia – they earned the gold.
"They got up by a couple of goals, but we were able to pull back and it was a dog fight to the end. I'm surprised we didn't go a couple more overtimes.
"Batt and Bond are very powerful players and played really well together, but they were able to run a couple of other lines so they've developed nicely."
Despite the result, Regier said the game is in very good shape thanks to an amazing tournament at Rio 2016.
"It's exciting. We've got some awesome teams, the top five teams were extremely balanced so it was great for the fans, tough for the players to get through," Regier said.
"We had a packed stadium sold out three weeks before the event and it was the loudest crowds we've ever played in front of."
Meanwhile, Japan made history in the morning's bronze medal match as they held off Canada 52-50 to claim their first ever wheelchair rugby medal at the Paralympics.
The Japanese got off to a quick start, forcing four Canadian turnovers in the opening term to lead 17-13.
Canada started to rally in the next quarter, but Japan maintained their advantage at 29-25.
A goal with 0.2 seconds on the three-quarter-time buzzer from Miranda Biletski moved Canada to within two goals at 40-38, however Japan held their nerve in the final period to record a memorable victory.
High-pointers Daisuke Ikezaki and Yukinobu Ike were brilliant throughout the entire tournament and were no different on Sunday, with a range of bench players complementing them nicely on the court.
Ikezaki finished as Japan's top scorer with 19 goals, with Ike adding a further 18 for a combined total of 37 – two more than the 35-goal haul from Canada's Zak Madell, which was fittingly the difference in the final score.
Emotions were running high in the Japanese camp after the match once they come to the realisation of what they had achieved.
Japanese head coach Koichi Ogino knew it would be a very tough game, but told his team at their pre-match meeting the night before that they were going to make history.
"Our strategy was to not let the Canadian team provide the ball to Zak and push their entire team to the sideline," Ogino said.
"We did our best and we won, which means we have become such a good team that has proved we can win a medal.
"We now want to take a further step on our history."
A disappointed Zak Madell said the whole game never really went to plan for Canada, who missed the wheelchair rugby podium for the first time since Athens 2004.
"We had a little run in the second and third quarters to try and tighten it up, but Japan was giving us anything to work with and played a clean game overall," Madell said.
"It looks like we've got a long road ahead of us. Four years from now we could be on top of that podium, but we've got a lot of work to do in those four years."
Despite the result, the support for team Canada remained strong throughout the entire competition.
"I think this is one of the best tournaments we've ever been to and we had a great big red section up there who had our backs," Madell said.
"We're really thankful they came all the way here to cheer us on and tried to keep us going."