Australia sting No. 1 USA at home in Sydney
The No. 2 wheelchair rugby team defeated the world's top squad and will play again in the Wheelchair Rugby Tri-Nations final.
19 Sep 2013
Imagen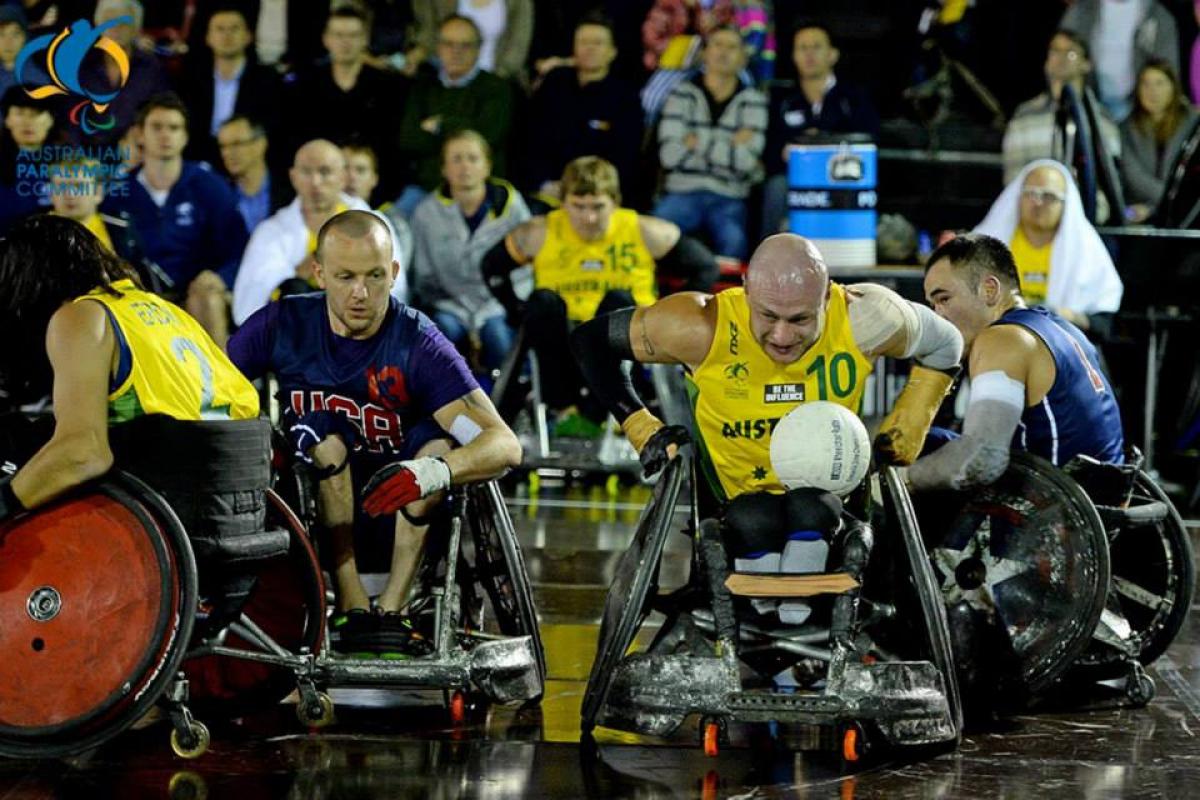 ⒸSport the Library | Jeff Crow
By Australian Paralympic Committee
"It was reminiscent of the huge crowds we saw at the London Paralympics, but with more Aussies. I had a lot of friends here so that made me push that little bit harder and put some more hits on. But above all else, we made sure that we got that win."
The stage is set for a thrilling climax to the Be The Influence Wheelchair Rugby Tri-Nations in Sydney, after Australia shocked the USA in the final pool match on Thursday (19 September), in addition to beating their regional rivals from New Zealand.
Australia will face New Zealand in the semi-final of the tournament, with the winner progressing to the gold-medal match against the USA.
Game 1
In front of a packed crowd at St. Mary's Cathedral Square, Australia defeated the USA 64-53 – one of the worst defeats ever suffered by the world's No. 1-ranked team.
It was Australia's first win over the Americans on home soil and just their second victory from the previous 10 clashes between the two bitter rivals. The US defeated Australia 56-43 in the tournament's opening game on Wednesday.
Chris Bond, who scored 25 goals for Australia, said the 11-goal victory will go down as one of the most memorable of his career.
"It was reminiscent of the huge crowds we saw at the London Paralympics, but with more Aussies," he said. "I had a lot of friends here so that made me push that little bit harder and put some more hits on. But above all else, we made sure that we got that win."
"We're ecstatic. I've never beaten the US so to do it on home soil in front of a home crowd going bananas, it was just amazing.
"That would have stung the US. They would have been expecting the win tonight and to cruise into the final untouched. But it just goes to show what we are capable of."
Bond said his team must now regroup and focus on overcoming New Zealand in order to secure their place in the gold-medal game.
"The body is holding up okay. We have prepared really well for this tournament and our support staff have been meticulous in getting our recovery right," Bond said.
"I'm not going to lie. I'm tired because I've played some big minutes and it was a very physical, tough game but I'll be ready when the time comes."
American coach James Gumbert admits his team have a lot of work to contain Bond and his partner in crime Ryley Batt, who led the scoring for Australian with 39 goals.
"It was obvious Australia was gunning to win this game. They have for a long time wanted to notch a victory against us," Gumbert said.
"It will be interesting to see tomorrow if they come out and run just the same four or if they try to develop. They came away with a victory so at the end of the day, good for them.
"We challenge ourselves to our own standards no matter who we play. Tonight we played ok but we didn't play to our potential and we know that. We're going to have to look and see what we can get better at.
"You know yesterday we had great success and today we found some areas we got to get better at. But you know, hats off to them, they earned it."
For the Americans, Chuck Aoki (27 goals) led the scorers ,while Derrick Helton (12 goals), Joe Delagrave (nine goals), Chuck Melton (three goals) and Josh Wheeler (two goals) also contributing.
Game 2
Australia easily cruised to a victory over New Zealand, 57-41.
After keeping scores tight throughout much of the first half, the Australians found their mojo and kicked into gear, taking a 12-point lead into half time. From there, Australia were too strong despite the physical intensity of New Zealand, and forced a 16 goal lead to win the game.
Australian co-captain and leading goal scorer Ryley Batt says that while it was good to get another win against New Zealand, the team, including himself, allowed themselves to be distracted by referee decisions and rising temperatures on the court.
"I was fired up because I was getting over the calls that were slowing the game down, I just wanted to get us some turnovers and get us in front," said Batt.
"When I'm fired up I think I play my best rugby, and I try to fire myself up on the ref's calls and take my anger out through scoring goals. But it's very hard in that heat, I know I struggled a lot today and it just saps all the energy out of you."
Batt lead the game's scoring with 30 goal, followed by Chris Bond with 14 and Curtis Palmer with six. Meanwhile New Zealand high-pointer Cameron Leslie dominated proceedings from their end with 15 goals, followed by captain Dan Buckingham (10 goals) and Barney Koneferinisi (nine goals).
For Leslie, who recently returned from representing New Zealand at the IPC Swimming World Championships last month, having the chance to play the two best teams in the world in Australia and the USA is an opportunity for New Zealand to improve.
"Every time you play against Australia with Ryley and Bond on the court, they are always coming at you, hitting you, spinning you around and trying to push you over the sidelines. You are definitely feeling it by the end of the game," said Leslie, who spent time in the penalty box for his hard hits.
The USA and Australia are currently tied as leaders of the tournament on two wins each and will be playing for a guaranteed spot in the final.