Batt's Aggressive Play Pays Off for Australian Wheelchair Rugby Team
Australia won both their games on the first day of the Wheelchair Rugby test event in the Basketball Arena at London's Olympic Park.
18 Apr 2012
Imagen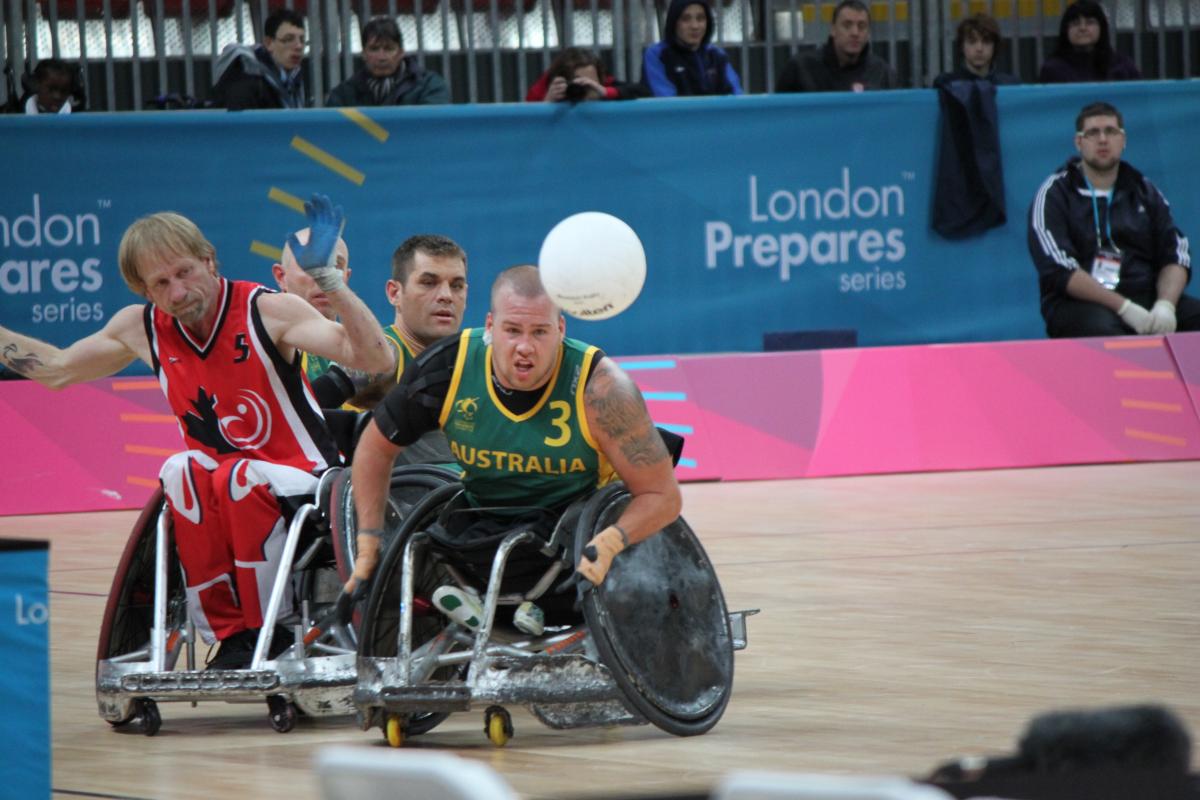 ⒸIPC
By IPC
"Yeah, I get a bit too wound up sometimes and do some stupid stuff, but it's just the way I play and that's what I like. I'm just full of energy."
Ryley Batt dominated the scoreline for Australia, scoring 33 goals against Canada and 23 against Sweden. Australia won both games 56-52 and 65-88 respectively.
Batt's teammate Chris Bond also had a phenomenal day on court. Like Batt a 3.5-pointer, he scored 14 and 20 goals respectively. With two strong players, Australia showed they were a force to be reckoned with.
Unsurprisingly Batt was also at the receiving end of some fast and hard tackles. It was not uncommong for him to be marked by three players. He played aggressively throughout, which sometimes cost him time in the penalty box.
He set the tone of the game from the very first minute, when he was sent to the penalty area for body contact after reaching in to grab the ball from a player's lap.
"I'm an aggressive player," said Batt. "Out of the court, I'm a nice guy, I guess, but when I'm on court, I'm just a totally different person.
"Yeah, I get a bit too wound up sometimes and do some stupid stuff, but it's just the way I play and that's what I like. I'm just full of energy."
Though Batt scored several times, by mid-point in the first period Canada had the upper hand, finishing 14-12 in the lead.
"We came out on fire, we were ready to play," said Canada's veteran player, Garret Hickling, who will be competing at his fifth Paralympic Games in London.
Ryley Batt was disappointed with his team's performance in the first half, which they were losing 26-25. He said nerves and lack of experience playing Canada got the better of the team.
"We did make a lot of unforced errors, and with a couple of things we were really stupid, but look, it is early in the tournament and we always have one bad game a tournament, so we're hoping that's our bad game and from there we're going to move on and play Sweden this afternoon," said Batt.
In the second half, Australia blasted through Canada's defence to win.
"Australia stuck to their games, they continued doing what their game-plan was, but unfortunately we made a few turnovers and that's what cost us."
"[Australia] are very fast, very manoeuvrable," said Hickling. "They can turn very fast. Our goal is to try to stop them and try to get the turnovers when we can."
"We made a couple of substitutions and the guys who came out made a couple of bad passes," explained Hickling.
"We'll get 'em next time," Hickling added.
Australia also dominated the second game of the day against Sweden with the Batt-Bond, Batt-Meakin and Bond-Hose combination all being tried out again. Cody Meakin is a 2.5-pointer and Josh Hose is a 3-pointer.
Whilst Batt was being targeted for tackles, Meakin was able to push forward into a wide open goal for Batt to pass to.
Sweden's Tomas Hjert justified these tactics.
"I think you have to focus on Batt because in my opinion, he's the best player in the world. You have to focus on him, but he has three other players on his team and they are not bad either," Hjert said, adding that Batt and Bond were a dangerous combination.
In the third quarter, Batt, still the target of Sweden's defensive efforts, was out of his chair four times. But with Bond back on the court with Batt, they managed to increase their lead.
Sweden's Tomas Hjert said that Canada was the better team on the day.
"We need to use our space with Batt and the new guy Bond because they can move so fast.
"We have to use space to pass the ball. When we didn't play so well, we didn't have any spacing. We didn't help each other," Hjert said.
Australia play Great Britain, and Sweden play Canada on Thursday (19 April).
Related Videos