'Off the beaten track' with Brent Lakatos
The Canadian T53 ace is aiming to win his first Paralympic gold in Rio, but what else does he do away from the track?
13 Aug 2016
Imagen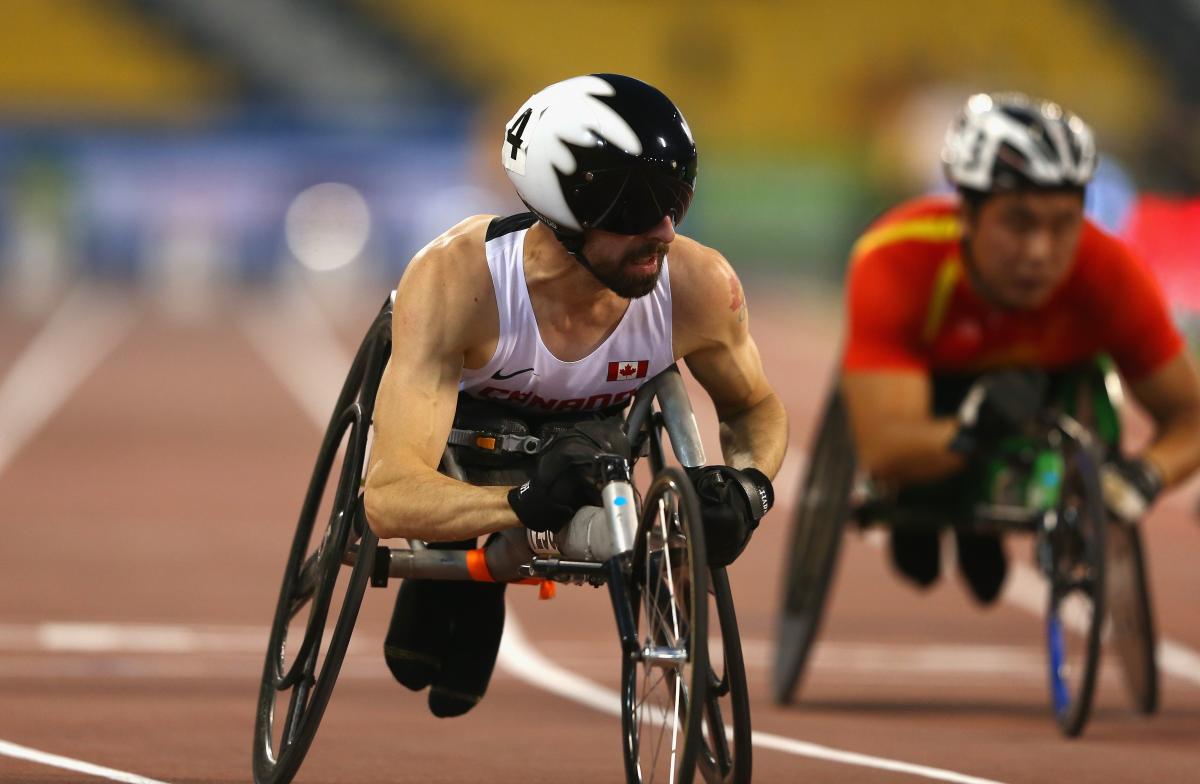 Canada's Brent Lakatos heads to Rio 2016 as a key favourite for gold in the T53 wheelchair races. But life is not all about track and field for the 36-year-old.
A triple gold medallist at last year's World Championships, Lakatos spent much of the time between his races in Doha, Qatar, catching up on his work as a computer software engineer.
Like many other Para athletes, the 100m and 200m T53 world record holder has made a habit of balancing training and competing with a successful career.
For August's 'Off the beaten track' Lakatos explains just how he makes it work for him.
--
Balancing his job as a software developer with a Para athletics career as one of the best T53 racers in the world may mean Brent Lakatos has time for little else – but he admits that both roles provide a welcome distraction from each other.
"I think I'd go crazy if I wasn't working," acknowledged Lakatos. "I would do my training, then I would come back and I guess I would have to just think about my training for the rest of the day.
"It might put more pressure on me, it might drive me crazy or make me bored, but with work I get to come home and completely switch gears and think about something else and take my mind off racing."
Lakatos has a degree in software engineering and has worked for the same United States-based company since 2005 – apart from 18 months he took off to train for the Beijing 2008 Paralympic Games.
Now living in Loughborough, Great Britain, Lakatos is able to schedule his Para athletics training in the morning – before his colleagues in the US are up and at the office.
This means that when he gets back to his desk after completing his session, he's able to spend four to six hours a day working and communicating with his colleagues on the other side of the Atlantic.
It's a set up that works well for both Lakatos and his employers – and is a far cry from the punishing schedule he maintained in the run up to the London 2012 Paralympic Games, when he was still living in the US.
"It works so much better now," explained Lakatos, who won three silver medals at the London Paralympics.
"What I was doing in the lead up to London 2012 was much harder. I was at work for 06:00, I would work until 10:00, then I would go training. I used to train after work but it just got too hot during the summers.
"I'd train and eat and get back to work again for 14:00, then work again from 14:00–18:00 to finish my day. That was much more difficult."
When Lakatos moved to the UK in 2013 to be with his wife Stef Reid, a Paralympic long jump silver medallist at London 2012, he wasn't sure he would be able to move his work with him.
"When I quit to move over to England (his employers) asked if I could continue working as a contractor while they hired someone else.
"Over the first few months I guess we found that it worked for both of us. The hours that I was able to give to them was enough, and me being away from the office didn't impact things. So I'm the first employee that they let do that but it's also because I was there so long before hand.
"I had lots of specific knowledge to that company, so not having to find someone else, and knowing me and trusting me, definitely allowed me to keep doing the same thing."
Lakatos works for a company that manufactures sour cream and cottage cheese, writing the software that helps run the business.
"For example in the warehouses there are fork lifts with touch screen computers, so if they drive up to a pallet they can scan it and the information on screen tells the driver what to do with it. I also work on systems for HR (human resources) too, like the 'time off' website, or invoicing, or data reports," he explained.
The Canadian is fortunate that his role does not require him to be onsite –a computer, an internet connection and a telephone are all he needs.
Of course that means that Lakatos is able to take his work with him wherever he goes.
"That's the perfect part of the type of work that I do, that just requires a computer. When I go to a training camp – like when I went to Tenerife in January – it really doesn't matter to the company as long as I have wifi."
At last year's World Championships Lakatos spent time between races answering emails and sorting out software issues.
"I expect to be doing that in Rio also," he laughed.
"There are always emails and little problems that happen, and whether I'm at a training camp or a competition there is always downtime.
"Also there it's more important than ever to be able to take your mind off the racing and the pressure, so I'll just log in and do a little bit of work."
__
Sport fans from around the world can now buy their Paralympic tickets for Rio 2016 from authorised ticket resellers (ATRs)
The IPC's Global ATR is Jet Set Sports, and Rio 2016 tickets and packages can be purchased on the CoSport website.
Residents of Brazil can buy 2016 Paralympics tickets directly from the Rio 2016 website.
Visa International is the exclusive payment card and the official payment system for the Paralympic Games.