Off the beaten track with the Netherlands' Marlou van Rhijn
The Dutch blade runner spent time earlier this year away from Para athletics learning how to conduct an orchestra.
02 Jul 2016
Imagen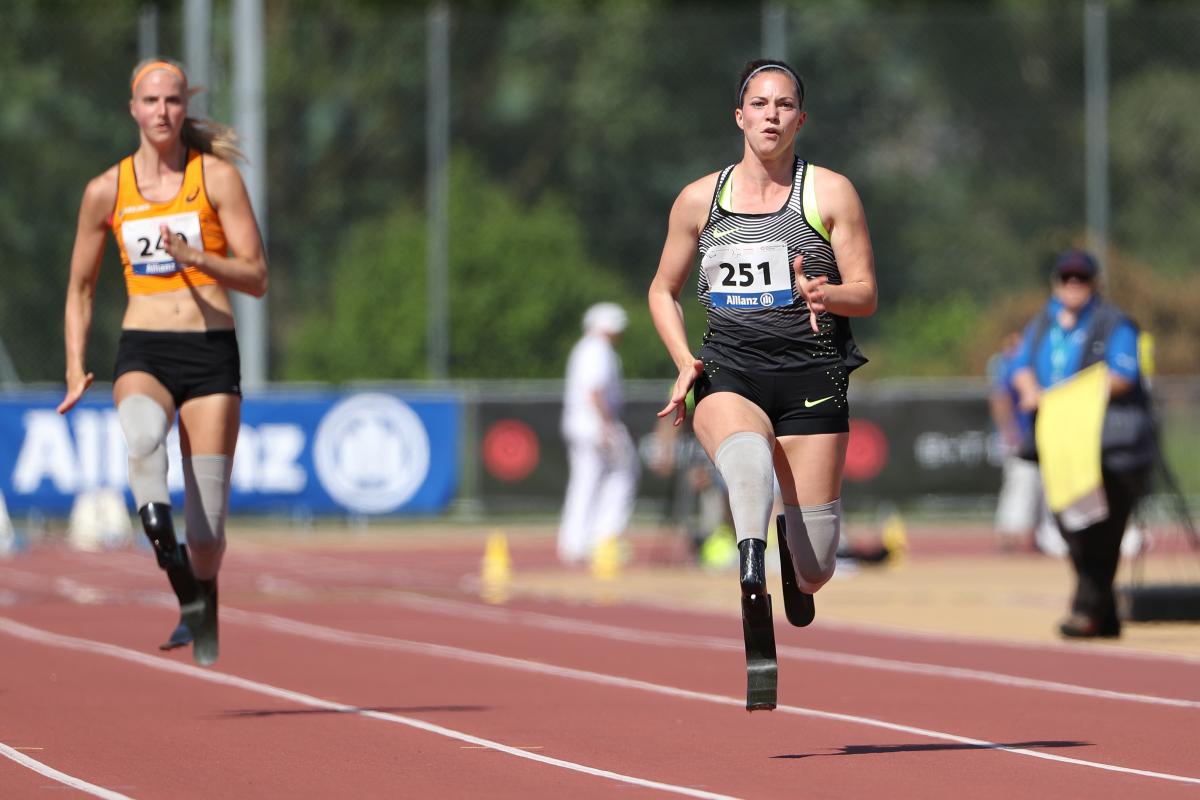 ⒸGetty Images
By IPC
"Listening to classical music now gets me really, really nervous, because it reminds me of the show, and I can't relax listening to classical music."
You might think listening to classical music presents an opportunity to relax and unwind; to sit back and drift off to a string quartet or a soothing symphony. But for Dutch sprinter Marlou van Rhijn, it has an altogether different effect.
The world and Paralympic champion admits that listening to classical music makes her nervous.
Earlier this year van Rhijn took part in a reality television show in the Netherlands called 'Maestro', where she had to learn to conduct an orchestra.
The 24-year-old saw it as a perfect opportunity to break up the monotony of winter training and turn her hand to something new.
"For me the winter season when you don't have any competition is boring – I get really bored," admitted van Rhijn, who won 100m and 200m T44 gold at last year's IPC Athletics World Championships.
"I got this offer from a TV show where I had to conduct an orchestra. I thought, 'Well this is nice, it gets my mind off practice a bit' – which was good, because I could relax after practice and be more focussed during practice – which is supposed to be relaxing.
"I had no experience of conducting an orchestra, and I'm not really musical – I can't read notes or anything like that.
"But I thought it was going to be good because it's more creative than I'm used to, which gets me out of my comfort zone, which is probably good for me."
Van Rhijn had initially thought she wouldn't make it through the rounds – each week a participant was voted out – but she made it as far as week four.
"I thought I would do it once, and learn all sorts of lovely stuff about music, do one show - then they would kick me out and that would be it," she admitted.
"But no – it went better and better and I actually played better than expected. I went out of my comfort zone and I did my best.
"Listening to classical music now gets me really, really nervous, because it reminds me of the show, and I can't relax listening to classical music."
As the conductor, van Rhijn had to lead the orchestra and dictate exactly how the music should be played. It was an unfamiliar task, but one she enjoyed.
"It was really cool to learn because usually my coach tells me what to do, then I think about it and do it. But now I was supposed to be the coach and I had to tell other people what to do," explained van Rhijn.
"I had to make them trust me, and have them believe that I was doing a good job. Which I wasn't! Because actually I was way too fast. I had 'Swan Lake' and it's really slow and romantic, but for me it was more upbeat!
"You lead the orchestra, so you can't listen to what they do because then you're too late. I need to tell them which notes they need to hit at what speed, and whether the sound needs to be loud or very soft. Then you also have to feel the music. But it was just so cool to do, I ended up being far too upbeat when it wasn't supposed to be."
She may have started as a complete novice, but van Rhijn – who heads to Rio 2016 as a key contender for gold once again - was still able to use the skills she had learned as an athlete to help her in front of a live television audience.
"That was actually the easy part of it – that was really fun to discover. I'm used to call rooms, and used to warm ups, and I'm used to the nerves prior to a performance.
"So that was probably the part I was really good at. When everyone else was nervous, I was really chilled."
Just don't expect 'Swan Lake' to be on her playlist anytime soon.
__
Sport fans from around the world can now buy their Paralympic tickets for Rio 2016 from authorised ticket resellers (ATRs)
The IPC's Global ATR is Jet Set Sports, and Rio 2016 tickets and packages can be purchased on the CoSport website.
Residents of Brazil can buy 2016 Paralympics tickets directly from the Rio 2016 website.
Visa International is the exclusive payment card and the official payment system for the Paralympic Games.