Off the beaten track with the USA's Tatyana McFadden
The T54 wheelchair racer who is chasing seven gold medals at Rio 2016 has published a book for youngsters about her life.
04 Jun 2016
Imagen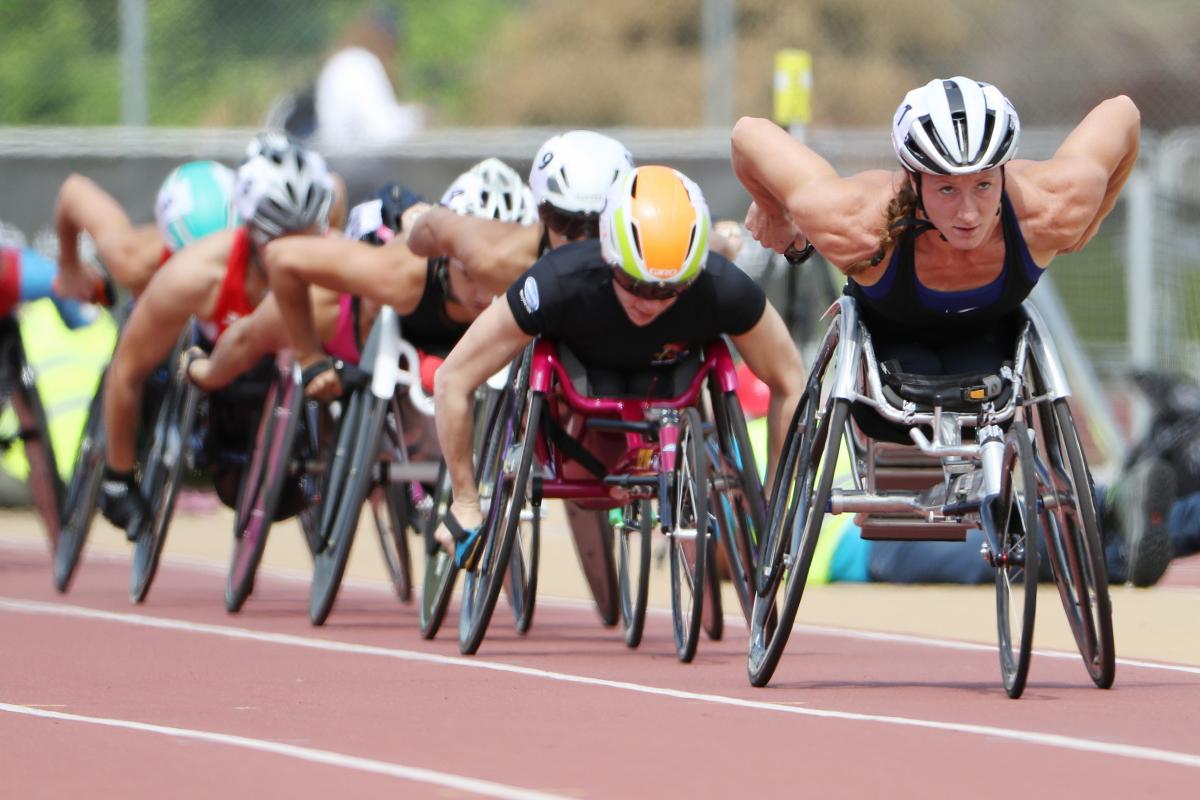 ⒸGetty Images
By IPC
"I enjoy reading about how other people have moved through rough parts of their lives and been able to succeed so well."
June's edition of 'Off the beaten track' comes from the USA's multiple Paralympic champion Tatyana McFadden. Here she explains what has been keeping her busy away from Para athletics.
__
US wheelchair racer Tatyana McFadden has an incredibly busy schedule – she plans to race in seven events at this year's Paralympic Games in Rio de Janeiro, Brazil.
So you would imagine she might not have much spare time to spend relaxing - or say, reading a book.
But McFadden does not just find the time to read books, she has written one too.
In early May this year - just days after winning first the Boston Marathon in the USA, and then the London Marathon in Great Britain - the triple Paralympic gold medallist published her first book, an autobiography, entitled 'Ya Sama! Moments from My Life'.
Co-authored by Tom Walker, the book describes McFadden's early life in a Russian orphanage, her adoption and move to the US aged six with her new family, how she coped with a new culture and language – and how she became one of the greatest Para athletes of all time.
'Ya Sama' is Russian for 'I can do it' – and it is clearly an expression that befits the 12-time world champion.
Not that she found writing her story an easy thing to do – then again, who would find competing in seven Paralympic athletics events easy? If anything, McFadden thrives on every challenge life throws at her.
As for the book - "It was a long and a hard learning process," admitted the 27-year-old.
"I was so picky in which illustrations I wanted drawn and pictures I wanted included, and what stories I wanted in the book - I think I was driving everyone crazy sometimes!
"I wanted to open it a certain way and close it in a certain way; add certain stories that are not just out there. It takes so much patience to write a book, there are stories that were taken out, or rewritten.
"Me and our really good friend Tom, we did it together, that way we could make the interviews really personal and not have to go somewhere else or be taken out of context. It was really nice because it was done so privately."
'Ya Sama! Moments from My Life' is geared towards children – McFadden specifically wanted to target middle school youngsters (age 11-13) – although she believes it is suitable for any age.
"I really wanted to start with a children's book, I didn't want to do a big autobiography, I felt that putting that in a children's book was an easy way to explain my life and what disability is, what Para sport is, what 'marathoning' is, describe the wheelchair itself," she explained.
"It is written for children at middle school – but a parent or guardian can read it to younger children as well.
"It's just a simple way of putting it, and everyone can get it. It is a quick read for adults, and it's also great education for younger children and I hope it will really help move the sport forward.
"Anyone can have an idol – it could be an Olympian or a Paralympian, and I think that's the really cool part – anyone can relate to the book."
Writing her story, what did McFadden discover about herself?
"That life is incredible and that everyone has a really special journey – it's just how you use it," she replied.
"You can use it as sorrow, or as learning, or as motivation. I just think it's been an incredible journey, where I've come from - and that I got to go back and have those experiences. To be able to put it in the book - I just hope everyone likes it."
For the record, McFadden does find time to read too.
"I read when I'm falling asleep," she admitted.
"I love reading autobiographies - the backgrounds people came from, how they achieved what they did. If they had a hard life and now do something spectacular – I find you can relate to yourself a little bit in that way.
"I enjoy reading about how other people have moved through rough parts of their lives and been able to succeed so well."
Of course after September's Rio 2016 Paralympics McFadden may well need to update her story. What about writing a sequel?
"We'll see how this one does!" she laughed.
The book can be purchased here.
__
Sport fans from around the world can now buy their Paralympic tickets for Rio 2016 from authorised ticket resellers (ATRs)
The IPC's Global ATR is Jet Set Sports, and Rio 2016 tickets and packages can be purchased on the CoSport website.
Residents of Brazil can buy 2016 Paralympics tickets directly from the Rio 2016 website.