Belgian Genyn feels ready for Paralympic gold
After swapping wheelchair rugby for wheelchair racing, the T51 racer is hoping to add Paralympic gold to his world and European titles.
18 Aug 2016
Imagen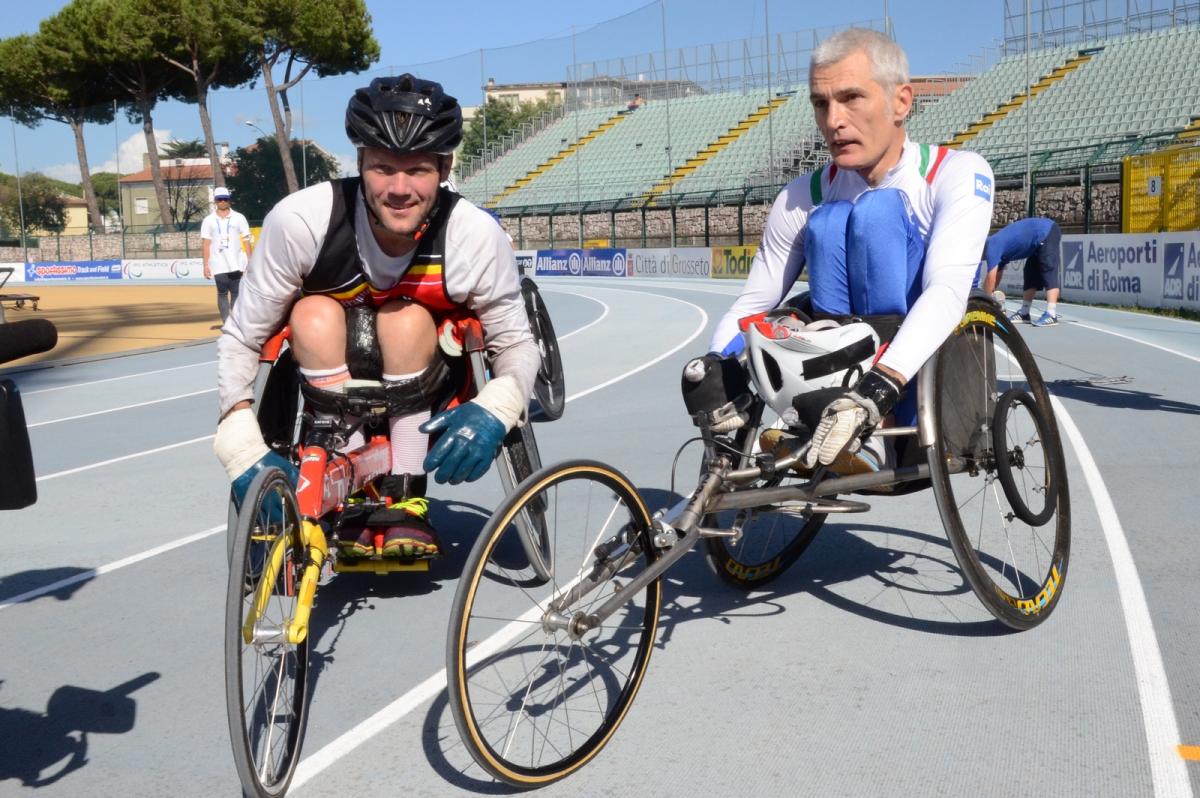 ⒸAgenzia Fotografica BF
By IPC
Former Paralympic wheelchair rugby player Peter Genyn believes he is ready to go for gold in his first Games competing in Para athletics.
Four years ago at London 2012 the Belgian lined up alongside his teammates in the wheelchair rugby competition – it was his second Games competing in the team event, and they finished seventh.
But in 2013 a nasty leg break meant an end to his rugby career, and so the following year he turned to track and field.
"It was just a dumb accident on the street," explained Genyn, who races in the T51 class.
"It was downhill and I was just going slowly but a bicycle cut me up so I had to divert. There was a brick missing in the road and my front wheel got stuck in it. I fell out and broke my leg in a very stupid way. I was told it was too dangerous for me to play rugby again."
In just two years of Para athletics Genyn has gone from strength to strength – he won 100m and 400m T51 gold at the 2015 World Championships, a year after finishing second in both races at the 2014 European Championships in Swansea, Great Britain, behind Finland's reigning Paralympic champion Tony Piispanen.
At this year's European Championships in Grosseto, Italy, Genyn clinched double gold again - ahead of Piispanen - breaking the 400m T51 world record in the process.
He admits however that the transition from competing as a member of a team to racing as an individual has not been easy.
"You can always count on a team and you always travel as a team too. Now as an individual if it all goes well it's your doing, but if it all goes wrong it's also your own doing. It's very different.
"There is a little bit more pressure because it is all up to yourself. If you have a bad day and you have an important race, you can't count on anybody to catch the ball or make sure you win.
"When I made the transition (to Para athletics) I was hoping I could get to Rio but I wasn't sure if it would be possible. It was more of a dream than the aim," said the 39-year-old.
With the dream now a reality, Genyn is focused on maintaining his place at the top of the world rankings. That means success – and faster times – are part of his Rio plans.
"I'm fairly confident – I've won the last four races against Tony and Mohamed Berrahal," explained Genyn, who set a new personal best of 20.70 seconds this year, then beat Piispanen and Algeria's Paralympic and world 100m T51 bronze medallist Berrahal at the IPC Athletics Grand Prix in Nottwil, Switzerland.
"I know Tony is not going to sit still these last few months. I want to keep improving and I hope I can continue the winning streak."
Piispanen is the current world record holder in the 100m T51, having clocked 20.47 in Arbon, Switzerland in 2015, and Genyn is not ready to dismiss the Finn's chances yet, or that of his Algerian rival.
"I think Tony is still a big favourite. The 100m European final was so close, I'm probably going to be one of the favourites but it is going to be very hard. Also I don't think we can forget about Berrahal.
"Nottwil and Grosseto showed that I am doing well. I had a very good early part of the year - I spent two months in Lanzarote training and it just shows that we are doing everything right.
"I couldn't hope to have it any better, so if I can get a few percentage even more then I think that would be perfect. I think it's up to Tony and Berrahal to beat me then."
The prospect of returning home with his first Paralympic medal is, for Genyn, a dream come true.
"It would be amazing. Ever since I've been playing Paralympic sports it's like the ultimate goal.
"We were once European champions in wheelchair rugby and that was amazing. Then you sort of dream that it would great to get a Paralympic medal, but knowing that it's almost impossible to do it in wheelchair rugby because the country is too small.
"Now that you actually have a shot at it I think it's going to be indescribable. It's the greatest achievement an athlete can reach."
__
Sport fans from around the world can now buy their Paralympic tickets for Rio 2016 from authorised ticket resellers (ATRs)
The IPC's Global ATR is Jet Set Sports, and Rio 2016 tickets and packages can be purchased on the CoSport website.
Residents of Brazil can buy 2016 Paralympics tickets directly from the Rio 2016 website.
Visa International is the exclusive payment card and the official payment system for the Paralympic Games.