Teenager Isis Holt prepares for Paralympic debut in Rio.
The Australian 15-year-old cannot even remember watching London 2012 but heads to Rio 2016 as a double world champion and world record holder.
15 Aug 2016
Imagen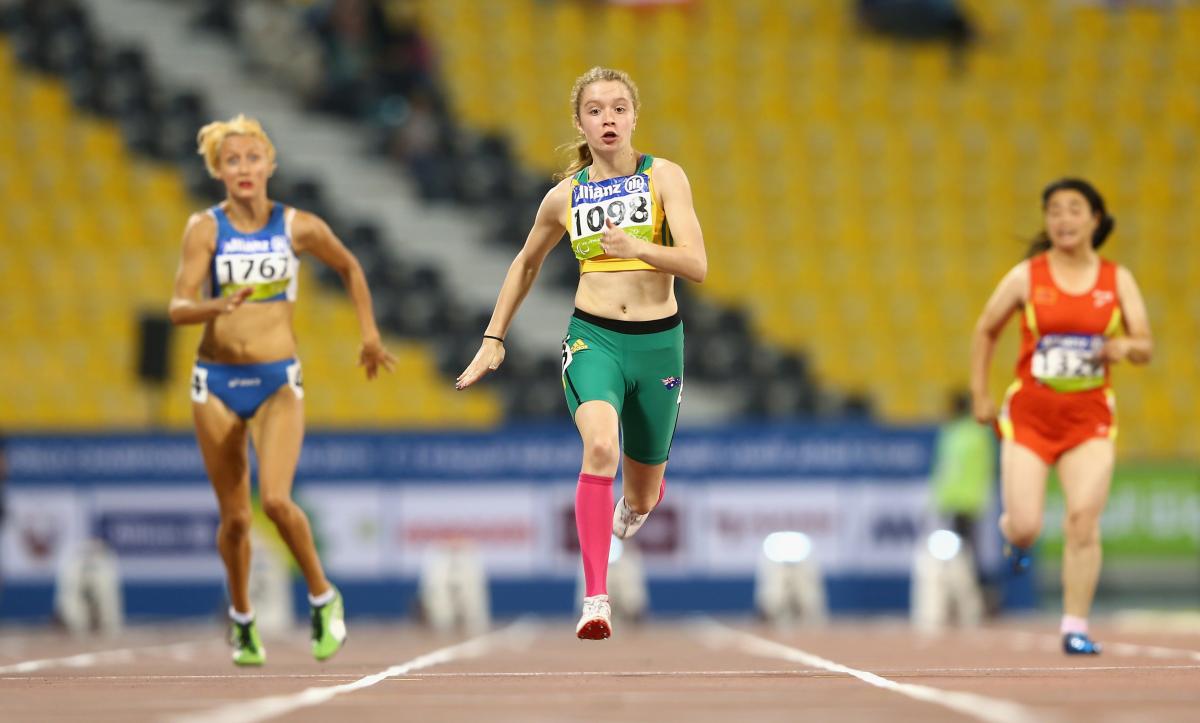 ⒸGetty Images
By IPC
"If someone had told me three or four years ago that I would be going to the Rio Paralympic Games I wouldn't have believed them,"
Four years ago Australian sprinter Isis Holt would never have imagined she would be heading to the Rio 2016 Paralympic Games.
The Melbourne school girl was only 11-years-old at the time of London 2012 – she does not even remember watching much of the action on television.
"If someone had told me three or four years ago that I would be going to the Rio Paralympic Games I wouldn't have believed them," admitted Holt.
Fast forward four years however and Holt, a double world record holder and world champion, now watches re-runs of the 2012 Games to help her prepare for her first Paralympic Games.
"Back then, I remember watching wheelchair basketball or something like that. I was like 'Woah that's amazing - I would love to do something like that.' Now it's a bit surreal to think that it's actually going to happen.
"I don't actually remember watching the athletics but I definitely have a bit more recently just to see what it was like."
Holt is the current world number one in both the 100m and 200m T35 – leading the way ahead of a talented field including her British rival and fellow teenager, the world silver medallist Maria Lyle.
The Australian may be only 15-years-old and one of the youngest members of the 2016 Australian Paralympic Team, but she manages any expectations like a seasoned athlete.
"I think more than anything I'm just excited," said Holt.
"I used to be quite scared of the unknown but now I'm just excited to see what Rio will hold. I'm feeling quick and I'm hoping that will rub off in Rio. I think with everything coming together and getting closer and closer everything feels really great, which is a big positive.
"I'm much more confident in what I do having done it a few times. Now I'm just looking forward to putting it all into a race."
Holt took up Para athletics in 2014, then burst on to the international scene the following year when she broke the 100m and 200m T35 world records in March 2015. She went on to win double world gold - with new world records in each event – at the IPC Athletics World Championships in Doha, Qatar in October.
The Australian admits that her experiences at the 2015 World Championships have been invaluable when it comes to preparing for the biggest stage of all – the Paralympic Games.
"It was vital, I'm so glad that I had that opportunity to compete on a world stage, especially with people from other countries, because obviously we don't really get that chance in Australia very often.
"To be able to go and do that was a really good learning experience. Although I know it will be very different, at least I have a little bit of experience to go on."
Holt has also sought the advice of experienced Para athletes such as four-time Paralympian and 2016 Australian Paralympic Team co-captain Kurt Fearnley and two-time Paralympic silver medallist Brad Scott.
"There are definitely athletes that I talk to who have been to past Paralympic Games and that's been really great for me. I've been able to get an idea of what it might be like before I even go which I think is really important.
"I see a sports psychologist so I can help manage how I will feel over there too. Although Doha was a great learning experience it is important for me to know how to manage myself while I'm in Rio," she added.
The Paralympic Games may now be a reality – so Holt's new day dream is standing on top of the podium.
"I don't think about it 24/7 but there are definitely times where I might have had a really great training session, or I might have done time trials or something, and then I do let myself think about it for a few minutes like 'Imagine what that would feel like.'
"I quickly bring myself back to reality because I don't want to get carried away. But it is a good motivation especially after Doha, it's something that I'd love to be able to re-live."
__
Sport fans from around the world can now buy their Paralympic tickets for Rio 2016 from authorised ticket resellers (ATRs)
The IPC's Global ATR is Jet Set Sports, and Rio 2016 tickets and packages can be purchased on the CoSport website.
Residents of Brazil can buy 2016 Paralympics tickets directly from the Rio 2016 website.
Visa International is the exclusive payment card and the official payment system for the Paralympic Games.