Me and My Coach with Angie Ballard
Australia's double world champion Angie Ballard and her coach, former Paralympic athlete Louise Sauvage feature in August's 'Me and My Coach'.
14 Aug 2016
Imagen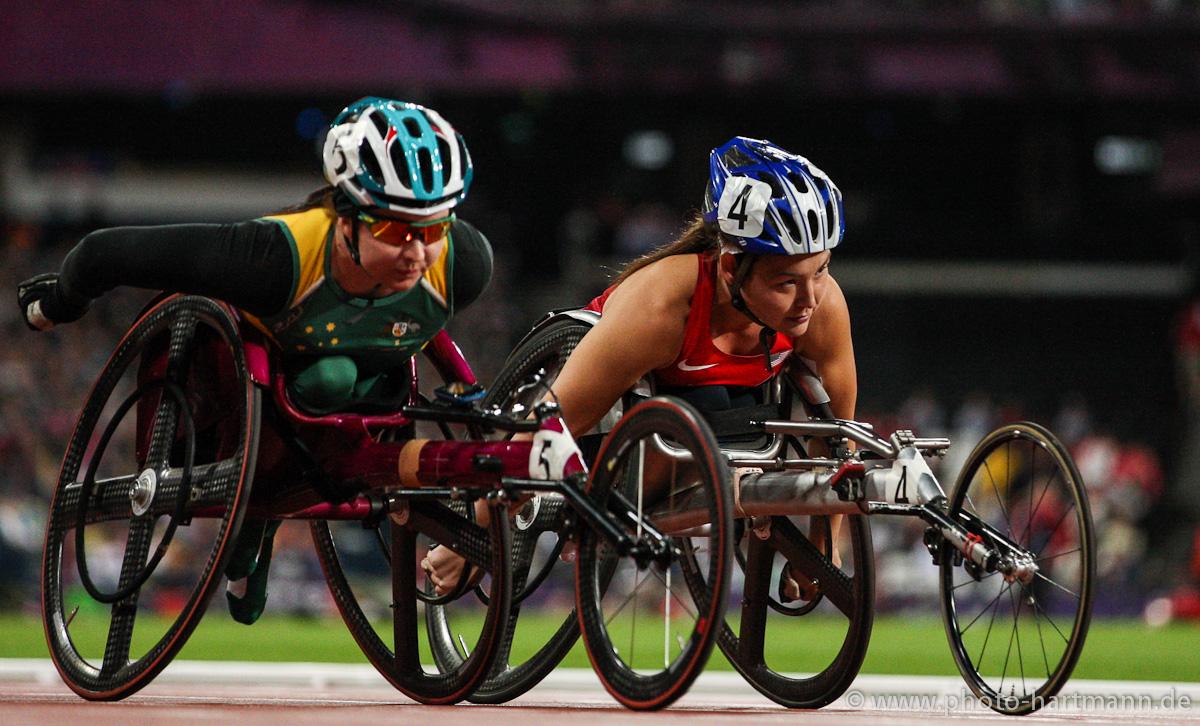 Ⓒwww.photo-hartmann.de
By IPC
When Australian world champion Angie Ballard races on the track, her coach Louise Ballard is living every second - and every push - with her.
The pair have worked together as coach and athlete for the last 11 years; they know each other well.
But Sauvage has an extra insight in to Ballard's performances both on the track and in training. As a former nine-time Paralympic champion with a whole host of accolades to her name, the 42-year-old is able to draw upon her own experiences as a world class wheelchair racer.
So it's no surprise that when Sauvage is track side watching her charge race, she feels every moment.
"I'm definitely pushing – my body's moving while she's pushing," admits Sauvage, who was inducted in to the Visa Paralympic Hall of Fame in 2012.
"I do get excited and I do get nervous. I want her to perform at her best so I'm just hoping that everything goes right on the day."
Ballard and Sauvage started out as friends and training partners – when Ballard moved from Canberra to Sydney to train and go to university, it was the experienced Sauvage who took Ballard under her wing.
At that time, around 2002, both Para athletes were coached by renowned wheelchair coach Andrew Dawes. Then leading up to the Athens 2004 Paralympic Games, Dawes relocated to Newcastle, over 100 kilometres north of Sydney.
Sauvage and Ballard kept training together, with Sauvage taking on more and more of a mentoring role – guided by Dawes. Sauvage had already considered retiring after the Athens Games – coaching was a natural next step.
"Angie asked me if I would coach her and I probably asked her about five times if she was sure, but we thought we would give it a go as we were good friends anyway – it was a bit of a coach hat and a friend hat at the same time," explains Sauvage.
Ballard adds: "During that year leading up to Athens (Louise) was looking at retiring and I was starting to gain momentum, so we talked a lot about what was the next step for me. I think the coaching relationship started evolving from there."
Do Sauvage's credentials and experience make a difference?
Ballard believes there are certainly advantages – but it's not always the case.
"Having a coach who is an athlete has got huge benefits but it's also sometimes got some conflicts," explains Ballard, who won 200m and 400m T53 gold at Doha 2015.
"Sometimes if I talk about pressures I'm facing or anxiety or concerns I have (Louise) is not only able to identify with that because she's been there and done it, but she's also able to give advice from her experience as well as whatever she's learning now.
"That said, I think there was also a period where Lou had to transition from what she experienced as an athlete to being able to coach other people that weren't experiencing it the same way.
"I think we felt we were very similar in a lot of ways, and we were as athletes – detail orientated, having things organised in a certain way, and being prepared in a certain way.
"But in terms of how we deal with stress and decision-making we are not the same, and that has been a transition. I definitely challenge Louise a lot on being able to justify her choices and her thoughts, and that is a challenge for her in coaching me.
"But I think that is a good thing and helped her grow as a coach, and where we are now is light years away from where we were in 2005."
Sauvage also believes her experiences as a Para athlete help give her and her team a vital edge.
"I think as a coach now I have something over the able-bodied coaches because I do know what it's like and I do know what (the athletes) are thinking and feeling. I can often react to them without them saying something, so that's kind of cool.
"But (Angie) has so much experience herself and she brings a lot to the table. She gives a lot of feedback and it's a great communication that we have."
A disappointing World Championships for Ballard in 2011 – she failed to reach the finals of the 100m T53 and finished eighth and sixth in the 200m and 400m T53 respectively - led the pair to make a number of significant changes – from Ballard's diet, to her push position, to her gloves.
From then on Sauvage believes Ballard was always on track to success. That public recognition finally came in 2015 with world records and world titles – now Ballard heads to Rio 2016 as a key contender for gold.
Sauvage will be in Brazil there too – living every moment with her athletes.
"I had my time and now it's their time – my goals are their goals," she adds.
__
Sport fans from around the world can now buy their Paralympic tickets for Rio 2016 from authorised ticket resellers (ATRs)
The IPC's Global ATR is Jet Set Sports, and Rio 2016 tickets and packages can be purchased on the CoSport website.
Residents of Brazil can buy 2016 Paralympics tickets directly from the Rio 2016 website.
Visa International is the exclusive payment card and the official payment system for the Paralympic Games.